Punisher SCALPER EA is an expert advisor that was launched on 4th September 2021. It is a relatively new system with very little live trading experience, and this means you might be taking a bit of risk while investing in it. However, before forming a final verdict, we must carefully analyze every little detail to determine whether the robot is profitable or not.
Punisher Scalper EA is a system that is available at an affordable price. It does not use dangerous trading strategies like grid or martingale. However, we have zero information on the developer who built this system. Also, the scalping bot uses a risky trading approach that enhances the drawdown of your account and leaves you open to huge losses. Thus, our first impression tells us that this is not a robot that can be trusted.
Vendor transparency
Punisher SCALPER EA is a system developed by Hemza Barour, who is based in Algeria. There is very little information on this person on MQL5, and it seems they don't possess much experience in building Forex trading systems. There is just one more robot sold by this person on MQL5, which is called Evil Twin Scalp EA. Since there is no official contact information provided by the vendor, you need to message them through the website if you wish to get in touch. The lack of vendor transparency is a cause for concern and it would cause most traders to shy away from this robot.
How Punisher SCALPER EA works
This is a fully-automated Forex EA that uses a search and breakdown mechanism for local extrema. It uses a stop loss with every trade tested for 10 years on real tick data with real floating spread. While testing, slippages, and commissions were taken into account. The robot also has protective features for large spreads and slippages. Prior to using the robot on a real-money account, it is wise to test its performance using a demo account or one using a low-risk setting.
Timeframe, currency pairs, deposit
Since this is a scalping bot, it is suited for a shorter time frame like M30. The starting balance is $100. Punisher SCALPER EA can trade in four currency pairs simultaneously, namely XAU/USD, GBP/USD, USD/JPY, and EUR/USD. For the live trading account, the EA uses leverage of 1:500.
Trading approach
The scalping strategy involves placing a large number of orders every day. The core principle of this strategy is to take advantage of the minor price differentials between pairs. It is a highly stressful strategy as it requires you to monitor the market at all times. Experts, therefore, advise beginners to stay away from it.
Pricing and refund
Currently, Punisher SCALPER EA is available for the price of $125. There is a free demo version of the system available for download but unfortunately, there is no money-back guarantee.
Trading results

This backtest consisted of 870 trades placed between 2018 and 2021. The EA had a win rate of 64% and generated a total profit of $3198030.53. While the daily and monthly win rates were 0.91% and 31.32% respectively, the drawdown was a bit high at 27.28%. Thus, we can say that the strategy used by this robot is risky.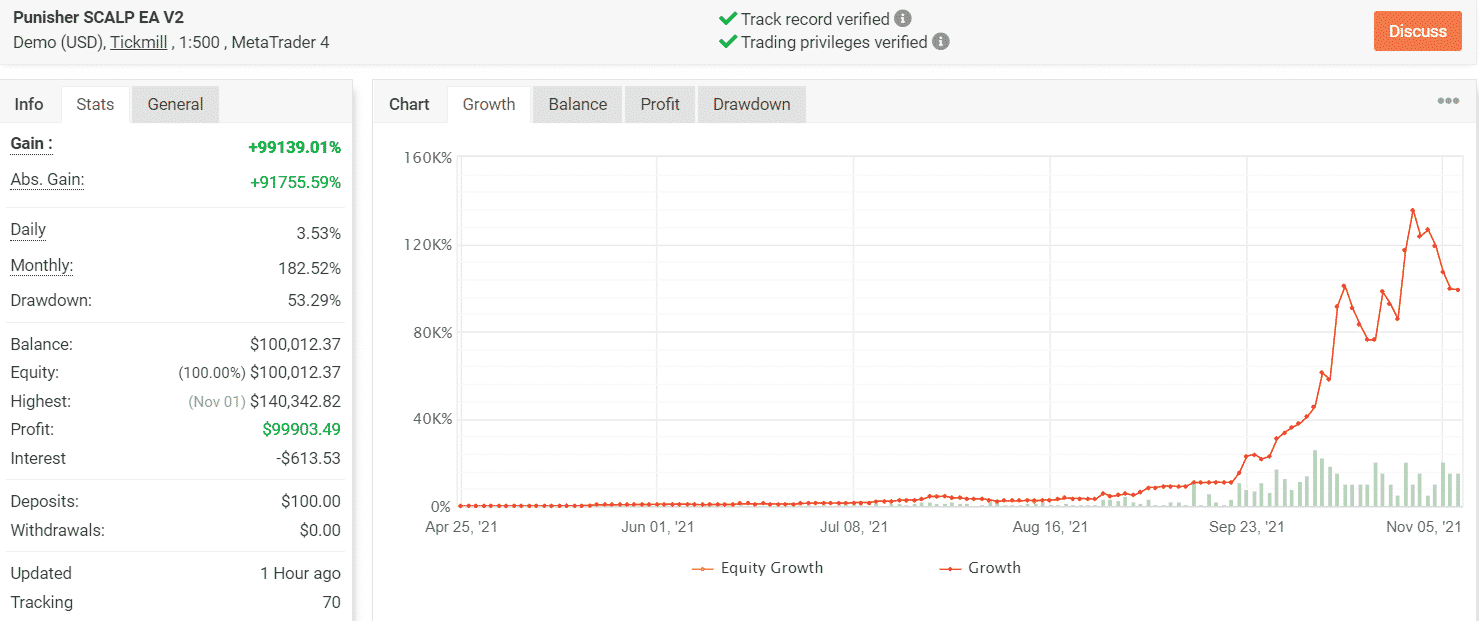 This live trading account on Myfxbook has a low win rate of 42% after completing 642 trades. Compared to the backtesting data, the win rate is quite low, while the drawdown is much higher. Looking at the 53.29% drawdown, we can tell that the robot is prone to suffering large losses.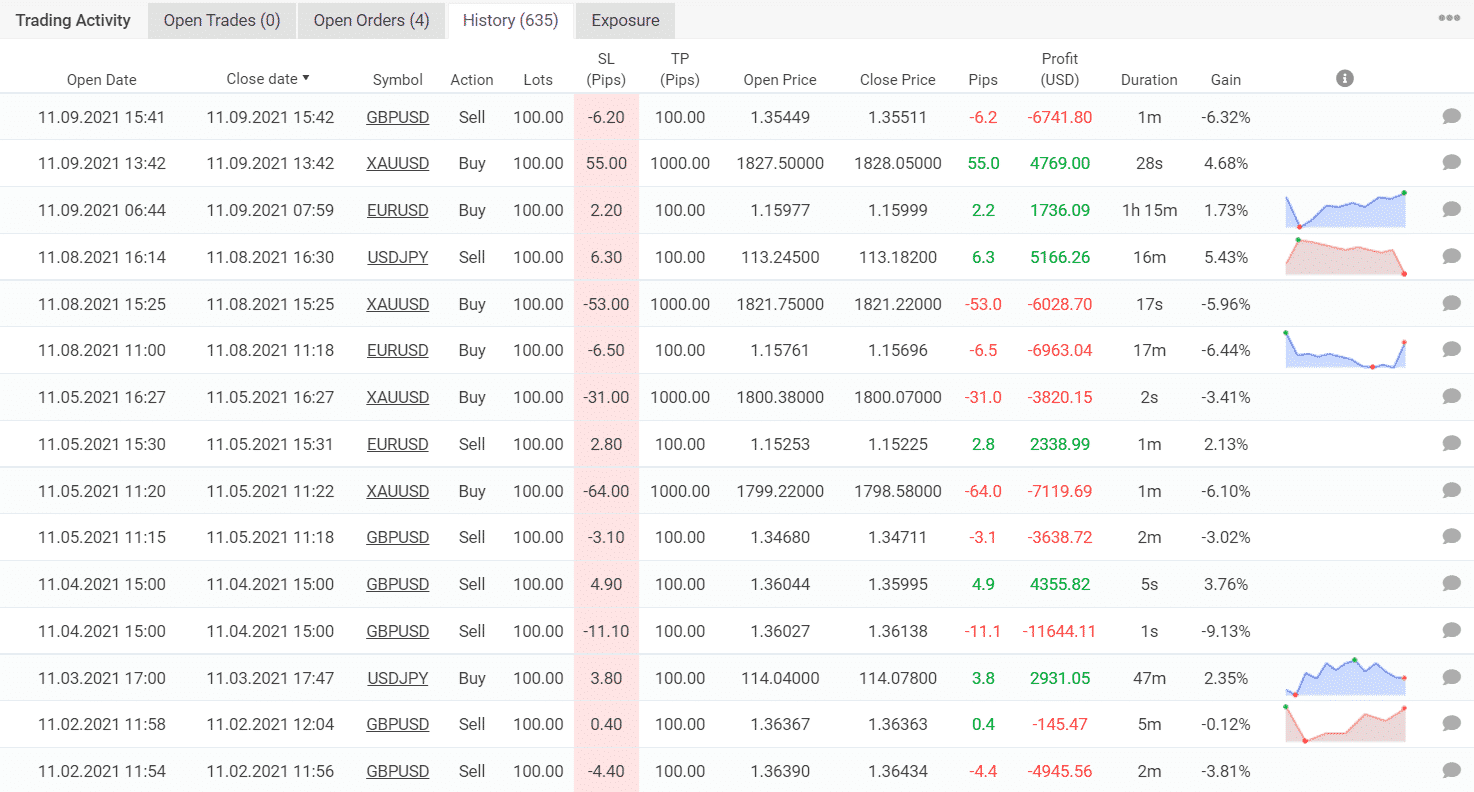 By checking the trading history, we can see how risky the trading strategy truly is. There have been multiple consecutive losses in recent times and thus we don't think this is a safe EA to invest in.
People say that Punisher SCALPER EA is…

Doubtful. There are no user reviews for this EA on websites like Quora, Myfxbook, Trustpilot, and Forexpeacearmy. Since the reviews on MQL5 could have been manufactured by the vendor, we cannot consider them reliable. It is clear that not many people trust this system because of its short trading history and high drawdown.
Verdict
| | |
| --- | --- |
| Pros | Cons |
| Verified trading statistics | High drawdown |
| | Lack of vendor transparency |
| | Short trading history |
Punisher SCALPER EA
Punisher SCALPER EA is a high-risk trading system that you should stay away from if you wish to avoid incurring losses during trading. Not only does it have zero reputation, but it has been trading live only for a few months.