Telegram Connector is a trading solution that can process signals from the telegram channel to MT4 or MT5 terminals. It allows us not to skip trading opportunities. The developers claim the next "If you are tired of missing good trades because you don't look at your phone 24/7, use our software to connect your signal provider's Telegram group with your MT4/MT5 trading account. That way you don't have to be on your phone all day long but still get in on all the trades during the day."
Vendor transparency
The company doesn't have a level of transparency. We don't know anything about them. It's a significant con.
How Telegram Connector works
We know some details about the system and how it can be used:
The system processes signals copying text messages and opens orders on MT4 or MT5 terminals.
It's easy to install the system.
We will receive the system by email after purchasing.
There's a user manual provided.
The signals will be executed on the terminal.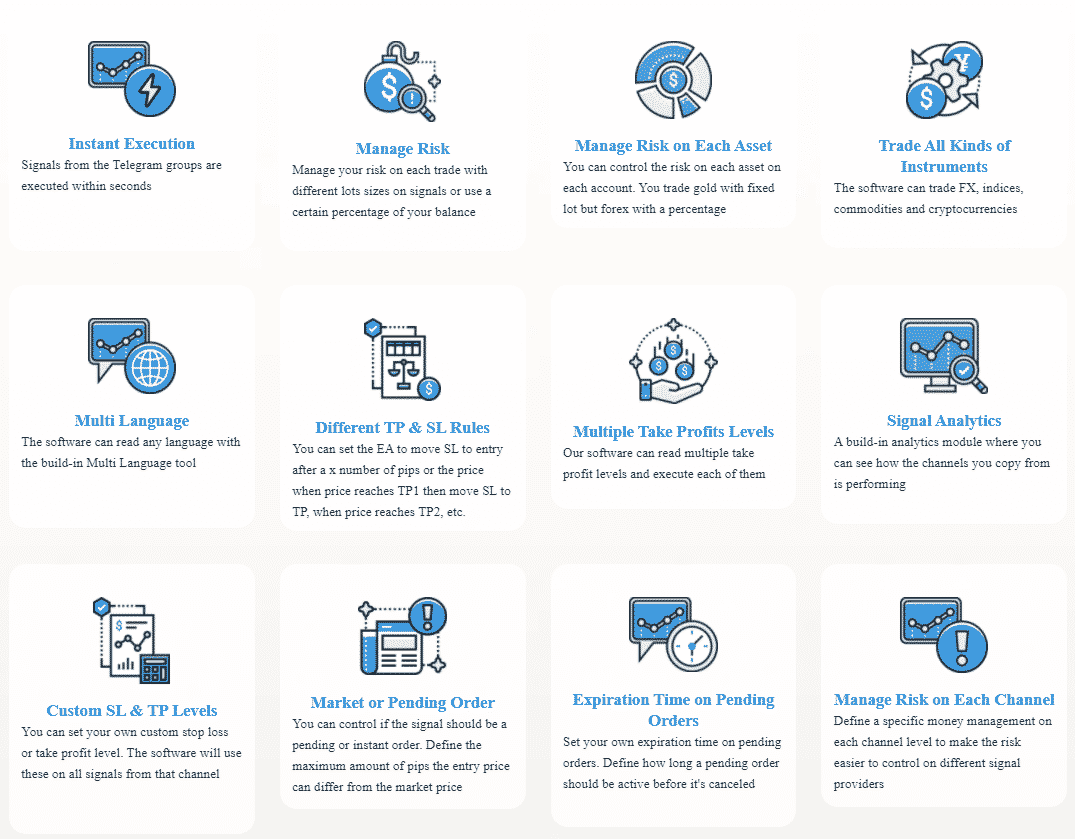 There's a list of advantages provided.
The signals can be executed within several seconds.
We can customize the risk we can work with.
We can even set the proper risks for each pair.
We are allowed to combine fixed lot sizes with percentages.
It has to work with Forex, indices, commodities, and cryptocurrencies.
"The software can read any language with the built-in Multi-Language tool."
We may expect that the software will be working the next "move SL to entry after an x number of pips or the price when the price reaches TP1 then move SL to TP, when the price reaches TP2, etc."
It knows how to "read multiple take profit levels and execute each of them."
The profitability can be analyzed for each cross pair.
It manages a Stop Loss, and all take profit levels.
The signals can be executed as pending or executive orders.
"The pending orders can be customized by expiration time before getting canceled."
We can set the preferred risk for each channel.

There are statistics based on the number we can't check.
The software was downloaded 1384 times.
They have 1255 happy clients.
There are 1186 VIP users.
Timeframe, currency pairs, deposit
There are no common metrics like time frames, currency pairs, and a deposit because the system just processes signals not creates them.
Trading approach
The software helps people to send details of the order from the telegram channel to the terminal.
Pricing and refund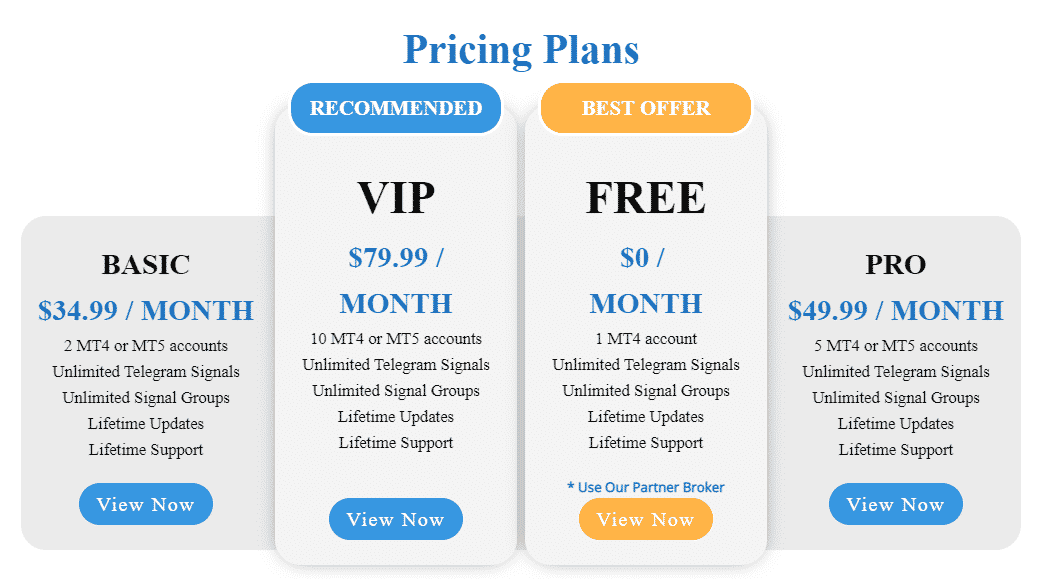 The service is available in several packages. The Basic pack is available for $34.99 monthly. There are 2 MT4, and MT5 accounts included. The Pro pack costs $49.99 monthly. There are 5 MT4, and MT5 accounts included. The VIP pack costs $79.99 for a month. There are 10 MT4, and MT5 accounts included. We can enjoy a free package with a single MT4 account. All packs include unlimited signals, groups, updates, and support.
Trading results
The presentation doesn't include backtest reports because there's no strategy behind the system. It's just software that copies signals from Telegram to our account.
The system doesn't have trading results. It's a con because we have to see proof that the software can copy signals quickly without huge delays with all provided from signal company parameters. Positive trading results will be a con.
People say that Telegram Connector is…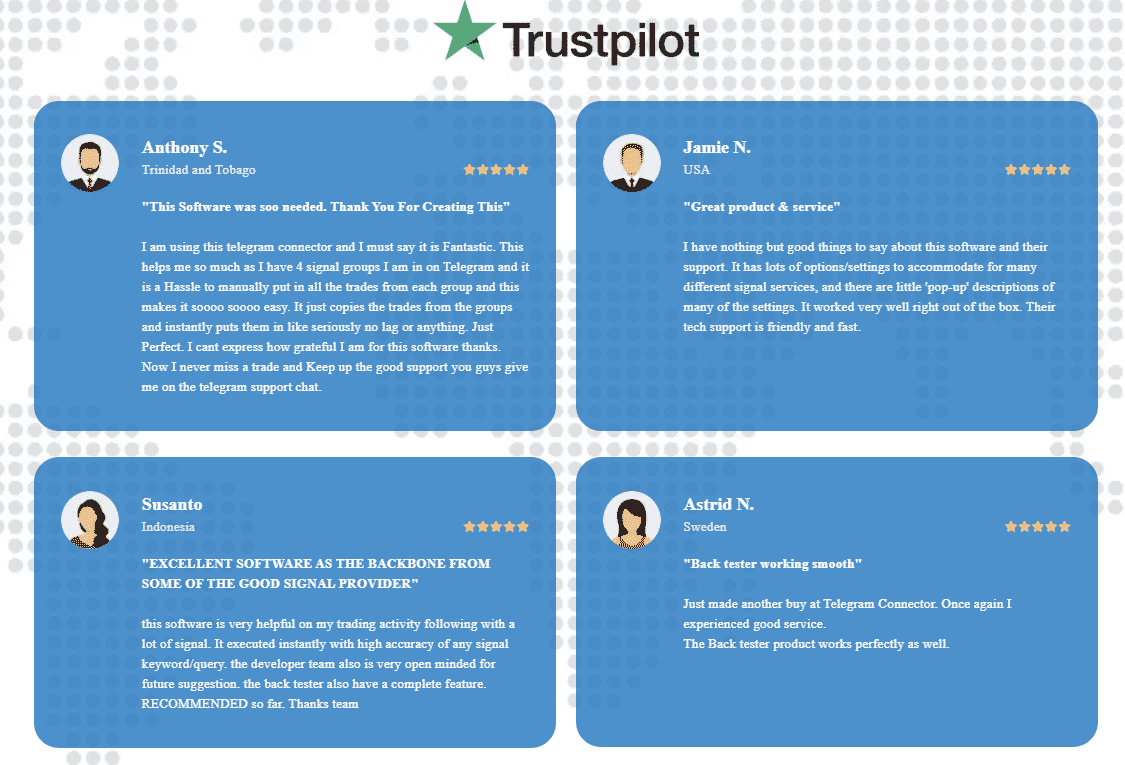 Good. We have some positive testimonials from clients gathered. However, we cannot be sure they are from real people.
Verdict
| | |
| --- | --- |
| Pros | Cons |
| Useful feature | No team revealed |
| | No trading results provided |
| | No settings explanations provided |
| | We can only subscribe to the service |
| | No people's testimonials shared |
Telegram Connector Conclusion
Telegram Connector is a Forex-related solution that helps traders to copy all provided signals from all possible channels as execution orders on the terminal. We have huge concerns about the system's speed and stability. The developers must have shown that the system can handle this.