TradeSanta is a fully automatic cryptocurrency bot that allows traders to use strategies with preset settings or configure them according to their requirements. According to the vendor, you can trade like a pro with several signals and robots. The platform is compatible with various exchanges like Binance, Coinbase, etc, and supports hundreds of pairs. To know more about the functioning and profitability of the system we'll look at the marketplace, FAQs, and pricing section to see if the service is a good choice in 2022.
What is TradeSanta?
TradeSanta is all in one crypto trading platform with a mobile application that enables you to track your bots. The marketplace provides different services where you can copy the perimeters of professionals and utilize them.
| | |
| --- | --- |
| Headquarters: | N/A |
| Founded: | 2018 |
| Supported Exchanges: | Binance, Binance Futures, OKx, Huobi, Coinbase Pro, HitBTC, Bybit |
| Native Token: | N/A |
| Supported Fiat Currencies: | USD |
| Trading Pairs: | 100+ |
| Minimum Deposit: | $10 |
| Deposit Fees: | No fees |
| Withdrawal Fees: | No fees |
| Customer Support: | Email, online contact form, Telegram |
Main features
Following are the unique features and tools of TradeSanta:
Mitigate the risk of losing funds with stop loss, and stop signals from the trading view.
Traders can test their bots and strategies with demo trading accounts without investing real money.
This trading platform allows you to place orders on multiple exchanges from a single interface.
Investors can start trading with pre-configured or self-customized trading strategies.
How does the bot trade?
TradeSanta trades several crypto coins in the market by creating buy/sell orders after receiving a signal from technical indicators. It will purchase the specified base currency set by the traders. The robot places the take profit order and other extra positions after the initial order is executed and the transaction is open.
Trading approaches of TradeSanta
TradeSanta offers the following trading bots:
If the price moves in the opposite direction of the strategy, the DCA bot places the initial purchase order, followed by additional buy orders.
The Grid bot, like DCA, sets the first purchase order and then buys more coins with additional orders if the price drops. It places separate sell orders for each order rather than a single order for all purchases as in DCA.
Is TradeSanta profitable?
The platform does not guarantee profitability and states that it solely depends on the trader's skills, strategy, and market conditions. Investors should be aware of the risks involved in trading.
How to get started on TradeSanta?
TradeSanta guides you to create your first bot and start trading on Binance, Bybit, etc. Following are the steps beginning with the platform:
Register on the platform and verify your email address
Choose a trading bot (grid or DCA) from the dashboard
Select your exchange and link API keys
Configure your bot settings, like trading pairs, strategy (long or short), take profit level, etc.
Launch the bot after saving the settings
How beginner-friendly is TradeSanta?
TradeSanta is a beginner-friendly bot as it provides prebuilt strategies for algorithms. It does not require any coding skills and provides extensive support for new users with documentation and tutorials about the platform's working.
TradeSanta compatibility–exchanges and coins supported
TradeSanta trades on the following crypto exchanges:
Binance
OKx
Coinbase Pro
Huobi
Binance Futures
HitBTC
ByBit

Commissions, deposits & withdrawals
TradeSanta does not charge commissions and recommends $10 as a minimum deposit to start trading with the platform. The vendor advises users not to give withdrawal permission.

TradeSanta pricing details
TradeSanta offers the following pricing plans:
$25 per month/49 bots/unlimited trading pairs/access to all strategies/Telegram notifications.
$45/month/99 bots/trailing take profit/trading view signals for Binance, Coinbase, Huobi and HitBTC.
$70 per month/custom trading view signals and futures algorithms.
Note that there is a discount on each package if purchased annually.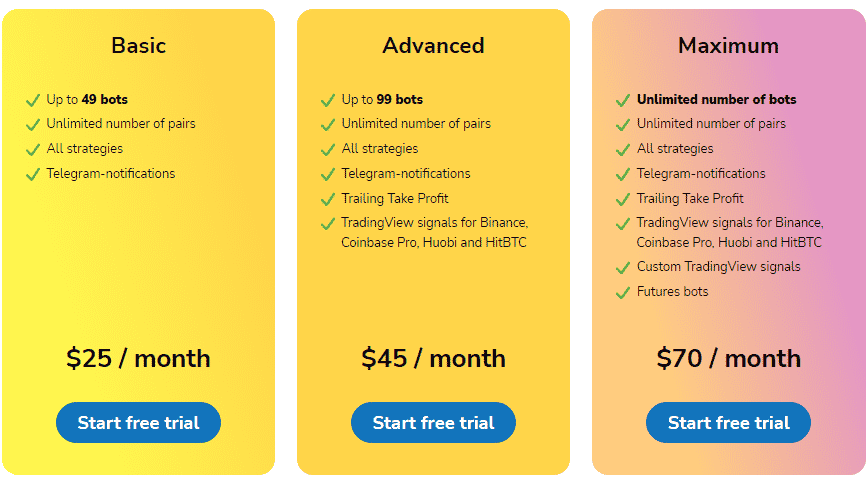 Performance and security
The website features the top-performing bots on the marketplace from where you can copy the signals. API keys guarantee security for TradeSanta, as they do not permit the platform to withdraw. Investors have complete control over their assets, and it is recommended that they employ 2FA to safeguard their investments and not enable withdrawal permission.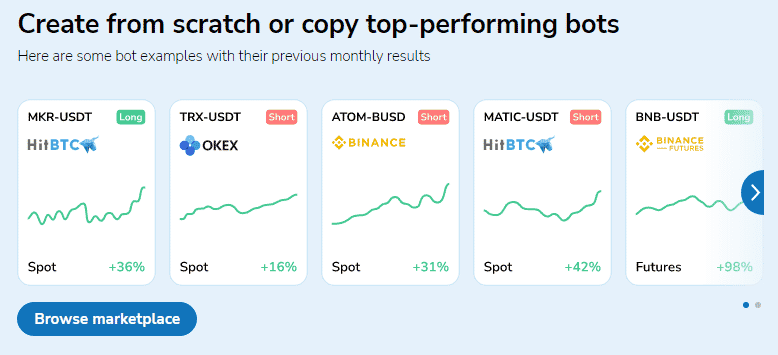 Is TradeSanta regulated?
Because there is no information on the platform's website, we have no idea if it is regulated. No financial authorities are overseeing its activities since it is an automated trading service and not an exchange.
TradeSanta company reputation
TradeSanta was founded by TradeSanta global limited, a BVI business entity, in 2018. There is no mention of a team of specialists or developers, which raises questions about the platform's competence. Different media outlets feature this trading bot, like Cointelegraph, Buzzfeed, Investing.com, etc.

Customer support
Traders can get in contact with the support team via an online form or email. The Telegram group with over 4000 users can also assist.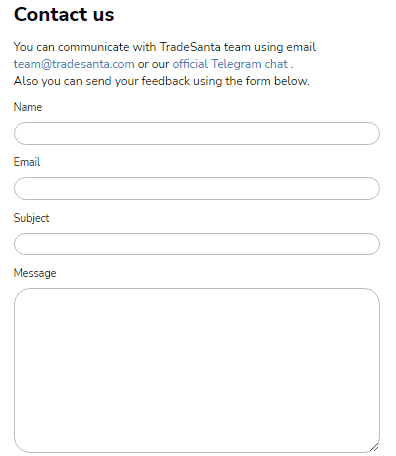 Public reviews
There are 46 customer reviews on the trusted platform, TrustPilot with a rating of 4.1/5. One user comments that it is a scam because it made him lose money and warns other traders to be careful.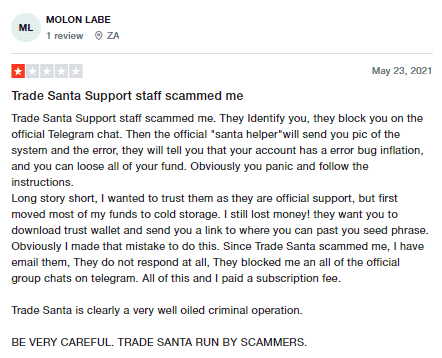 Another client writes that TradeSanta offers the best bots.

TradeSanta review: upsides and downsides
Trading with TradeSanta has the following advantages and flaws:
Upsides
It offers a free trial and demo account
TradeSanta allows traders to copy the settings and strategies of experts
Downsides
The platform shows a lack of vendor transparency
It only offers two trading bots (DCA and grid)
Support a limited number of crypto exchanges
No backtesting support
TradeSanta Crypto Bot Conclusion
Trading bot for bull and bear market.
TradeSanta only allows spot and futures trading and lacks company information, a development team, and addresses. The pricing plans are expensive, with no money-back guarantee, and there are no backtesting or live records present.