WallStreet Forex Robot is an expert advisor that claims to have won as many as 16,000 pips in the live market. According to the vendor, this system can take your Forex trading experience to the next level. However, after conducting a thorough analysis of the various system aspects, we found out that this is not entirely true.
For this robot, the vendor has shared the live trading outcomes and backtesting results for different pairs. As per our observation, there is a refund offer for this system, but the lack of strategy insight is quite disappointing. Also, there are several customer reviews reporting high losses suffered while trading with this robot. Thus, we don't think this is an EA you can rely on.
Vendor Transparency
WallStreet Forex Robot is a product from the FXautomater team. This is a company that is based in Seychelles and has 15 years of industry experience. It was founded in the year 2009, and since then, the company has built systems like BF Smart Scalper EA, News Scope EA Pro, Omega Trend EA, Gold Scalper Pro, Grid Master Pro, BF Scalper, and Smart Scalper Pro. If you wish to get in touch with the service team, you can use the contact form on the website.
How WallStreet Forex Robot Works
Forex merchants can run this robot with any MT4 broker, including ECN brokers. It is possible to use standard, mini, and micro accounts for this EA. It has money management functionality that allows for the modification of the trading lots based on the market scenarios and the size of your trading account.
WallStreet Forex Robot also has an in-built Broker Protection System. There are several unscrupulous brokerages that place trades against their customers that lead to slippage, off quote errors, and high spreads. This might affect your profit-making capability. This feature lets you monitor whether the broker is cheating you.
Timeframe, Currency Pairs, Deposit
You can use this EA to trade in pairs like XAU/USD, XAG/USD, USD/JPY, USD/CHF, USD/CAD, GBP/USD, EUR/USD, and AUD/USD on M15 charts. The vendor recommends using leverage of 1:500. Although you can start with small amounts like $100-$500, the vendor suggests investing at least $1000 to $500 for sizable profits.
Trading Approach
On the official website, the vendor has not provided much information on the trading strategy used by this robot. Seasoned Forex traders look for technical information related to the strategy because it helps them gauge the EA's profitability. Without it, many of them might not feel confident enough to purchase this system.
Pricing and Refund
WallStreet Forex Robot is available for the price of $267, which is pretty close to the market average. The vendor offers a 60-day money-back guarantee for this product.
Trading Results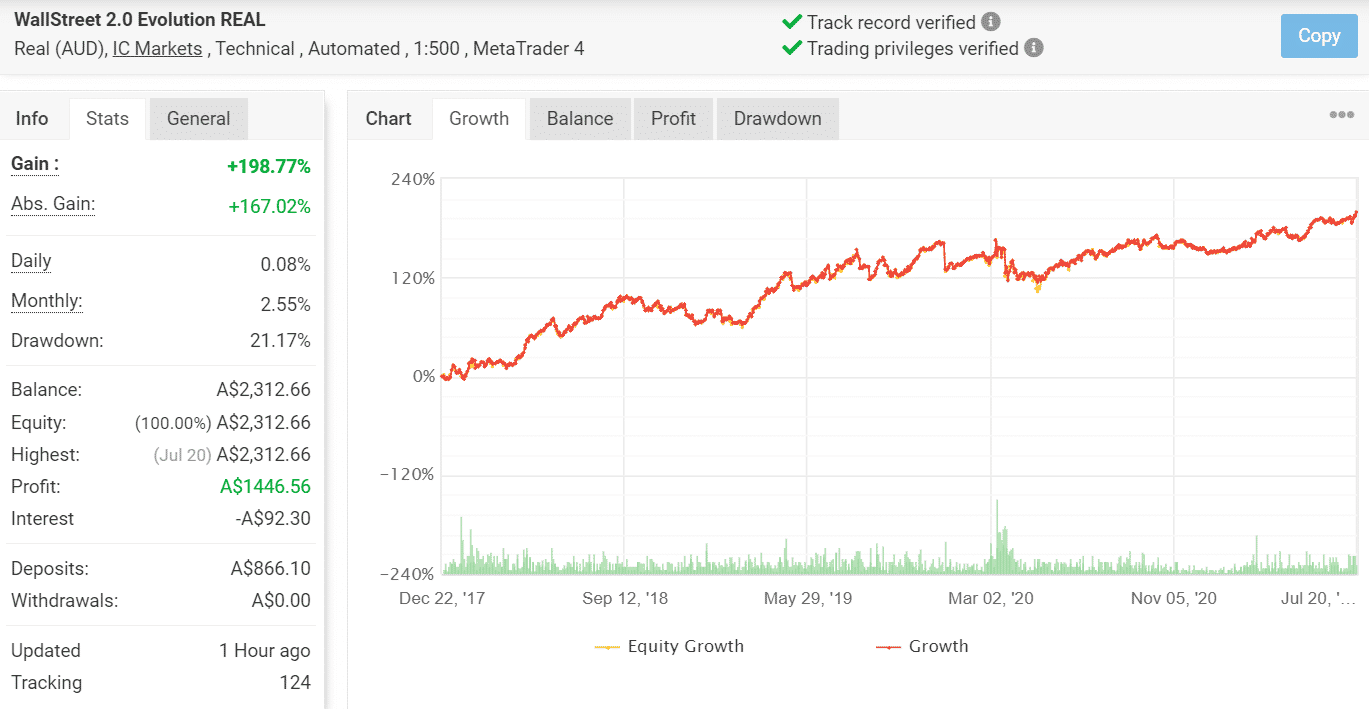 Here we have a live trading account for WallStreet Forex Robot that was launched on December 22, 2017. The robot has placed a total of 3159 trades through this account, winning 79% of them and generating a total profit of A$1446.56. Currently, the daily and monthly profits are 0.08% and 2.55%, respectively, while the drawdown is a bit high at 21.17%. This indicates a high-risk trading strategy that can lead to large losses.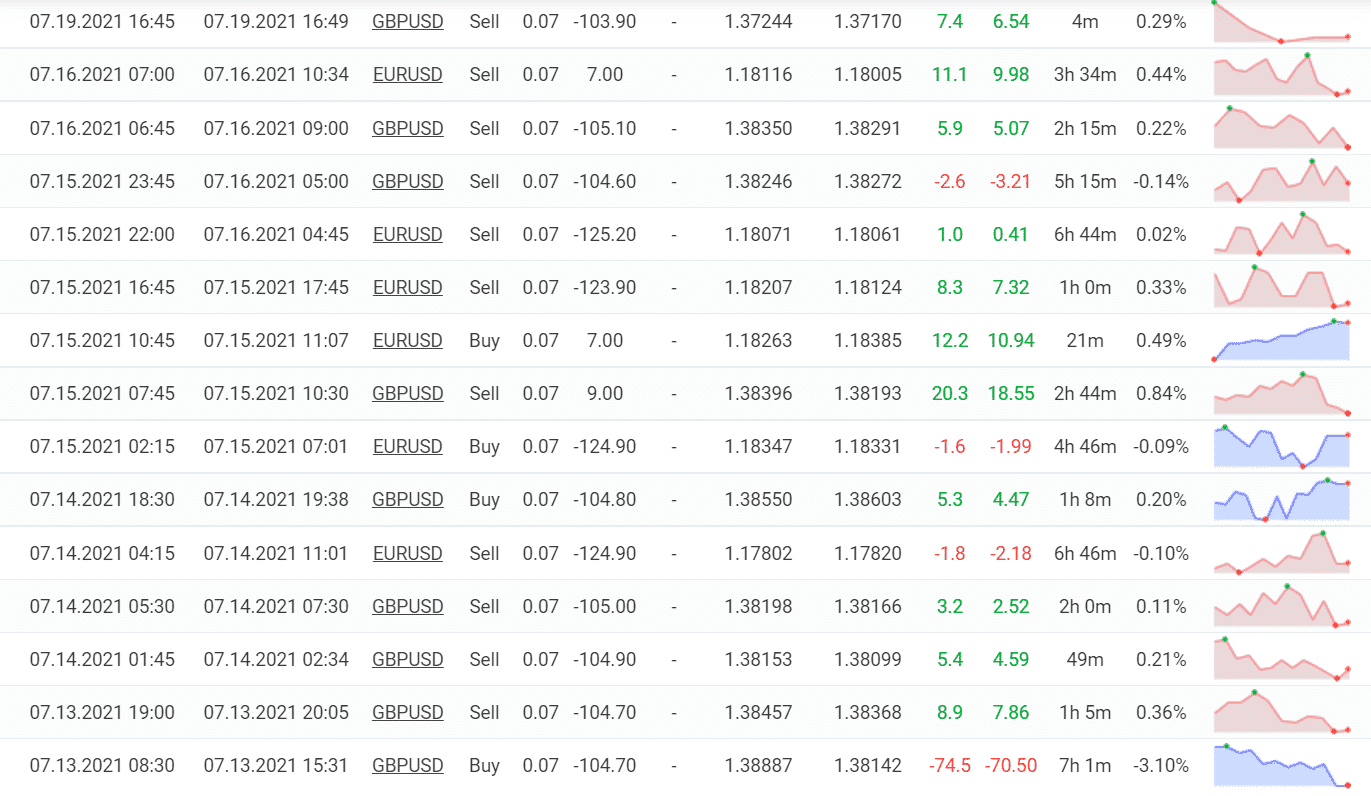 From the trading history, we can see that the system uses an amalgamation of Martingale and Grid strategies, which is considered risky by most traders. It only generates small profits from each trade, and we can see losses as large as -3.10%.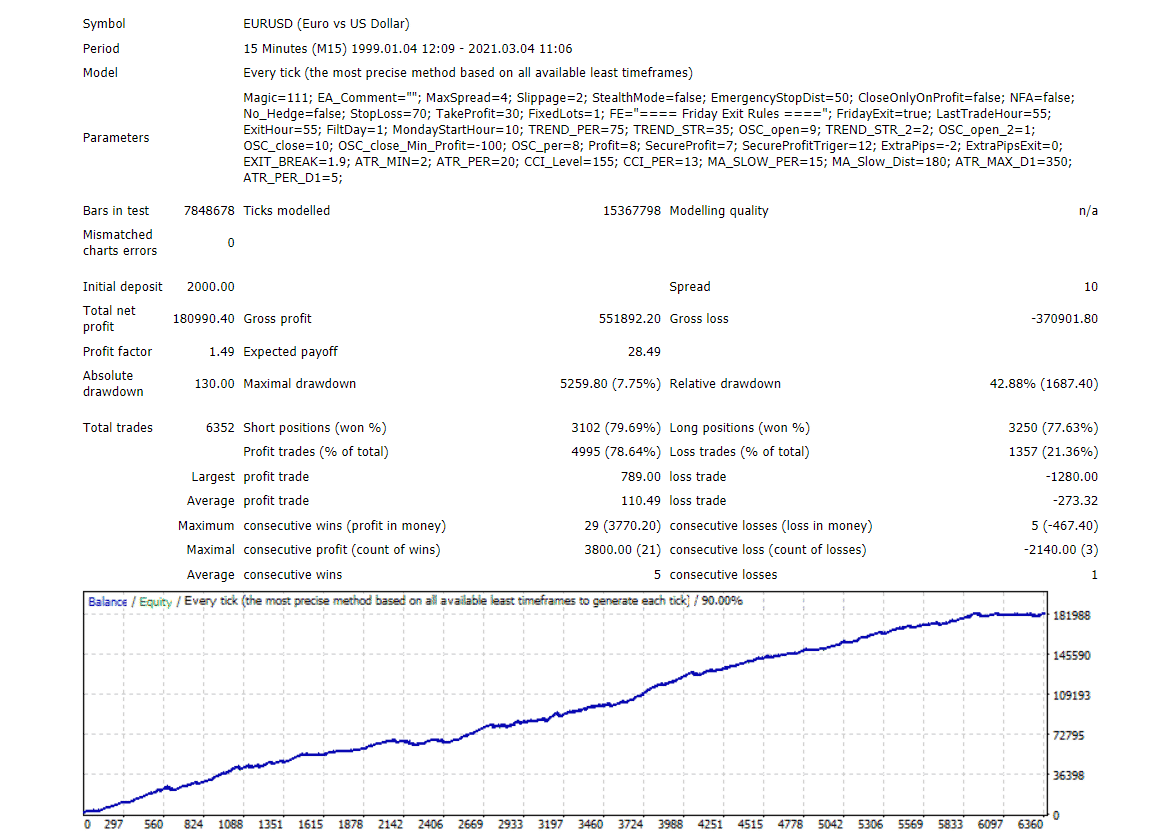 This backtest was conducted from January 1999 to March 2021. The EA used an initial deposit of $2000 to generate a profit of $180990.40. It had a win rate of 78.64% and a profit factor of 1.49. Here also, we can see an extremely high drawdown of 42.88%, which is even higher than the live trading results.
People say that WallStreet Forex Robot is…
Doubtful. There are several reviews from users on the Forex Peace Army website where they have complained about low profits. Some users have also claimed that the losses are large enough to wipe out the profits.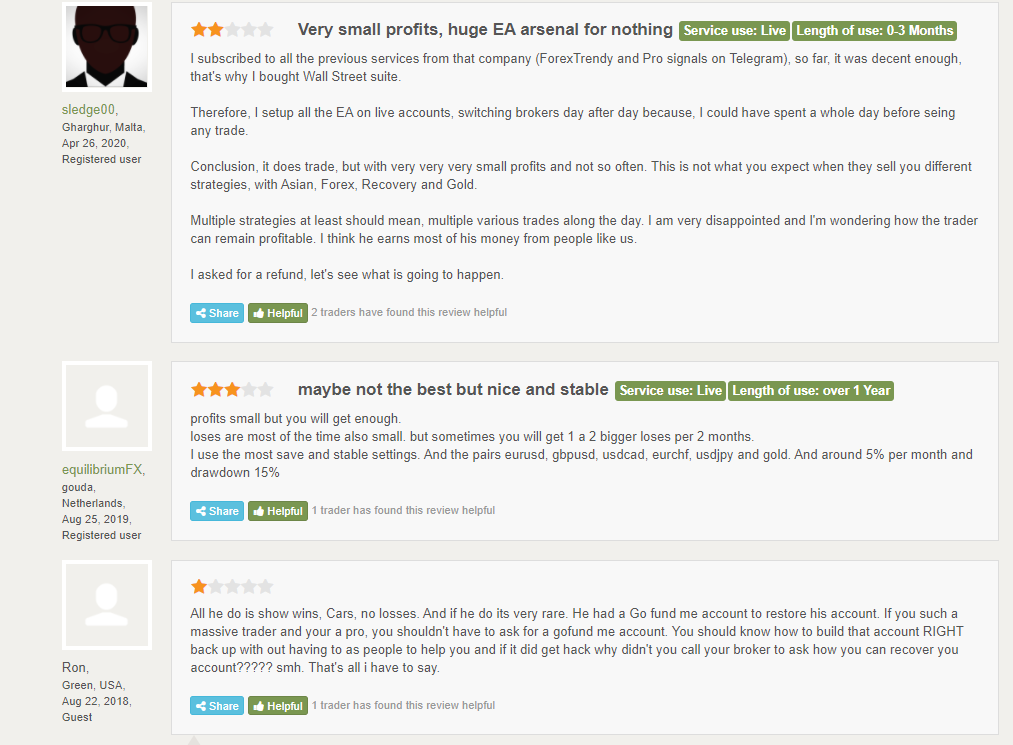 You shouldn't trust in a robot that uses the Martingale + Grid scheme. This EA exhibits high drawdown and does not offer too many high-end features.
Verdict
| | |
| --- | --- |
| Pros | Cons |
| Live trading results available | Martingale+Grid strategy combination |
| | High drawdown |
| | Negative customer reviews |
WallStreet Forex Robot Conclusion
This is definitely not an EA you can trust with your live trading account. It uses a dangerous strategy involving Martingale and Grid. This scheme is infamous for draining traders' accounts, so you should stay away from it at all costs.