Wild Side is a Forex expert that trades on the night Forex market. It was launched on 3rd April 2021, so it's a relatively new introduction to the market. This robot trades in multiple currency pairs, but our expectations from it are not too high, because of its lack of live-trading experience.
Apart from the short trading history, we are not too happy with the fact that there is no money-back guarantee for this robot. Also, the vendor does not explain the trading strategy in detail, which further compounds the risk. At first glance, this doesn't look like a reliable EA.
Vendor transparency
Marat Baiburin, the developer behind Wild Side, is based in Russia. There is virtually no relevant information available on this person and according to their MQL5 profile, he has zero trading experience. Thus, we can assume that this person has just started developing Forex robots. Apart from Wild Side, he has not built any other systems, as of now. We don't have the contact details for the vendor, but it seems he responds to messages and comments on MQL5.
How Wild Side works
This is a fully automated expert advisor that uses a take profit and a stop loss with each trade. It avoids using risky trading schemes like grid and martingale. The vendor has mentioned a unique transaction tracking algorithm but has provided no explanation for the same, so we have no idea how it works. Wild Side combines the developer's indicator with its price action algorithms.
The vendor recommends using the EA on RAW or ECN accounts along with a VPS having low ping. You have the option of trading with a fixed lot size or you can choose the increasing lot size option where the calculation is done by the robot. It is possible to specify the amount of balance needed to increase the lot size.
Timeframe, currency pairs, deposit
Wilde Side trades in multiple currency pairs like EUR/USD, USD/CAD, EUR/CAD, EUR/CHF, EUR/AUD, USD/CHF, GBP/USD, CHF/JPY, and AUD/USD. The recommended leverage for this robot is 1:50 or more and you are advised to apply it to pairs with the M5 timeframe. For every 0.01 lots, you need a minimum deposit of $50.
Trading approach
The vendor has not provided an explanation for the trading strategy Wild Side uses, which is quite disappointing. Seasoned traders often look for strategy insight as it helps them gauge the profitability of the trading system. Without it, many of them might not feel too confident about investing.
Pricing and refund
You can purchase Wild Side at the price of $219. We think this is a hefty price tag for a robot that has been launched only recently. There is no money-back guarantee for this EA, but the vendor offers a free demo version for testing purposes.
Trading results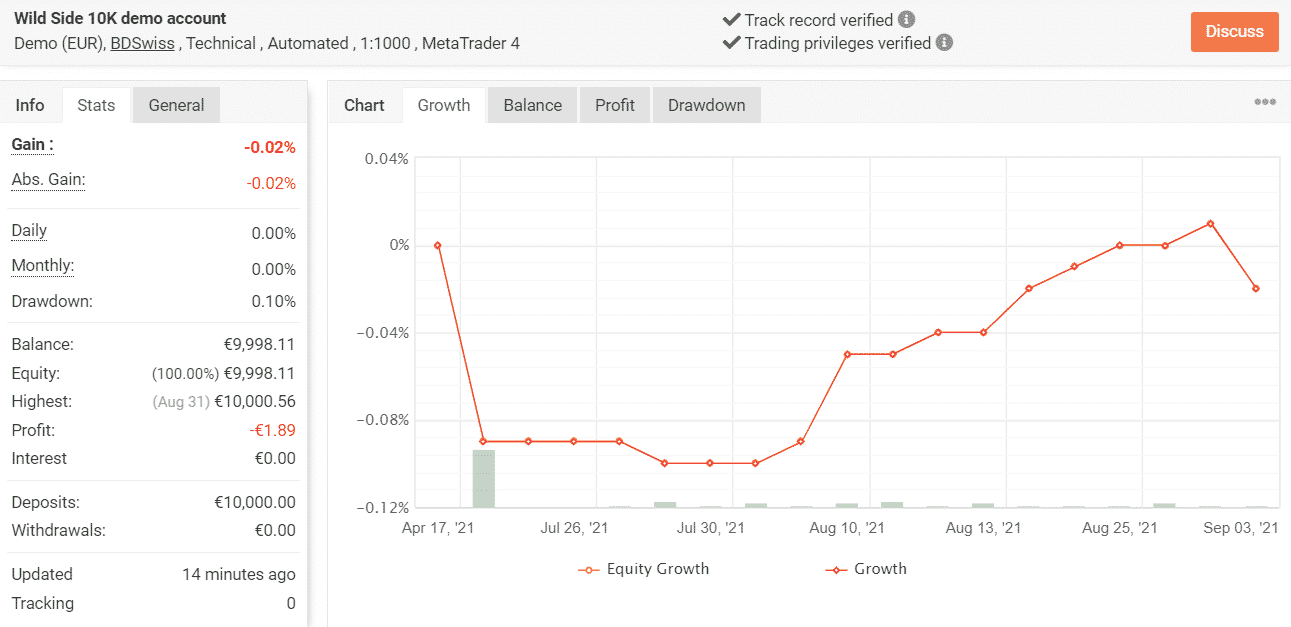 This trading account on Myfxbook has been active since April 17, 2021. Looking at the time-weighted return of -0.02%, we can tell that it hasn't been too successful. The EA has placed only 27 trades through this account, winning only 56% of them. Most EAs have higher win rates, so we cannot consider this a profitable system.
At this moment, the daily and monthly gains are both 0%, while the drawdown is 0.10%. The account has a low profit factor of 0.87.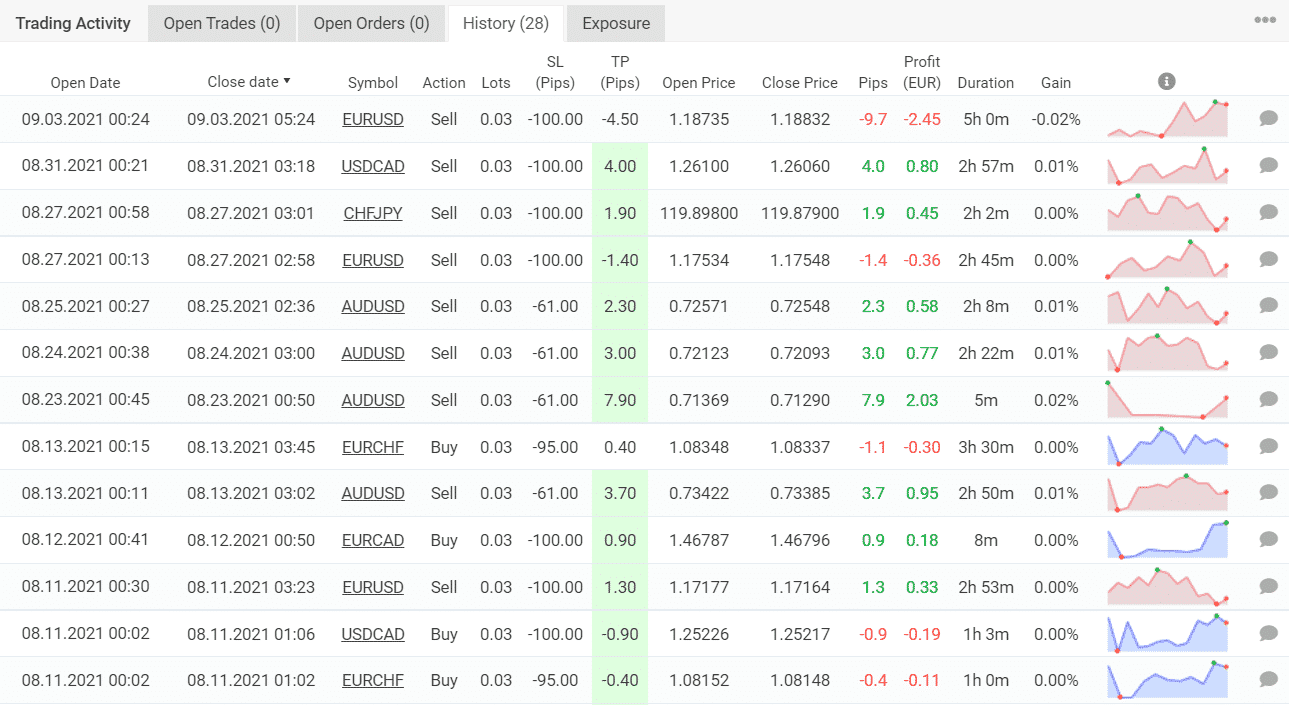 We can get an idea about the system's poor profit-making capability by studying the trading history. Here we can see that the EA only generates small profits from each trade. This is definitely not a viable long-term approach.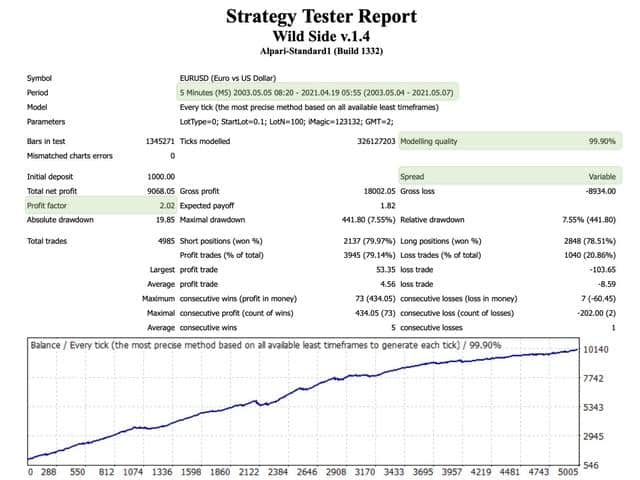 Here we have the results for a backtest conducted on the EUR/USD pair from 2003 to 2021 with 99.90% modeling quality. The EA used an initial deposit of $1000 to generate a total profit of $9068.05 after conducting 4985 trades.
For this backtest, the EA had a win rate of 79.14% which is much higher in comparison to the live trading results. It also had a higher profit factor of 2.02.
People say that Wild Side is…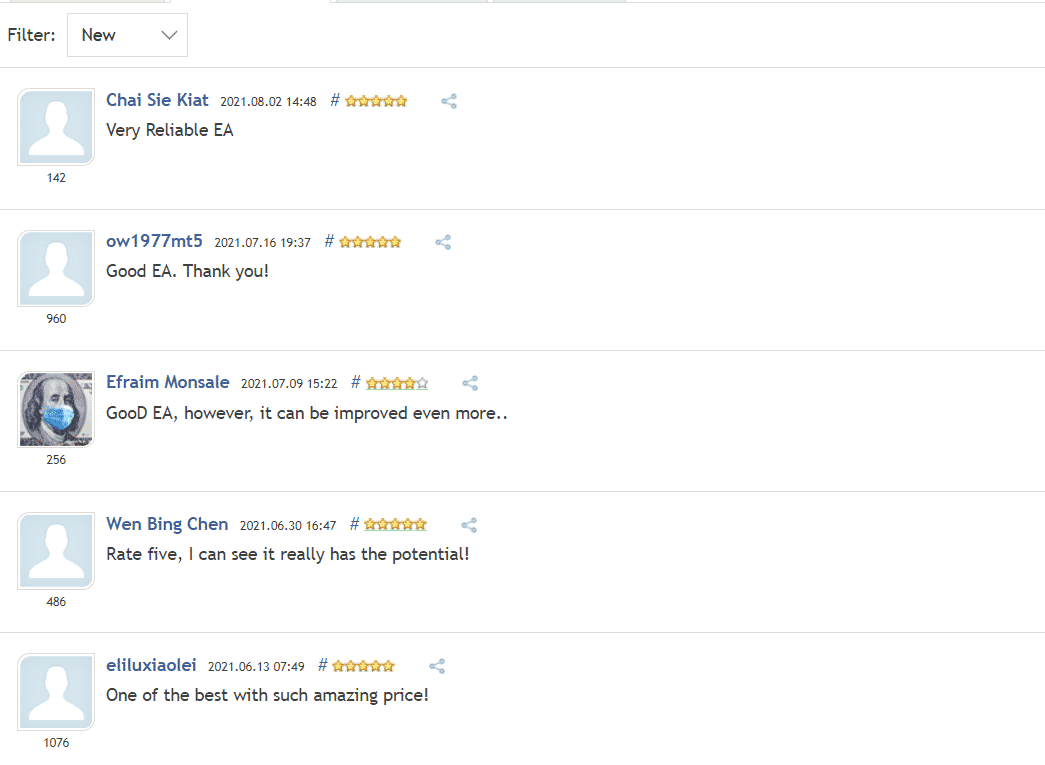 Doubtful. We don't have any reviews for this robot on third-party websites and this indicates a lack of reputation. Since the EA has a short and unsuccessful trading history, not many traders wish to invest in it. The lack of a refund policy is also a major red flag.
Verdict
| | |
| --- | --- |
| Pros | Cons |
| Trades in multiple pairs | Short trading history |
| | Lack of strategy insight |
| | No money-back guarantee |
Wild Side Conclusion
It makes little sense to invest in a robot that has shown such dismal performance in the live market. Wild Side does not come with a money-back guarantee and the vendor does not explain the trading strategy, which further enhances the risk.