XFXea is an expert advisor that is powered by Forex Store. As usual for these trading solutions, the system has a several-page long presentation. The developers don't care about providing us with relevant information about how the system functions. The only claim is "XFXea regular profits on your account."
Vendor transparency
The company has no transparency at all. We have no idea who they are and what we should expect from them. It matters because the system should be updated from time to time.
How XFXea works
It's time to talk about features, settings, and other relevant details.
The system knows how to execute orders well automatically without a need of human intervention.
We don't know details about the strategy and if it's a risky one.
From results, we could note that the advisor uses a risky and dangerous combo of two trading approaches: Grid and Martingale.
The main strategy should be price action to handle this combo well.
"Thanks to special calculations and transaction algorithms, the developers were able to ensure that the system practically doesn't have loss periods."
The system can recover an account after even several lost orders in a row.
"The Entry Point calculates based on the range indicator data received from the terminal."
The robot trades with a high frequency.
Timeframe, currency pairs, deposit
The main time frame can be H1, according to the backtest.
It trades AUDUSD and EURUSD.
There is no information about the recommended or minimum deposit amount.
Trading approach
The system uses a Grid of orders to overtake price moves.
If something goes wrong, it can open a Martingale-based order with an increased lot size to recover.
Pricing and refund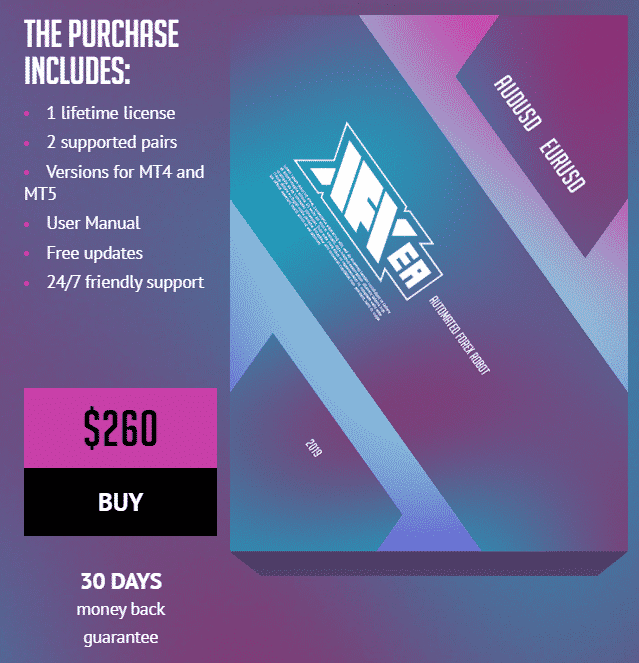 The system can be bought for $260. There's no discount. The package is featured by one lifetime and two demo account licenses, MT4 and MT5 versions, user manual, free updates, and welcome support. As usual for powered solutions, there's a 30-day money-back guarantee supported.
Trading results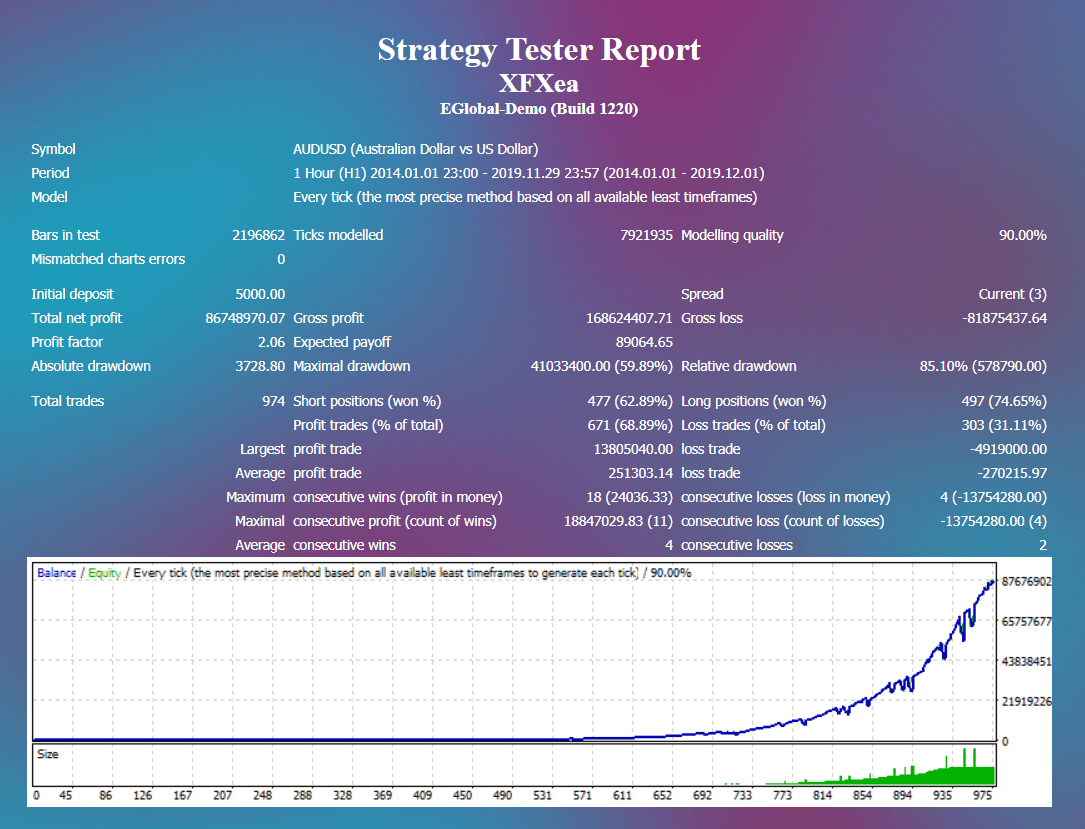 We have several backtest reports provided. This one is based on AUDUSD on the H1 time frame. The tick data period was chosen from 2014 to 2019. This data is so old to be relevant for us in 2021. The modeling quality was 90.00% with 3 pips spreads. An initial deposit was $5000. The total net profit has amounted to $86,748,970. The profit factor was 2.06. The maximum drawdown was quite high – 59.89%. The robot closed only 974 orders with a 62% win rate for short and 74% for long trading positions.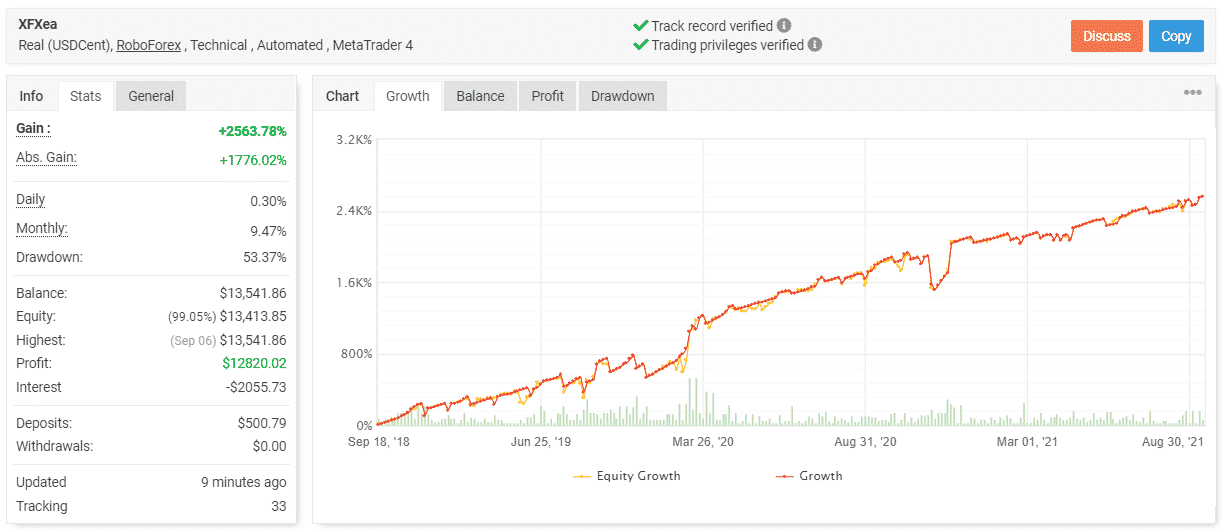 The most important part of every presentation is actual trading results. It's important because only current market conditions can show if the system can handle them well and be profitable in the short-range at least. So, we've got a system applied to a real USC account on RoboForex. This broker is pretty good for automatic trading. The account has both track record and trading privileges verified. It was created on September 18, 2018, and deposited at $500.79. Since then, the absolute gain has become +2563.78%. An average monthly gain is 9.47%. The maximum drawdown is 53.37%. Trading results are tracked by 33 investors.

There were 555 orders with 3838 pips obtained. An average win is 34.13 pips when an average loss is -45.76 pips. The win rate is 64% for longs and 67% for shorts. An average trade length is three days. The profit factor is 1.70. It's a common number for price action.

AUD/USD is the most profitable symbol with $8395 and 308 orders.

It trades during European trading hours and a bit during the Asian session.

It opens almost equal amount of orders daily.

There are medium risks to the account balance.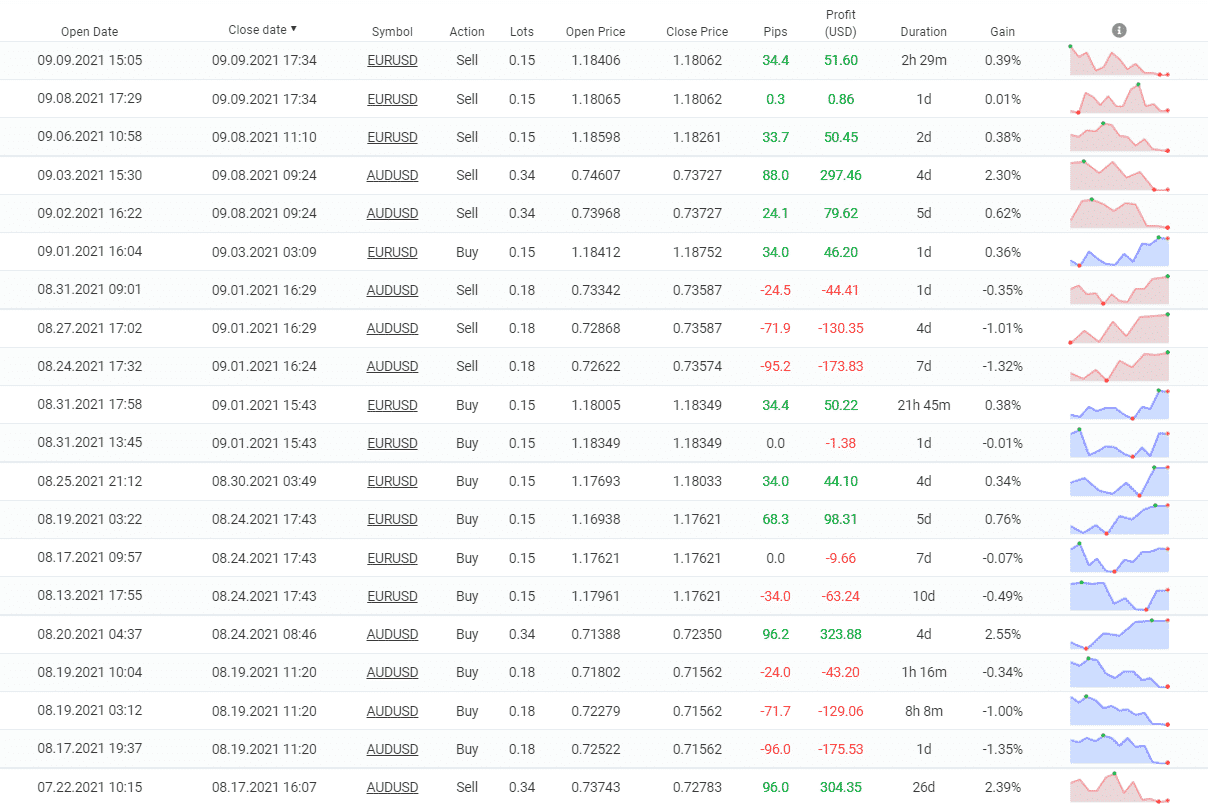 We have a list of closed orders. We may note Martingale orders and short Grids.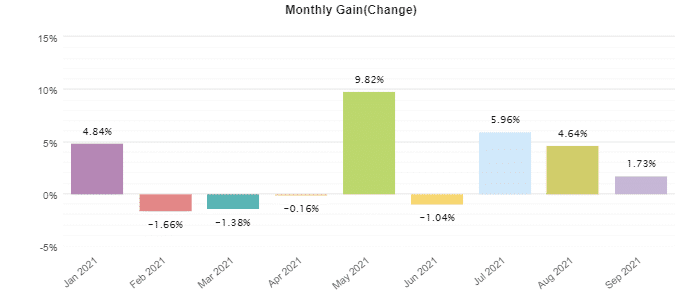 As you can see, the robot can easily lose three months in a row.
People say that XFXea is …

We couldn't find any sign of testimonials on the site or on the web. There's only a page on Forex Store where the system has a 9.5 rate.
Verdict
| | |
| --- | --- |
| Pros | Cons |
| Trading results provided | No team revealed |
| A refund policy supported | No risk advice given |
| | Risky strategies are on the board |
| | No customer feedback provided |
XFXea Conclusion
XFXea is the system that works with risky strategies on the real US Cent account. Trading results vary from month to month. Most likely, it needs some updates. We have to wait for updates to be sure that the system runs stable and well.