Zenith is a FOREX EA that was launched on 29th March 2021. Currently, you can buy it at a discount of 50%. However, one shouldn't decide to purchase a robot based on the price, and so we need to thoroughly analyze all the different aspects of the system before we can deem it trustworthy.
Zenith is an affordable EA that works on five different currency pairs. We can see that the vendor has provided the live trading results for this robot on two different accounts, but none of them are verified by third-party websites. Also, the vendor's other EAs are poorly rated on the MQL5 marketplace, which is a cause for concern. At first glance, this doesn't seem like a system that you can trust with your money.
Vendor Transparency
The individual selling the Zenith EA on MQL5 is an American trader by the name of Olenna Skrynnik. We don't know anything about this person or their background, and we are not sure if they are working alone or as part of a team.
Other systems sold by this vendor include Humblebee, MiniTradeFields, DemoTradeFields, CoinTradefields, and TradeFields. As per our understanding, this vendor does not have much of a reputation in the market. The only way to get in touch with them is through the MQL5 website.
How Zenith Works
Zenith is an EA that does not overtrade. Its trading frequency is quite low and it does not use the scalping technique. There are grid parameters as well as input parameters that you can modify to suit your trading style. These include trading pairs, lot size, percent lot size, stop loss, take profit, trailing stop, maximum spread, and others.
It starts placing trades from 12 PM on Mondays. According to the vendor, you need to optimize the EA to make it work properly since the default parameters might not be compatible with the broker.
Timeframe, Currency Pairs, Deposit
You can use Zenith on H1 charts for currency pairs like GBP/USD, AUD/USD, USD/CAD, EUR/USD, and USD/CHF. We don't know how much money you need to get started with this EA, and the vendor has not mentioned anything about leverage.
Trading Approach
Zenith's trading strategy is based on the ABC algorithm that simulates the social behavior of honey bees. In a bee colony, different kinds of bees accomplish different tasks. Similarly, this algorithm has different components that check the patterns, identifies problems by reading the graph, trains the network on the received data, and breaks down the pattern, classifying them.
Pricing and Refund
You can purchase Zenith for the price of $99. The vendor also offers a free demo version of the software that you can use to test the performance before spending any real money. It should be noted, however, that there is no refund offered for this robot under any condition. This automatically makes it a risky investment.
Trading Results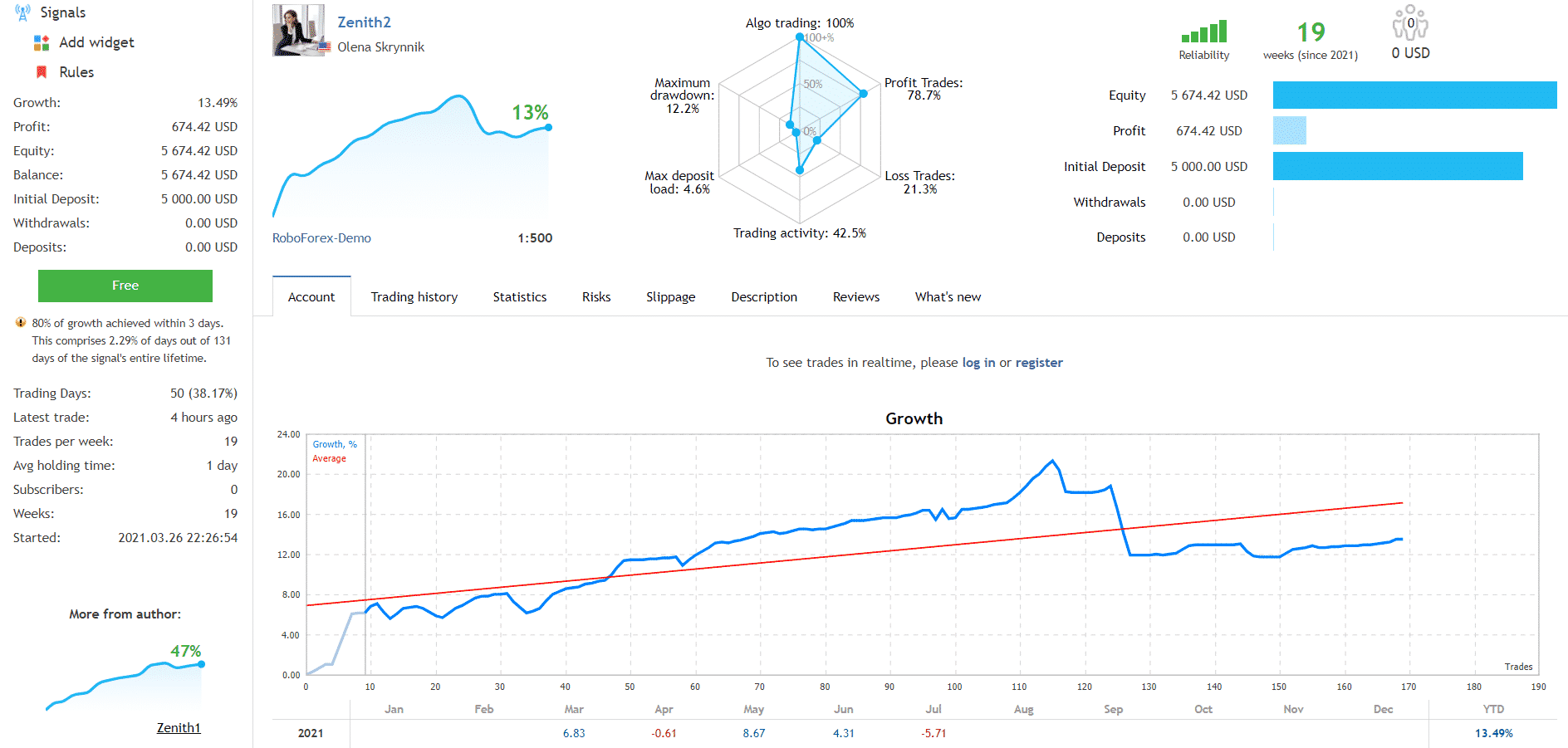 Here we have the live trading results for Zenith presented on the MQL5 website. This account has a trading history of 50 days, and we cannot accurately gauge the system's profitability based on such a small sample size. The EA has placed 169 trades through this account, winning 133 out of them, which means it has a win rate of 78.69%.
Experienced Forex traders always look for trading statistics that are verified by third-party websites like Myfxbook, FXBlue, and FXStat. Trading results posted on other websites are generally not considered authentic. As such, many people might not feel confident enough to invest in this robot.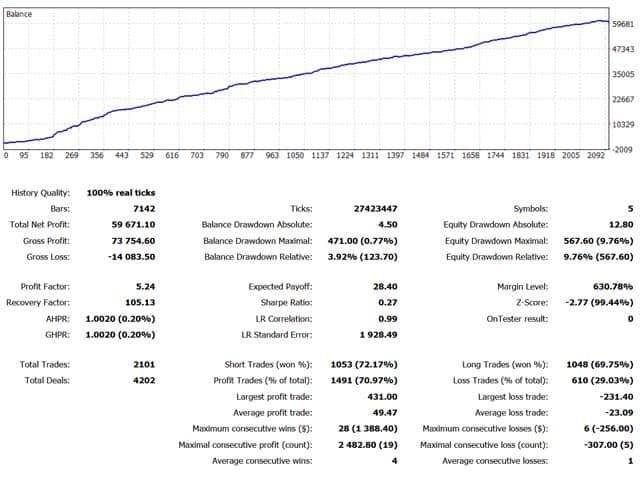 The vendor has shared a screenshot of a backtest on the MQL5 page for Zenith. We are not able to see the time period for which this test was conducted, so there is some doubt regarding the genuineness of the backtesting data. Here, the win rate is 70.97%, which is a bit low compared to the live results. For this backtest, the EA generated a total net profit of $73754.60.
People Say that Zenith Is…
A scam. There are some reviews on the MQL5 website where users have claimed that EA is suffering from losses. It also has a very poor rating. There are no reviews for this robot on trusted third-party websites.

This EA does not have a decent reputation and is not supported by verified trading results. Thus, there is a high probability of suffering from losses while trading with Zenith.
Verdict
| | |
| --- | --- |
| Pros | Cons |
| Available at a cheap price | Lack of verified trading results |
| | Lack of vendor transparency |
| | No money-back guarantee |
Zenith Conclusion
Investing in Zenith is a risky prospect since it does not have a successful and long history of trading through a verified account. Also, the vendor doesn't have much of a reputation and does not offer a money-back guarantee.