Zeus EA only works on the MT4 platform and trades on one currency pair. The sellers state that the product keeps the drawdown value under 20% for efficient trading. According to the website, the strategy uses instant, error-free orders based on a proprietary strategy. We will go through all the essential features of this EA to help investors make a good purchase decision.
Vendor transparency
Zeus EA is owned by the parent company Elite CurrenSea, founded by Chris Svorcik, Nenad Kerkez, and Mykyta Barabanov. Some other forex products by these sellers are Black Widow, Athena EA, etc. They also provide industry-relevant commentary and market research services.
Apart from this, there is no information about the company credentials like certifications, past experiences, address, or telephone number. This reduces the level of transparency and raises doubts.
How Zeus EA works
The robot comes with the following main features:
It works well with all types of accounts and brokers.
It is 100% fully automated.
Sellers claim that this EA is super-fast.
The robot comes with a VPS service.
Timeframe, currency pairs, deposit
This robot only trades on the EURUSD currency for a 5-minute timeframe. The maximum leverage offered by the bot is 1:500.
Trading approach
The developer states that they cannot reveal the exact rules of the robot. They trade on EURUSD because of its volatility and liquidity. The history present on Myfxbook records shows us the use of averaging as multiple trades close simultaneously. The general take profit for most positions is 4 pips. A mean trade duration of 13 hours and 52 minutes suggests day trading.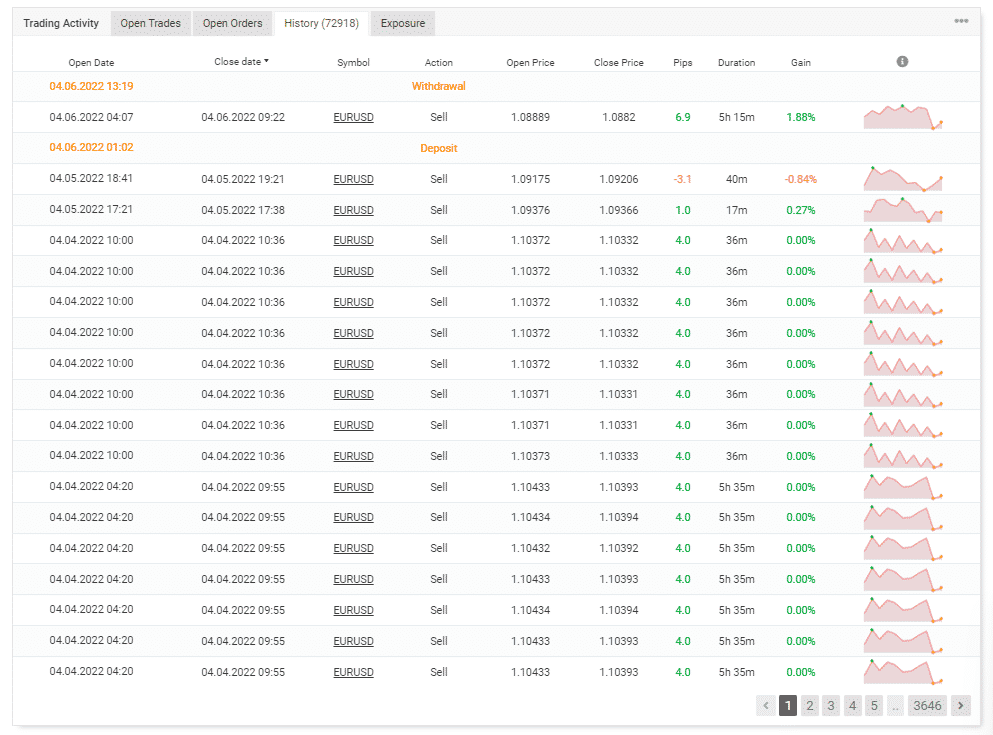 Pricing and refund
This robot is sold in three renewable subscription packages and one based on profit sharing. Rental comes at 699 Euros (for 12 months), Lifetime is sold for 999 Euros (Lifetime), and Rental Sponsored is priced at 399 Euros (for 12 months). The Managed Account option comes at 0 Euros, requiring 20-30% profit sharing.
Support is provided across all packages. VPS is only offered for Rental, Lifetime, and Managed accounts. There is no information provided about the availability of a money-back guarantee.
Trading results
Backtesting records have been provided for the period January 04, 2016, till August 13, 2020. The system showed a monthly gain rate of 2.8%. The drawdown value was recorded as 53.30%, which is exceptionally high. Deposits stood at 2500 USD, whereas profits were reported as 9356.32 USD. The bot participated in 14,662 trades, of which 70% were profitable. The lot size was 236.63 with a profit factor of 1.52.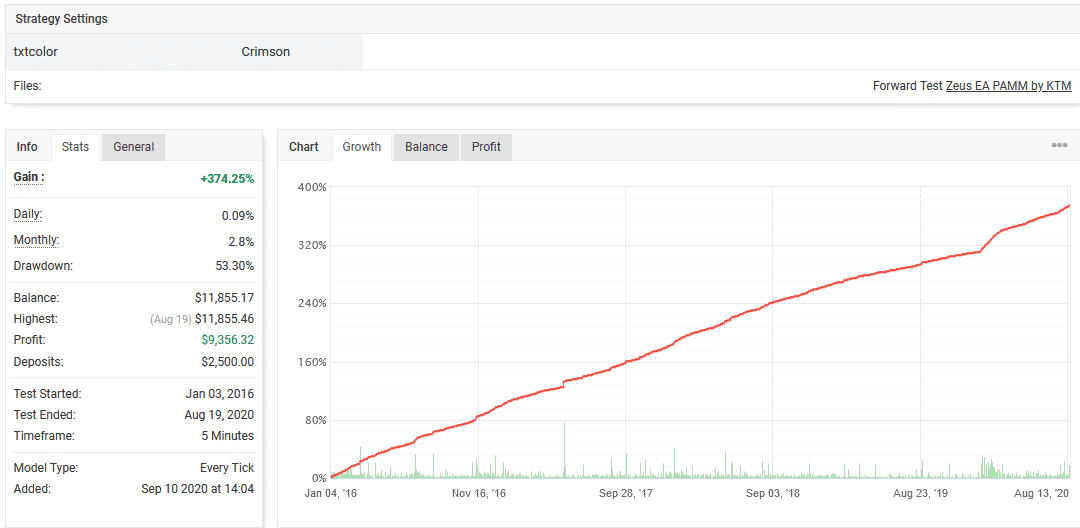 Live trading results verified by Myfxbook have been provided. Although, it is rather strange that the sellers have locked away key metrics like balance, equity, profit, interest, deposits, and withdrawals. Lot size, best, and worst trade value are also hidden from plain sight.
We can observe these results, from Sep 02, 20, till Apr 04, 22. They show monthly growth of 1.01 %. The abnormal drawdown of 71.01% makes a fair case of why the sellers decided to hide the other critical metrics from view. The profit factor is written as 1.05.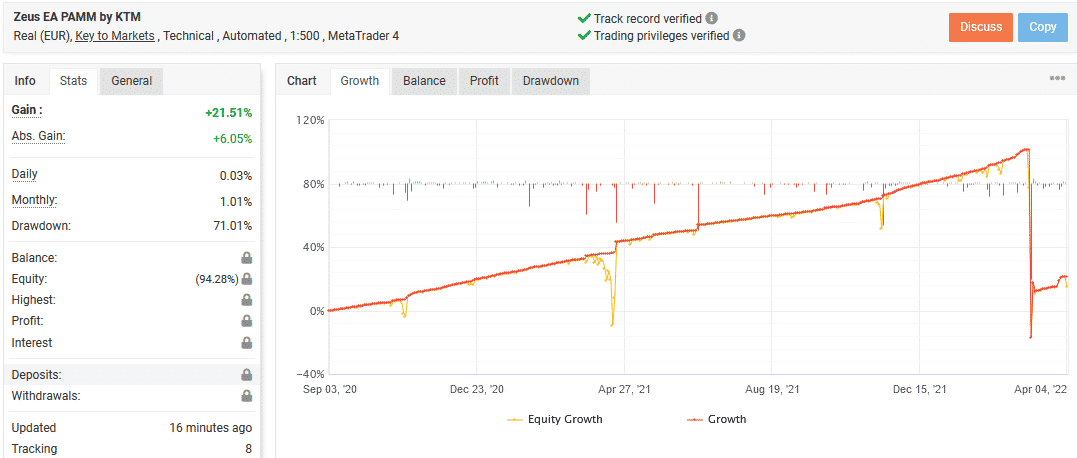 People say that Zeus EA is…
Bad. The parent company has 86 reviews on Forex Peace Army, a third-party site for customer feedback. One outraged user accuses Zeus EA of blowing their account due to the high drawdown that we also noted in their live records. They also complained that the company falsely reported that the EA was working fine to make money. This puts the ethical practices of this company into serious doubt.

Verdict
Advantages
Live trading results are available
Disadvantages
Very high drawdown
No transparency by the sellers
Only trades on one currency pair
Zeus EA Conclusion
Zeus EA is not clear about its strategy. Also, the negative customer feedback on third-party sites paints a negative picture of this algorithm. The high drawdown observed in backtests and live trading results signifies lackluster working.