BF Scalper Pro is the specialized edition of BF Scalper EA. The vendor says that this new Pro version has new extra characteristics and systems so as to enhance its general performance. Also, there is a new exit logic that mainly reduces the drawdown and augments the robot's efficiency. We have established that these statements have no truth in them. Therefore, you cannot trust this EA.
Vendor transparency
FXautomater is the vendor behind this system. The company focuses on researching, testing, revealing, and creating trading algorithms for the Forex community. The team that does this is composed of experienced investors, traders, and programmers. The company is famed for inventing various trading robots, but many of them are not effective.
How BF Scalper Pro works
BF Scalper is a fully automated Forex robot. It can be set up and utilized easily. You are advised to only utilize renowned ECN brokers with tight spreads. The EA also comes with the following features:
A quick-install wizard
Detailed user guide
Lifetime free updates
A time management system
A Friday Exit system
An email and push notification system
A dynamic stop loss
Money management
Advanced news filter
Volatility filter
Optional grid system
High spread, slippage, and broker protection.
Timeframe, currency pairs & deposit
The BF Scalper Pro trades with several currency pairs such as the EURUSD, USDCHF, GBPUSD, USDCAD, EURAUD, GBPCAD, EURCHF, EURCAD, and USDJPY. The recommended timeframe is M15. Nevertheless, the vendor does not indicate the deposit or the leverage that traders need to work with.
Trading approach
From the name, it is evident that the EA applies the scalping strategy. As mentioned above, it opens and closes trades within short time periods, M15. The objective is to attain small winnings from fluctuations of currencies. The vendor also asserts that the system has a new stop loss computing algorithm which lessens the drawdown and augments the profit factor.
Pricing and refund
BF Scalper Pro's price is $137. This package includes a real account, 3 demo accounts, 24/7 customer support, and a 60-day money-back guarantee. We have learned that this EA generates tiny profits. Therefore, we can comfortably conclude that it is not worth this money.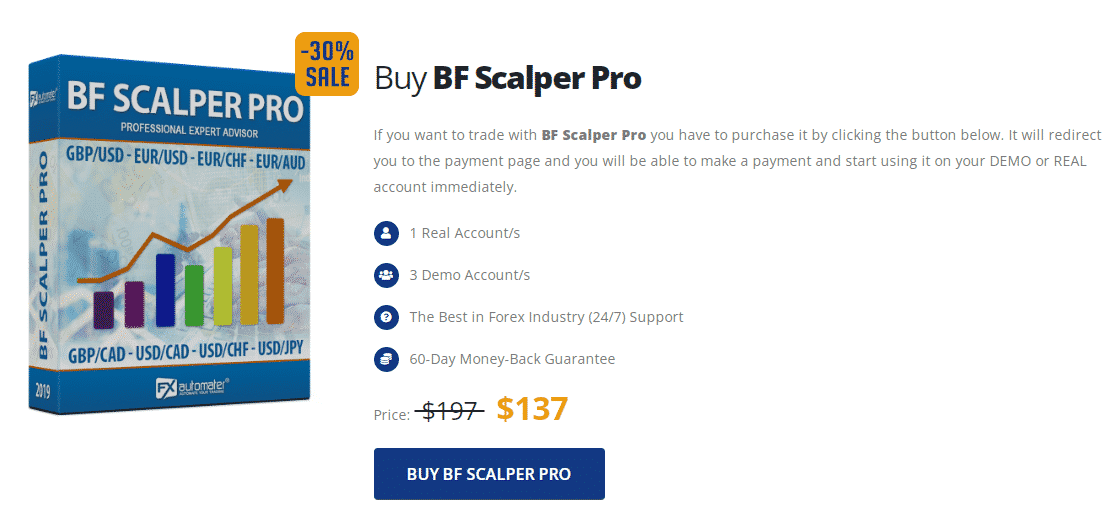 Trading results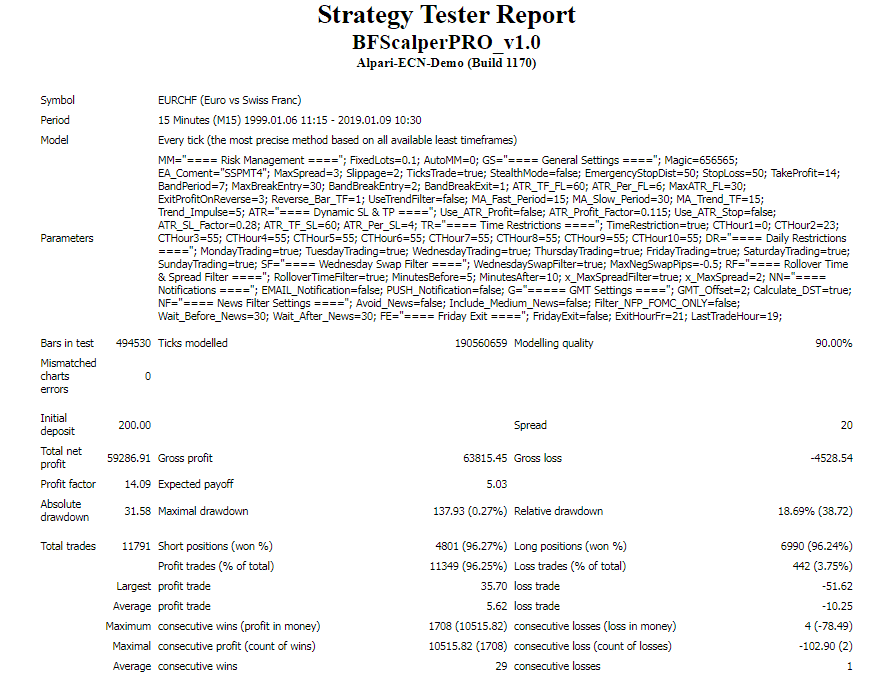 The efficiency of the robot was tested for two decades, mainly from January 1999 to January 2019, using the 15 minute timeframe. With a deposit of $200, the system managed to place 11791 orders, winning 96.25% of them. The resulting profit was $59,286.91, while the drawdown was 0.27%. The profit factor was 14.09.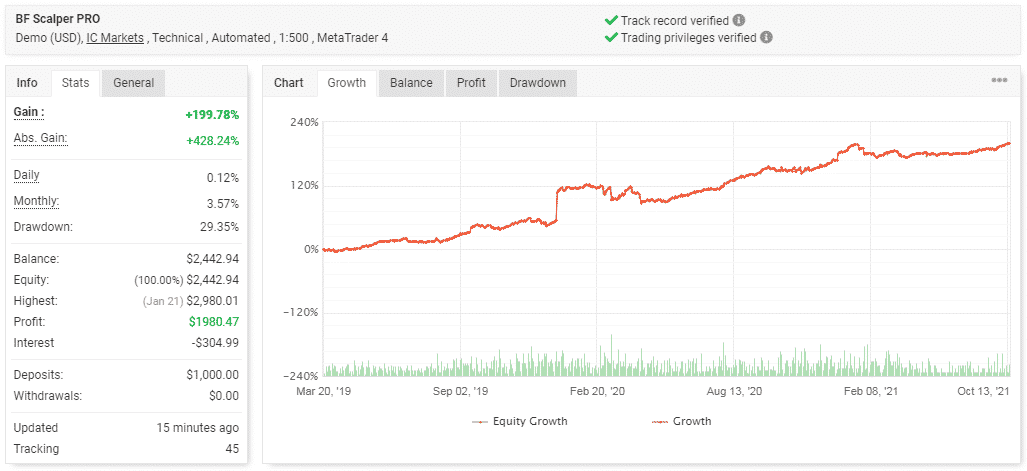 There is a live account in Myfxbook.com that was deployed on March 20, 2019. To date, it has attained a profit of $1980.47 after conducting 2342 trades. It has been making daily and monthly profits at rates of 0.12% and 3.57%, respectively. The drawdown is high —29.35% and demonstrates that the EA trades with significant risks. 

The win rates for long (72%) and short (64%) positions are much lower in comparison to the backtest statistics. The profit factor —1.35 is lower as well. It seems that the real market conditions do not favor the system's strategy. Losses are also made often. This is depicted by the average loss of -10.22 pips, which is considerably higher than the average win of 7.46 pips.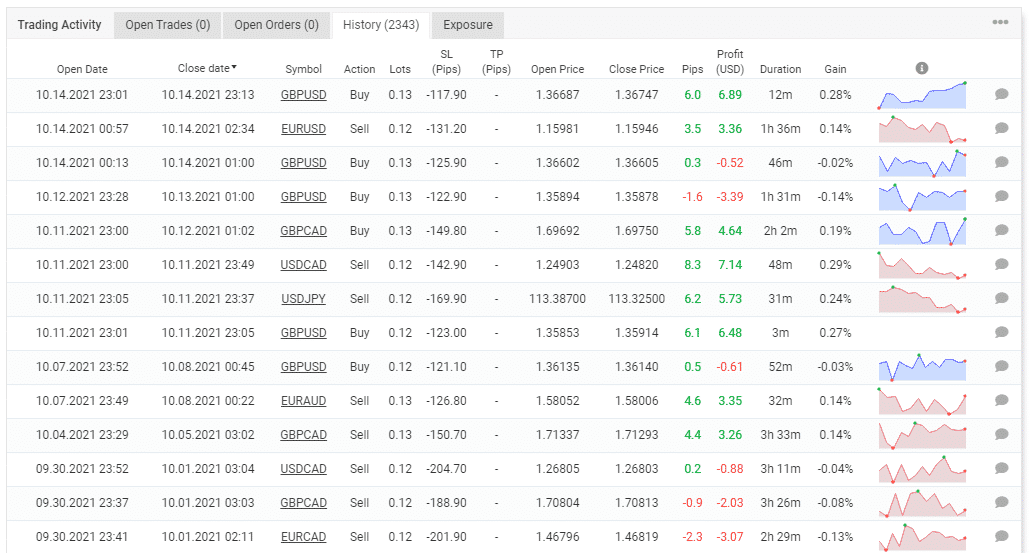 These statistics reveal that the EA traded with big lot sizes within short time frames while applying trailing stop losses. As a consequence, tiny profits were made.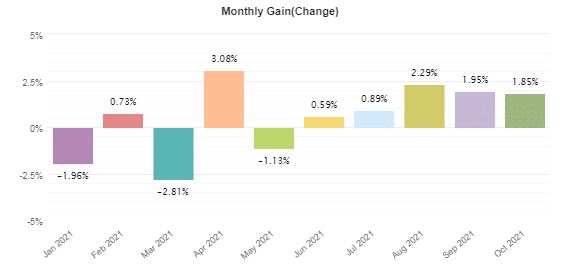 The robot's strategy is not that lucrative. Since January, the highest profit rate attained is 3.08%, and this happened in April.
People say that BF Scalper is…
Ineffective. Even though we could not find any customer feedback on Trustpilot or FPA, we came across some reviews on mql5. A good number of traders have indicated that the EA has a low profitability rate, and generates many losses and a high drawdown. We believe them since the live trading statistics reveal the same.

Verdict
Pros
Backest statistics and live trading data are available
Is fully automated
Cons
Low rate of returns
Generates a big drawdown
Negative customer reviews
BF Scalper Pro Conclusion
BF Scalper Pro is not a profitable tool. The new extra features have done nothing to improve its performance. The EA still makes small profits. In addition, it causes more losses than wins. As a consequence, the drawdown has increased immensely and eaten away almost 30% of the capital. With a risk/reward ratio of 8:1, it will take the robot about 8 months to recover the money lost. So, we advise you to avoid this EA altogether.