Forex Combo System is a fully automated robot that promises to rid you of any worry you might have while trading in the Forex market. It has 4 inbuilt strategies that have supposedly been vetted, tested, and refined to work in any market. Therefore, these approaches are able to signal profitable trades for you. We disagree with these claims. As you will later see in the 'trading results' section, this EA will bring you nothing but anxiety.
Vendor transparency
Forex Combo System is the creation of FXautomater. This company has developed several systems, including Forex Gold Investor, Grid, Master Pro, Smart Scalper Pro, etc. Its year of foundation, physical location, and address are not indicated. Furthermore, the names and expertise levels of the professionals behind the workings of this system are not disclosed. As always, you should be cautious when dealing with anonymous individuals. You can easily be scammed, and you won't know who to hold accountable.
How Forex Combo System works
We are told that the system:
Is fully automated
Can be installed easily
Runs on the MT4 platform
Is compatible with all brokers and other EAs
Provides open and closed position notifications
Applies stop-loss protection
Has management rules customized based on the trader's risk profile
Hardly opens positions in volatile markets
Comes with a detailed user guide.
Timeframe, currency pair & deposit
The system supports various currency pairs, including EURAUD, EURUSD, GBPUSD, and EURCAD. It prefers to work on short timeframes, and in particular, M5. Nevertheless, the vendor does not stipulate the leverage or the amount of deposit that should be used.
Trading approach
Forex Combo is based on 4 trading strategies:
The vendor says that this method entails assessing trends in the market to find trades that have a high likelihood of succeeding.
In this regard, the robot mainly monitors meaningful market signs that illustrate sustained and lucrative trends and tries to profit from them.
This means that the EA focuses on market trend reverses to take advantage of the large pip spread opportunities that such movements create.
In this case, a powerful algorithm is utilized in spotting a non-trending market and modifying its trade detection accordingly. As a result, the bot is able to obtain profits from such markets.
Pricing and refund
The vendor is selling this system for $137. This is after reducing it from $197. This current package features 1 real account, 4 trading systems, and a 60-day money-back guarantee.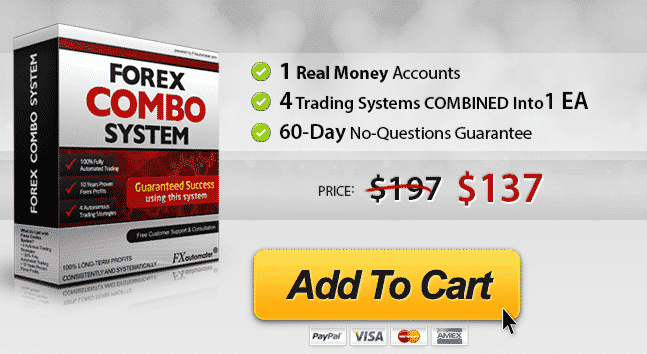 Trading results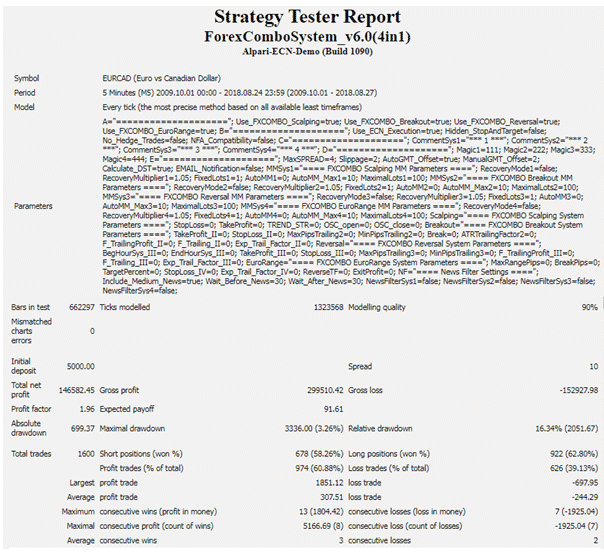 The testing was done on the M5 timeframe using the EURCAD symbol. It started in October 2009 with a deposit of $5,000. By August 2018, the EA had completed 1600 trades and generated a total net profit of $146,582.45. The maximum drawdown, which was 3.26%, was low and meant that the strategies used did not expose the account to unnecessary risks. Unfortunately, the success rates for short — 58.26% and long positions — 62.80% were not satisfactory. The profit factor was 1.96.
In general, the robot's performance in a live account is poorer. We can see that the EA struggles to make profits. It has only generated a mere $485.80 for the 3 years it has been active. So, the account balance has not grown that much. Although the drawdown level is low (8.08%), it is 8 times higher than the monthly profits of 1.04%. This simply means that the system loses more than it wins.
The data also tells us that trades are not conducted often. Since August 25, 2018, the robot has only implemented 380 orders. The win rates for short and long positions are also significantly lower compared to the backtest results: 52% and 54%. The profit factor — 1.42 is also lower.
When we look at the month-month profits, the bot's performance has been declining. It is now bringing in less than 1% monthly gains.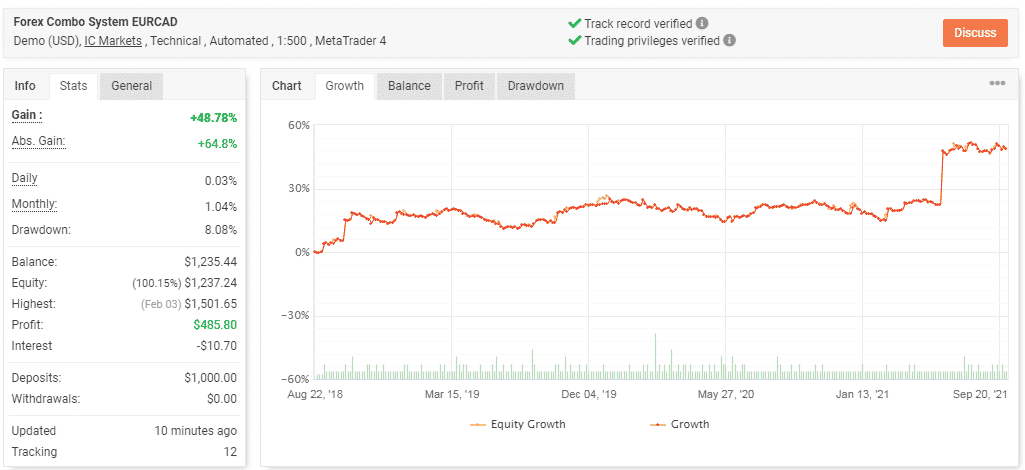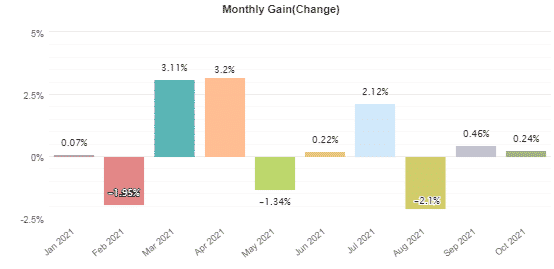 People say that the Forex Combo System is…
Bad. The system has been given a 2.042 rating by 5 people on FPA. Only one trader is satisfied with it. There is a trader who complains of losing 80% of the trades while using the EA. Another one reveals that the return policy is pretty much non-existent.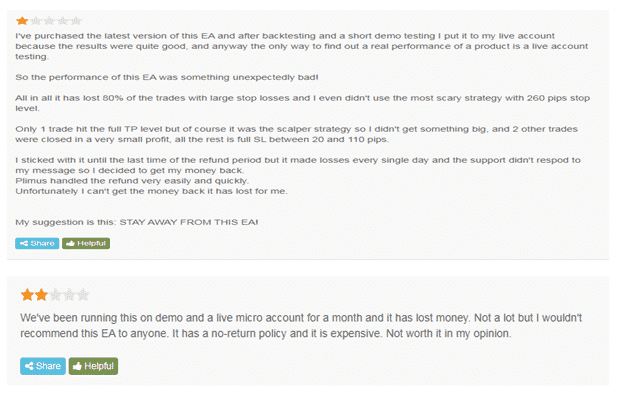 Verdict
Pros
Verified trading results are provided
Backtest data is available
Cons
Low rate of return
Vendor transparency is unsatisfactory
Negative feedback from customers
Forex Combo System Conclusion
Forex Combo System's performance is very poor. The robot makes very little profits. Even worse, it has a higher probability of making losses than wins. At this rate, it will take a very long time for your account to record any substantial growth. So, the best decision is to stay away from this product.