CryptoHero offers automated crypto trading bots that can be created within a minute. The platform makes it easy to use the bots anytime and from anywhere. For beginners, the marketplace feature offers pre-built bots that can be deployed instantly and with profitable results.
What is CryptoHero?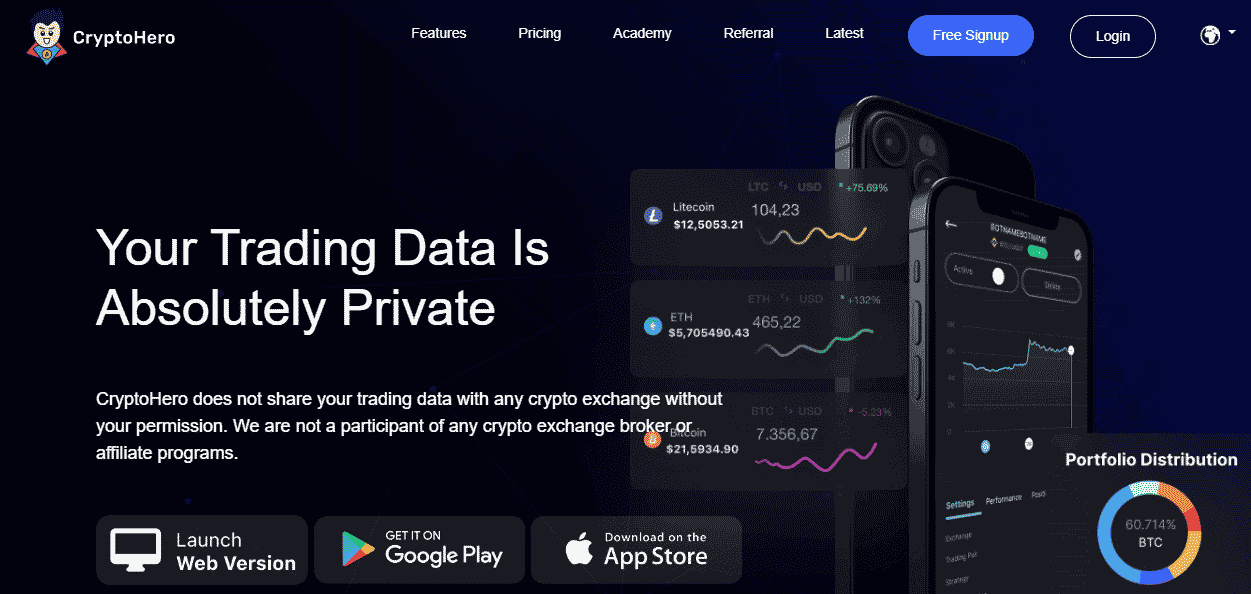 CryptoHero provides different types of crypto bots that are free to use. The service claims to have helped thousands of traders profit from using the automated bots. You can use it on iOS, Android, and Web platforms.
| | |
| --- | --- |
| Headquarters: | Singapore |
| Founded: | 2020 |
| Supported Exchanges: | Binance, Crypto.com, Bittrex, Coinbase, FTX, and more |
| Native Token: | N/A |
| Supported Fiat Currencies: | Yes (USD) |
| Trading Pairs: | N/A |
| Minimum Deposit: | N/A |
| Deposit Fees: | No fees |
| Withdrawal Fees: | No fees |
| Customer Support: | Email, online contact form, Telegram, location address |
Main features
The key features of the platform are:
Trading bots for the range-bound, bear, and bull markets are present.
Different strategies including DCA, long and short approaches, indicators and triggers, and more are present.
Simulation testing allows you to test the approaches without any risk.
Efficient backtesting enables testing the bots with historical data..
The marketplace feature enables professional traders to earn by leasing their bots.
How does the bot trade?
The crypto bot is fully automated and works 24/7 monitoring the market and spotting profitable trades using effective strategies. You can set up the bot easily without knowledge of coding.
Trading approaches of CryptoHero
The platform offers the following approaches:
Long and short strategy
Range-bound trading
Dollar-cost averaging
Indicators and triggers
Is CryptoHero profitable?
The crypto market is a highly volatile market making it difficult to predict profitable performance. Further, the vendor does not provide a proven track record.
How to get started on CryptoHero?
Here are the steps needed to get started with the service:
Begin by connecting to an exchange. Choose from the crypto coins listed in the exchange
CryptoHero uses your balance info to determine the amount to be assigned to the bot
You can set the fund allocation and how the bot handles your funds
Set the entry and exit conditions
Backtest the strategy
Now the bot is ready to use
How beginner-friendly is CryptoHero?
The platform has a user-friendly interface. All features are easy to access and use.
CryptoHero compatibility–exchanges and coins supported
Many exchanges are integrated with the platform. Here are a few of them:
Binance
Bittrex
Cyrpto.com
FTX
Coinbase
and more
It supports a huge number of crypto coins including BTC, ETH, BNB, etc.
Commissions, deposits & withdrawals
The service does not charge any commission fee. It does not have deposit and withdrawal features as the funds are handled by the exchange only.
CryptoHero pricing details
A free basic plan is present that provides one active bot, an unlimited trading limit, positions, and exchanges, and paper trading. The Premium plan costs $13.99 per month and has 15 active bots and access to all the bots. With the Professional plan, you get 30 active bots, 5-minute trading frequency, and a custom backtesting period. It costs $29.99 per month. When compared to the market average, we find the pricing is not expensive.
Performance and security
As per the vendor, your trading data is kept private and is not shared with broker programs. It trades using API keys that have trade-only permission and hence is a safe platform where you need not deposit your coins. We could not find proof of performance as there are no verified reports present.
Is CryptoHero regulated?
We could not find info on the regulation and licenses the company has acquired.
CryptoHero company reputation
Headquartered in Singapore, the company belongs to Novum Global Ventures Pte Ltd., A group with offices in the USA, Vietnam, and Switzerland. The Novum group, a blockchain-centric group of companies supports this service. It was founded in 2020.
Customer support 
For support, a user guide, an FAQ, email address, Telegram channel link, and an online contact form are present.
Public reviews

We found one review for the company on the Trustpilot site. As per the user, the bot is stable and working well and the user commends the effective user interface.
CryptoHero review: upsides and downsides
Upsides
Fully automated bots
Free Basic plan
Downsides
No verified track record
Limited exchange support
Lack of info on regulation
CryptoHero review summary
CryptoHero provides automated trades with its technical indicator-based bots that work 24/7. The free plan, multiple strategies, marketplace, backtesting, and simulation trading are advantageous features. However, you need to consider the lack of performance proof, limited exchange support, and the absence of regulation details.