Launched in 2017, Trality is a fully automated bot that traders can customize to meet their trading needs. It is a cloud-based software and runs 24/7 to monitor the market for favorable conditions. The developers state that participants can write codes for your algorithm or select from the pre-built templates with over 100 indicators. The marketplace allows you to rent robots and perform paper trading and backtesting. We'll go through its key features, security measures, pricing, and more in this review to help you determine if it's worth using.
What is Trality?
Trality supports various cryptocurrency exchanges like Binance, Coinbase Pro, etc. It is available in multiple pricing plans with no fees or commissions. The table below shows essential information about the platform.
| | |
| --- | --- |
| Headquarters: | Vienna, Austria |
| Founded: | 2019 |
| Supported Exchanges: | Binance, Kraken, Binance US, FTX, Bitpanda, Coinbase Pro. |
| Native Token: | N/A |
| Supported Fiat Currencies: | N/A |
| Trading Pairs: | All pairs on supported exchanges |
| Minimum Deposit: | N/A |
| Deposit Fees: | No fees |
| Withdrawal Fees: | No fees |
| Customer Support: | Email, Discord |
Trality offerings
Trality is packed with tools and features like:
Traders who are familiar with Python can design unique strategies for their bots.
You can begin using the platform's pre-built strategies, which do not require coding knowledge.
Over 100 technical indicators are available on the platform.
It is cloud-based and automatically places orders 24/7.
How does the bot trade?
Trality trades cryptocurrency by interacting with supported exchanges directly and placing orders depending on your strategy. The code editor and the rule builder are two choices for developing a trading bot. You connect your exchange via API keys for trading several coins.
Trading approaches of Trality
Trality provides traders with two alternatives for building a trading bot: users with Python coding skills can develop a code for their algorithm that includes particular parameters and specialized tactics tailored to their needs. The rule builder, which comprises over 100 technical indicators, is helpful for investors who want to employ predefined templates. Momentum, Parabolic SAR, Bollinger Bands, and other preconfigured signals.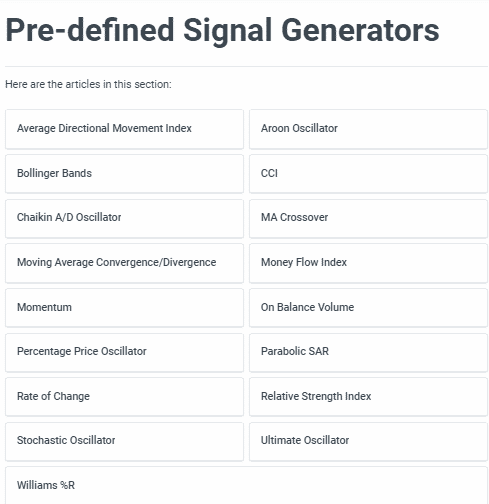 Is Trality profitable?
Trality does not provide performance records on its official website from where we can analyze the win rate and profitability of the bots. The vendor does not guarantee profits, as they are dependent on market circumstances and your trading technique.
How to get started on Trality?
Below is a step-by-step instruction covering all you need to know about creating a bot and deploying it for live or paper trading.
Sign up on the website
Create a new bot option from the dashboard
Name the bot and its type and select an exchange
Select the assets and set the parameters
Choose a trading strategy
Start the bot
How beginner-friendly is Trality?
Trality demands a basic understanding of the Python programming language in order to get the most out of the platform. It provides pre-built techniques; however, beginners may find it difficult to completely comprehend the indicators and signals needed to set up their trading strategy. Novices should use a free trial with demo funds before live trading.
Trality compatibility–exchanges, and coins supported
Trality is compatible with six cryptocurrency exchanges and supports all the available coins on these platforms.
Binance
Binance US
Bitpanda
Kraken
Coinbase Pro
FTX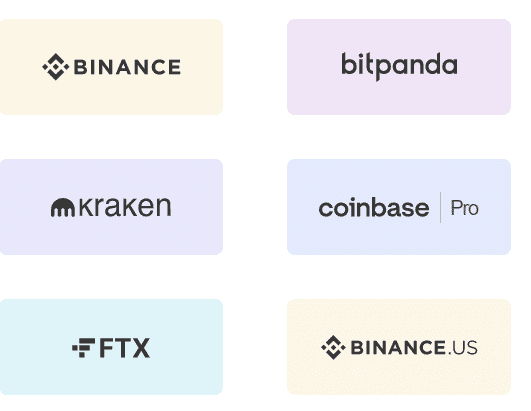 Commissions, deposits & withdrawals
Trality does not charge commissions and does not support deposits and withdrawals. You can perform these actions only through your exchange.

Trality pricing details
Trality offers four different packages, each with its own set of features such as trading volume, number of bots, tick interval, and log retention.
The Pawn plan is free and includes one live and virtual bot as well as a €5,000 monthly volume limit.
The Knight plan costs €9.99 per month and has a 25.000€ monthly trading volume limit. With this subscription, users can run two live and two virtual bots.
The Rook plan costs €39.99 per month and has a monthly trading volume maximum of €250,000, making it ideal for active crypto traders.
The Queen plan costs €59.99 monthly and includes an unlimited trading volume.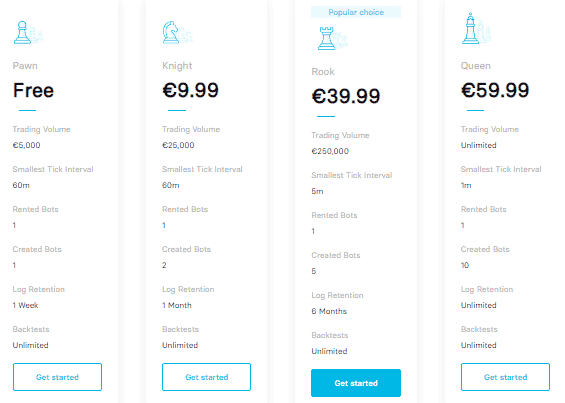 Security
Trality is unable to access your funds directly and will only place orders on your behalf via official exchange APIs. Your funds always remain on the exchange, and the bot runs in a cloud-based infrastructure. Other critical security measures of the platform include sandboxed strategies and firewall protection.

Is Trality regulated?
The website does not provide any information regarding the regulation of its software by any authority.
Trality company reputation
Trality, based in Vienna, Austria, has been in the cryptocurrency business since 2019. The company's board members are Moritz Putzhammer (CEO) and Christopher Helf (CTO).
Networks, including the European Blockchain lab, Vienna business agency, and others.

Customer support
Customer support at Trality is only available through an email and discord group. There is no live chat option, phone number, and a contact form.
Public reviews
TrustPilot, a reputable third-party website, has 26 customer reviews with a 4.2/5 rating. Traders have mixed feelings about Trality; one user says the site isn't working properly, while another comment the Python tool is one-of-a-kind.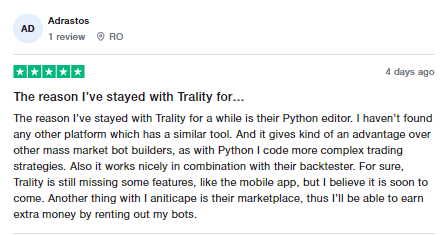 Trality review: upsides and downsides
The pros and cons of trading with Trality are as follows:
Upsides
Traders can backtest their strategies on historical data for six months or a year
A paper trading feature allows users to test the bots without any risk
Downsides
They do not offer refunds
Trality works with only six exchanges
Requires coding skills to understand and be able to use the platform
No specific trading bots are available like spot, grid, DCA, etc.
Trality review summary
Since its inception in 2019, it has only 26 user reviews and offers trading on only six cryptocurrency exchanges. According to the website, Trality focuses on professional traders with financial and coding skills. Python is the only language in which users can write code for their strategies. A significant flaw in the service is the lack of performance records. The pricing plans are costly, and there are no refunds.