Forex Steam is a robot that claims to be the longest-running robot of its type with an active group of developers. As per vendor claims, more than 6000 clients rely on this EA and it is active on more than 10,000 user accounts. It has also been claimed that the team has more than 24 years of experience in the Forex market, although we have no way to verify this.
The vendor offers 4 software licenses for this EA and also reveals the identities of the team members. But while the robot is reasonably priced, it lacks a verified track record. Without it, we cannot really consider it a reliable system. Therefore our first impression of this EA is not positive.
Vendor Transparency
Forex Steam has its headquarters located in Richmond, British Columbia, Canada. We don't know when exactly the company was founded. The team consists of coding team manager Dmitri Kozlov, marketing expert Julie Zhang, market analyst Allan Brisebois, and lead support member Paul Demonde.
To get in touch with the support team, you can use the contact form provided on the website. The usual response time is 3-4 hours, and if you send your query between 9 AM to 5 PM EST, you will get a quick response.
How Forex Steam Works
When you purchase the EA, you get a video guide that will help you set up the software. The vendor provides free updates on a regular basis. Forex Steam has a retrace technology that, according to the vendor, allows the EA to secure wins and minimize losses. But since we have no idea how this technology works, we cannot take this claim too seriously.
The robot also has a holiday filter that lets you avoid trading on holidays when the market is susceptible to sharp movements. It also has a spread filter that takes into account the market conditions before entering a trade. Forex Steam uses trailing stops and breakevens that set hard stop losses.
Timeframe, Currency Pairs, Deposit
To get started with this robot, you should use a minimum deposit of $300 to $500. There are two EA versions, namely normal and light, and they use the M5 and M30 timeframes respectively. It mainly trades in the EUR/USD pair, but we don't know what leverage it uses.
Trading Approach
We don't know the details of the strategy used by Forex Steam. The vendor mentions that it is a trend-based strategy, but does not elaborate further on the topic. In the absence of proper strategy insight, it becomes difficult for us to rely on this robot for live trading.
Pricing and Refund
You can purchase Forex Steam for a one-time fee of $117.99. This gives you instant access to all the EA versions and free upgrades for life. According to the vendor, there are only 3 copies before a price increase, but this seems to be a marketing tactic. Unfortunately, the vendor does not offer a money-back guarantee for this robot.
Trading Results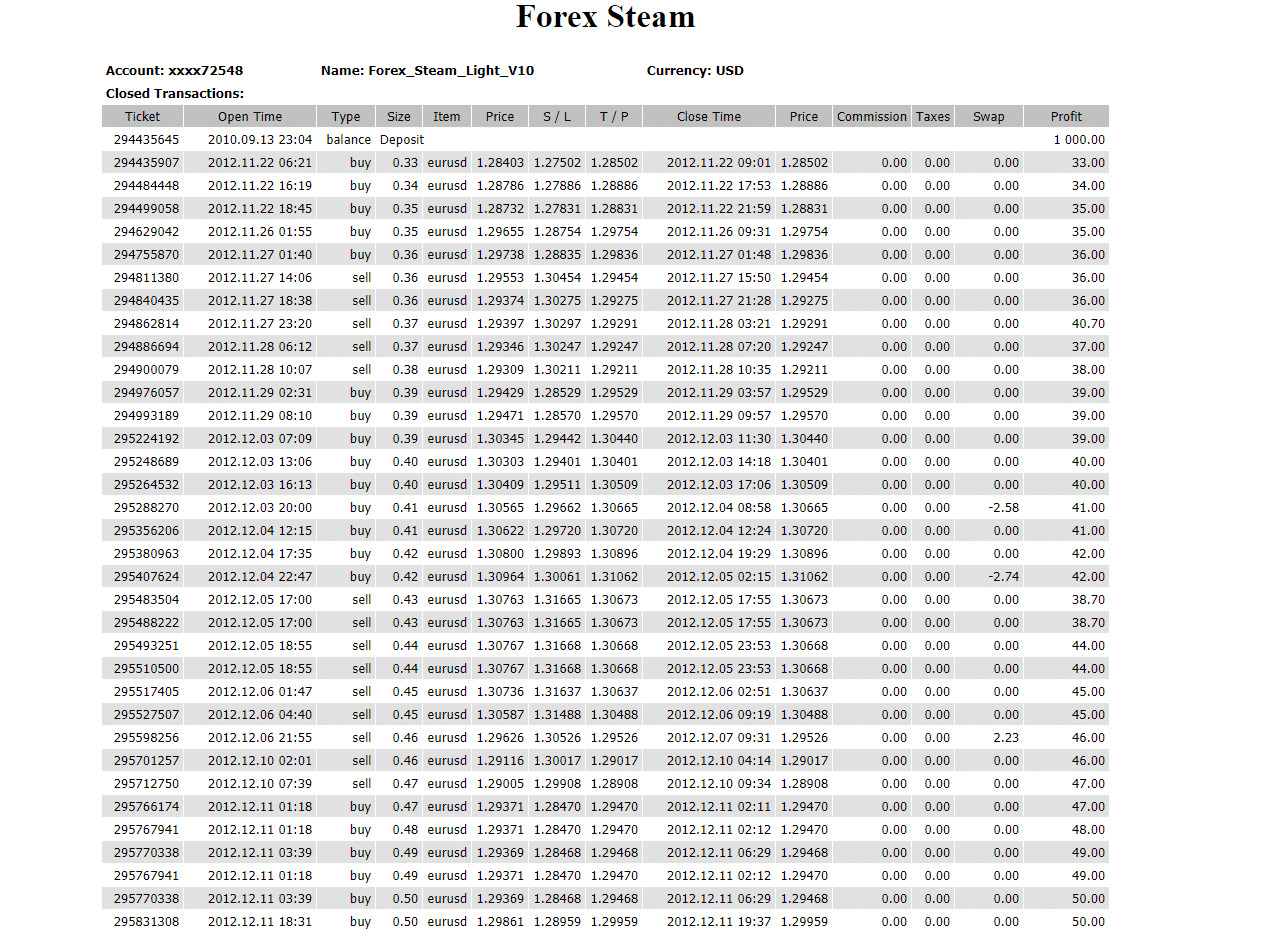 On the official website, we have the live trading results presented in tabular format. Here, we can see the trade type, open time, close time, price, stop loss, take profit, and profit. Now, it should be noted that this is not the proper way to share the trading results for an automated system.
Seasoned Forex traders always look for trading statistics that are verified by third-party websites like Myfxbook, FXBlue, or FXStat. When a vendor publishes the results on one of these websites, it is considered as a mark of authenticity. There is no way for the seller to manipulate the results, and hence we get to see the true performance of the robot. Without verified trading results, no serious trader would consider investing in this EA.
Unfortunately, the vendor has not shared the backtesting results for this robot. So we have no idea regarding the historical performance of Forex Steam. This is yet another red flag we cannot ignore.
People say that Forex Steam is…
A scam. Apparently, it follows a risky trading scheme that leads to large losses. We have a user on the Trustpilot website claiming that the robot generated profits for the first two months before causing a huge loss.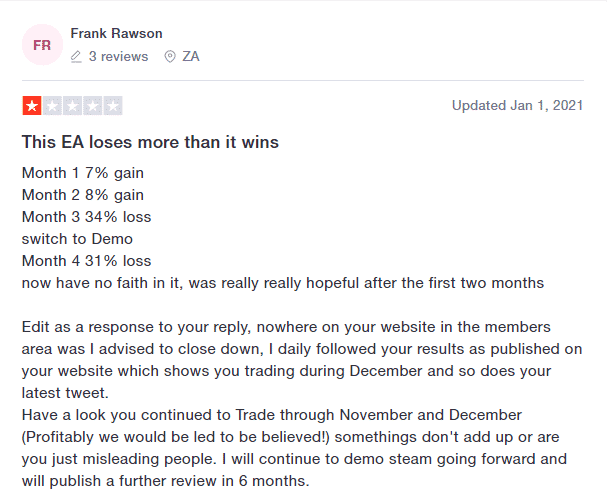 It is risky to invest in this EA because it lacks verified trading statistics. Furthermore, since there is no refund offer, you won't get any of your money back.
Verdict
| | |
| --- | --- |
| Pros | Cons |
| 4 software licenses | No verified trading results |
| | No money-back guarantee |
| | Backtesting results not available |
Forex Steam Conclusion
You should not consider investing in this Forex EA, primarily because it does not have a verified track record. It is possible that you will suffer large losses through this robot, and the absence of a money-back guarantee makes it an even riskier investment.