Forex Truck is a robot that is powered by a Forex Store. The system was released at the beginning of 2020. It focuses on opening orders on USDCAD only.
Vendor transparency
The developers have no transparency. They avoided telling us about who they are and what trading experience they have. Most likely, they aren't officially registered.
How Forex Truck works
The presentation is short but has some details, settings, explanations, and features to discuss.
We can work with this system automatically.
It can be used on MT4 and MT5 platforms.
The core pit is USDCAD.
We are allowed to use the system with any broker.
It works with fixed lot sizes.
As soon as a trading opportunity appears, it places an order.
It can open a second order if the market conditions allow.
If the market is against deals, it can close orders with a little profit or even a loss.
The system uses Martingale trades with increased lot sizes to recover after losses.
The system protects orders with proper levels of stop losses.
The advisor is able to close deals if the market conditions change.
Timeframe, currency pairs, deposit
The main strategy isn't clear.
We are allowed to work with USDCAD.
The time frame wasn't mentioned either.
Trading approach
The advisor spots trading opportunities.
It calculates if the market goes in the right direction.
It places orders on the market.
The system closes them automatically.
Pricing and refund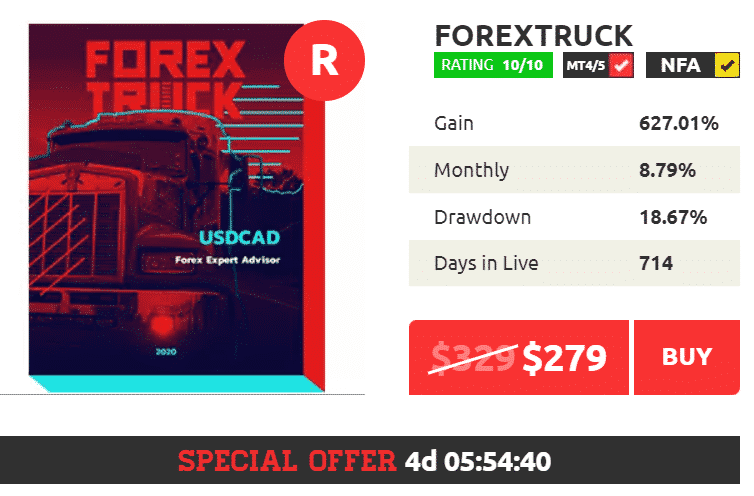 We can buy the robot with a Christmas discount of $50 on the Forex Store. The system has a 10/10 rate. It works following NFA rules.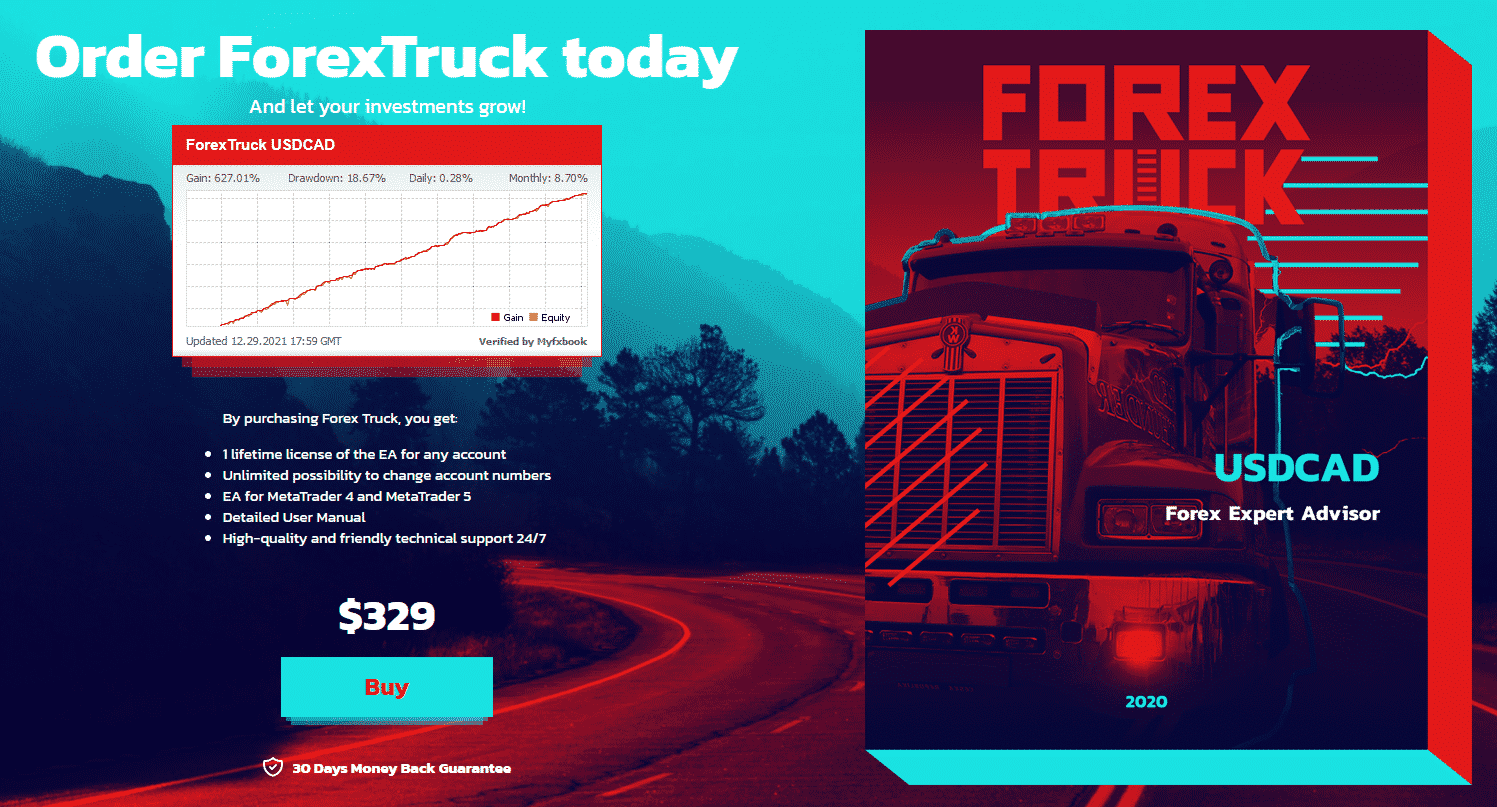 The on-site price is $329. We remember that it was $277 a year ago. The pack is featured by a single license for any account. We can change it as many times as we want. Traders can rely on welcome support if they have any questions. A user guide is provided either.
Trading results
There's a USD/CAD report on the H1 time frame. The modeling quality was 90.00% with 3-pip spreads. The devs set an initial deposit at $5000. The total net profit has become $75,759. The profit factor was 1.75. The maximum drawdown was 23.42%. The system has executed 609 deals with a win rate of 54.93% for shorts and 67.64% for longs.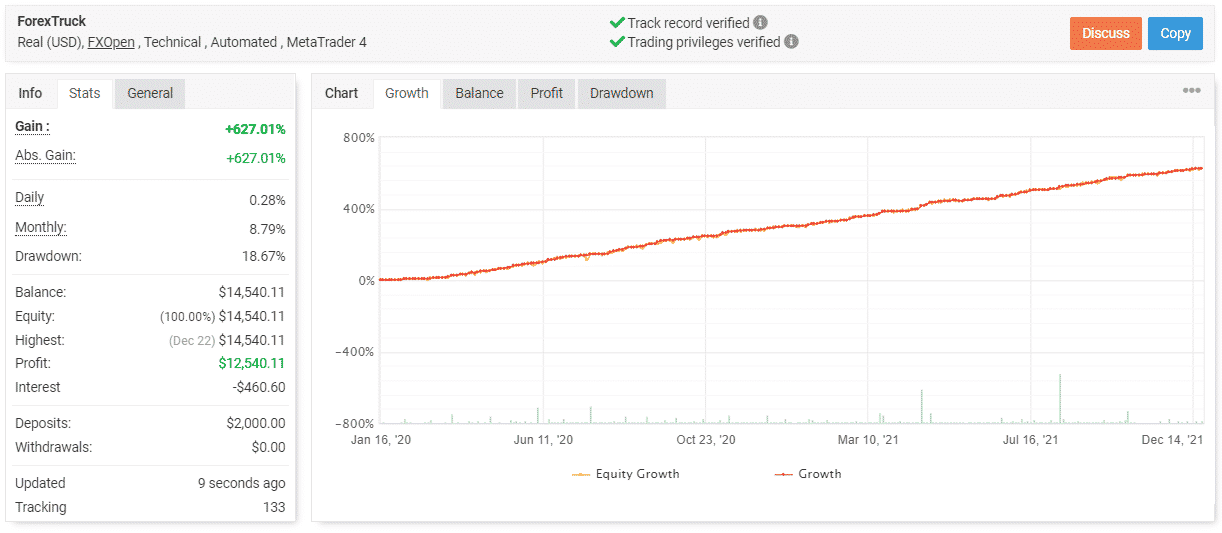 The advisor keeps working on a real account on FXOpen automatically. The leverage wasn't mentioned. Most likely, it's 1:500. It uses technical indicators from the MetaTrader 4 platform. The account has a verified track record. It was created on January 16, 2020, and funded at $2000. Since then, the absolute gain has become 627.01%. An average monthly gain is 8.79%. The maximum drawdown is 18.67%.

There were 458 orders with 2719.1 pips traded. An average win is 45.54 pips when an average loss is -47.47 pips. The win rate is 55% for longs and 58% for shorts. An average trade length is two days. The profit factor is 1.94. It has decreased, but it's still good.

It works both directions almost equally.

The system trades Asian and European sessions.

The advisor works with medium risks. There's a 8.25% chance of losing 10% of the balance.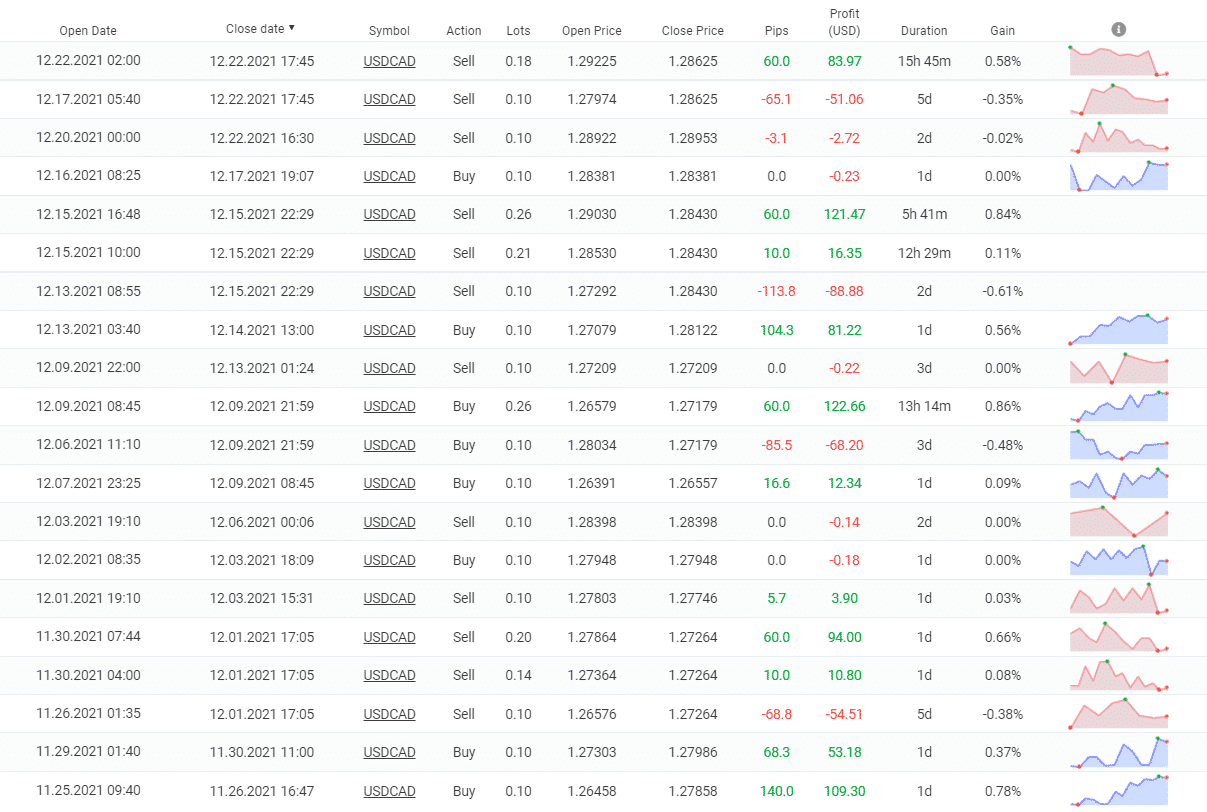 The robot uses short Grids of orders with conservative Martingale.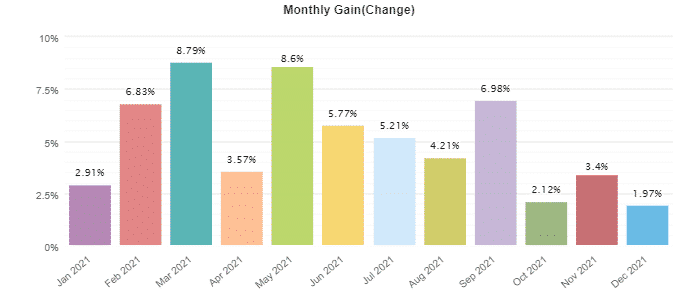 The advisor works with various monthly profitability.
People say that Forex Truck is…
There's only a page on the Forex Store where the system has a 10/10 rate. We have no testimonials written about the system on third-party websites like FPA, Quora or Trustpilot.
Verdict
| | |
| --- | --- |
| Pros | Cons |
| Backtest reports provided | No team revealed |
| Trading results shown | No risk advice given |
| A refund policy applied | No people testimonials written |
| The number of users who track the account grew from 4 to 133 | There are Hedge and Martingale strategies |
Forex Truck Conclusion
Forex Truck is a trading solution that focuses only on USDCAD. The system works with Hedge and Martingale strategies. The trading results showed that the system is profitable in 2021 so far. We can rely on a refund policy. Anyway, we have no customer testimonials that could tell us how good the system is.