ForexSignals.com is a website that offers Forex trading signals, education, and expert advice. The vendor claims that more than 83,000 traders all over the world trust this signal provider service. However, we cannot simply consider this a reliable system based on the vendor's claims. Thus, there needs to be a thorough investigation of its various performance factors.
ForexSignals.com comes with a free trial and it employs traders that have ample experience in the Forex market. In spite of this, we have doubts about its authenticity. This is simply because we don't have verified trading statistics. Also, there is no money-back guarantee offer for the pricing plans. Thus, we don't think this is a system you should invest in.
Vendor transparency
ForexSignals.com was founded on 1st May 2012 by Nick McDonald and Will Thomas. The system has been active for 10 years and has more than 52 team members. On the official website, we have the email address as well as the links to various social media accounts.
While the details of the team members are not available, the vendor has shared the identities of the expert traders. Andrew Lockwood is the most experienced member of this panel with more than 30 years of trading experience. Mark Bennell is a Certified Financial Technician with more than 15 years of experience. The third and final member is Max Norbury who started his trading career at a very young age. He has more than 10 years of experience.
How ForexSignals.com works
Traders can join one of the trading rooms on this website to view the market analysis provided by expert traders. There are daily live streams where you can see in real-time the price changes for different Forex pairs. You can access the trading room on a 24/7 basis and utilize different strategies and trading tools. Using the trading room, you can also discuss ideas with other merchants.
Among the trading tools, there is a Support and Resistance EA that delineates principal areas of supply and demand. If you wish to see how each pair is performing in the market, you should use the Momentum Meter. The Risk Manager EA tool acts as a risk management measure.
Timeframe, currency pairs, deposit
There is no information on the official website about the minimum deposit requirement. Since this is a signal provider service, you can invest as much money as you're comfortable with. ForexSignals.com sends you signals for all major, minor, and exotic pairs. The time frame depends on the trading strategy chosen.
Trading approach
With ForexSignals.com, you can choose between multiple strategies like trend surfing, swing trading, scalping, day trading, propulsion strategy, and naked trading. We don't have proper explanations for the propulsion and trend surfing strategies. Swing strategy uses candlestick patterns and indicators for predicting price changes, while naked trading is a scheme that does not involve indicators. With scalping, you need to conduct a large number of trades daily, extracting small profits from each.
Pricing and refund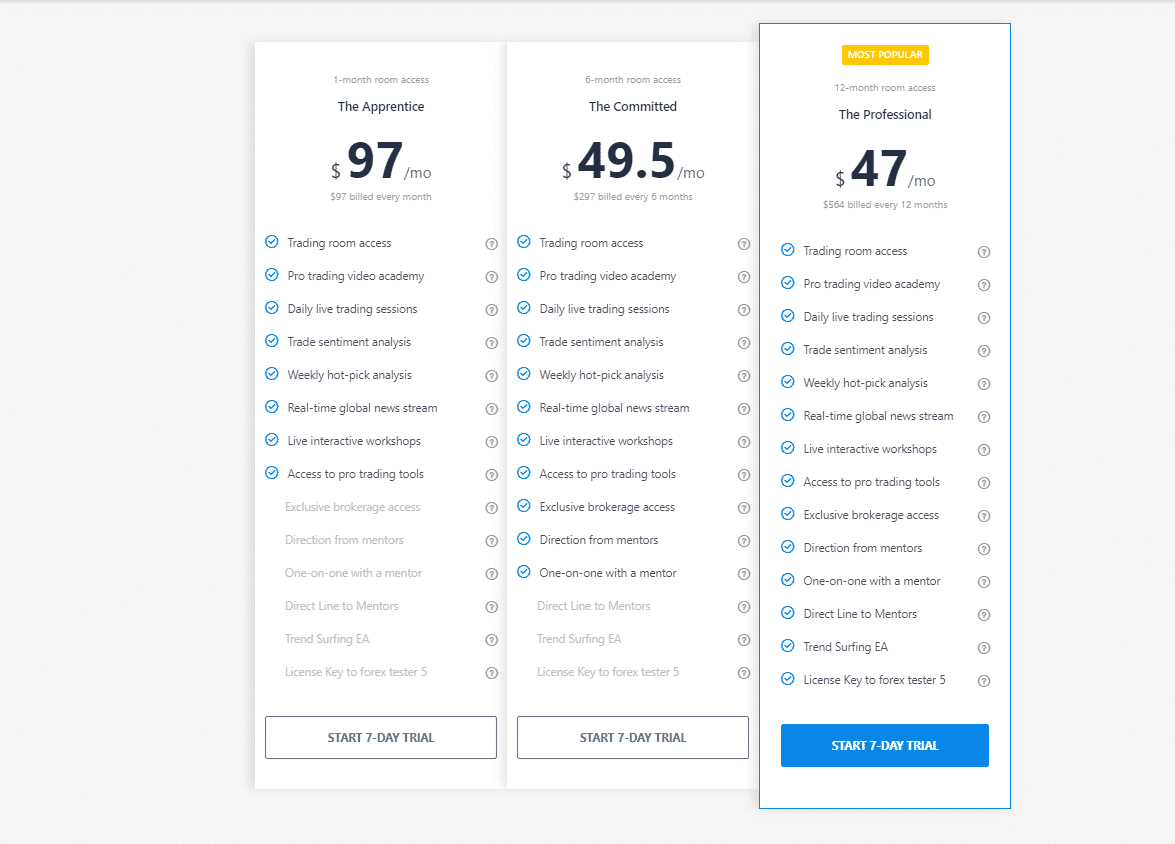 ForexSignals.com has three pricing plans that are all billed monthly. The Apprentice plan gives you 1-month room access for $97 per month. For 6-month room access, you can choose The Committed plan that carries monthly charges of $49.50. Finally, there is The Professional plan that lets you access the trading room for 18 months in exchange for $31.33. The vendor does not offer money-back guarantees for any of the plans.
Trading results
One of the most disappointing aspects of this system is the lack of verified statistics. Since it is a signals provider and not an expert advisor, the vendor has not shared the backtesting results. However, they should have shared some kind of proof about the live performance. Without it, we cannot consider ForexSignals.com a reliable system.
People say that ForexSignals.com is…
A scam. On Trustpilot, a user has claimed that the live sessions gradually become shorter and that the mentors waste a lot of time. The fact that there are no verified results is a major red flag and the absence of a refund policy further compounds the risk.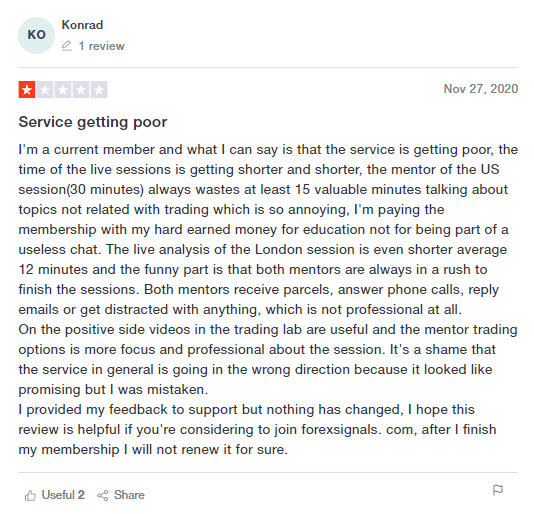 Verdict
| | |
| --- | --- |
| Pros | Cons |
| Multiple strategies | No verified trading results |
| | No money-back guarantee |
| | Lack of reputation |
ForexSignals.com Conclusion
ForexSignals.com is not a trustworthy source of Forex signals. The vendor has not shared the verified trading statistics for this system, which makes it impossible for us to assess its profitability. Furthermore, there is a no refund policy, which means your investment won't be protected.