FXStabilizer promises to give you stable profits daily. According to the vendor, the EA is featured by incredible reliability and robustness to all changes that occur in the Forex market. More claims are that since 2015 to date, the system has brought in profits without losses. We review the robot to determine if these assertions are true and if you should trust it.
Vendor transparency
The vendor responsible for creating this robot is mysterious. There's rarely any information about the devs, parent company, its physical location, or its renowned proprietary trading algorithms. Therefore, you will have a difficult time locating any valid info about the software like recognitions, awards, or characteristics in esteemed news articles or blogs.
How FXStabilizer works
The vendor describes the features of the robot as follows:
It has 2 mode settings: Durable and Turbo.
Works on any MT4/MT5 broker.
Integrates detailed user manuals.
Provides technical 24/7 support.
Offers free and lifetime updates.
Is easy to use.
Timeframe, currency pairs, deposit
The currency pairs supported include EURUSD, AUDUSD, EURJPY, USDJPY, EURGBP, CHFJPY, USDCAD, and GBPCHF. However, the devs don't say which timeframe or leverage the EA works with. There is no information about the recommended deposit either.
Trading approach
The trading strategy utilized by this robot isn't described or explained clearly by the vendor. In essence, we are told that it accurately computes the best position to open trades and ensures that the orders are closed in profit. In addition, the system is equipped with a mechanism of absolute trading that minimizes losses. Notably, the trading results reveal that the grid strategy is present. We cannot stress enough how risky this approach is.
Pricing and refund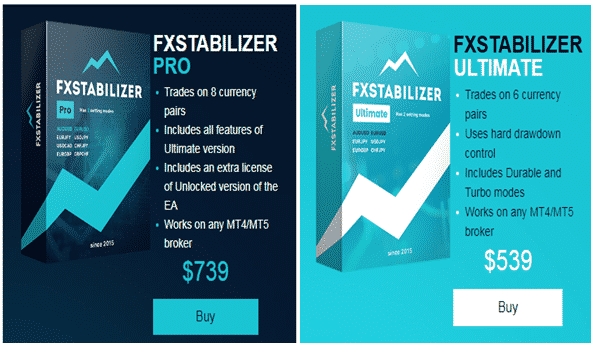 FXStabilizer is sold in two different packages. The most expensive one is FXStabilizer Pro, and it is priced at $739. It comes with an extra license of an unlocked version of the EA. The cheaper plan is FXStabilizer Ultimate and it costs $539. Both offers include a 30-day money-back guarantee.
Trading results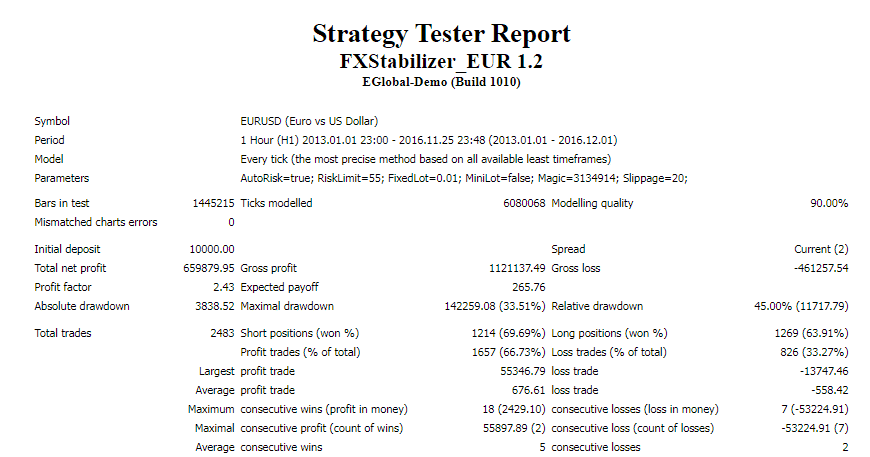 This is a backtest report for the EURUSD currency pair. It informs us that the robot underwent some testing between January 2013 and November 2016. During this time, it made a profit of $659879.95 using a deposit of $10,000. The resulting profit factor was 2.43.
A drawdown of 33.51% was produced. It was indeed huge. So, the strategy used carried some significant elements of risks. The number of trades conducted was 2483. Only 66.73% of these orders were a success. The win rates for short positions were 69.69% and 63.91% for long ones.
This is a real USDCent account being hosted by Forex4you. Its operations began on April 4, 2016. Since then, it has been making daily and monthly profits at rates of 0.16% and 4.83%, respectively. The system has increased the deposit from $500 to $12,205.79 after making a profit of $11,705.79. The drawdown is 13.26%, and lesser than the backtest one.

The robot has implemented 2295 trades with 85.26 lots. Sadly, it makes losses more frequently as we have an average win of 29.51 pips, which is substantially lower than the average loss of -43.92 pips. The success rates for long and short positions are 63% and 66%, respectively. The best trade has brought in $704.60, whereas the worst trade has led to a loss of -$403.98.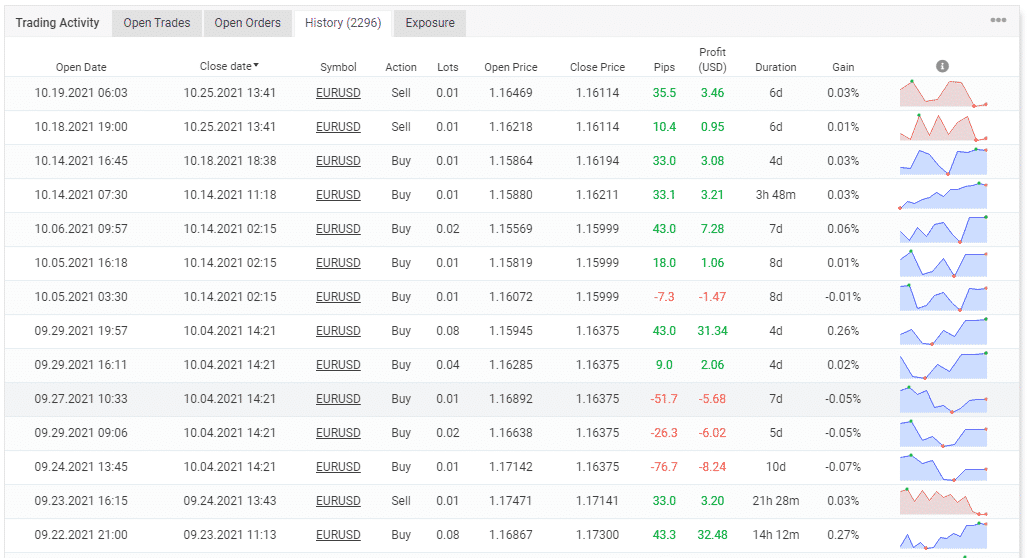 The EA focused on long timeframes. There are periods where it stayed up to 10 days without placing any trades. Lot sizes used were dynamic. A grid of orders was placed.

The amount of profits realized from long positions is $6,133.15 and $5,572.64 from short positions.

Since 2016, the EA has conducted hundreds of trades daily. From the data, it is clear that Wednesday completed many trades compared to the other days – 500 orders.
The profits made on a month-month basis are very small. As you can see, most of the gains generated are less than 1%.
People say that FXStabilizer is…
Unprofitable. There are a couple of mixed reviews for this EA on Forex Peace Army. The traders have given the system a 3.353 rating. From the feedback, it is apparent that the EA generates minute gains and can lead to a margin call.

Verdict
Pros
Free updates are available
Backtest results and live trading stats are present
Cons
There is no vendor transparency
Expensive
Low return rate
The grid strategy is present
FXStabilizer Conclusion
FXStabilizer cannot be trusted. It is incapable of producing gainful outcomes. Since the devs are not known, it is possible that they are inexperienced. In addition, the grid approach in use is very dangerous. It can crash your account, and several customers have affirmed this fact.