News Scope EA is promoted as one of the most productive robots in the Forex market. The robot is not only said to be very profitable but also safe. This is because it has the most vital features that enable your trading to be free from risks. So, we review the robot to ascertain the veracity of these claims and later advise you whether to trust this EA or not.
Vendor transparency
FXautomater is the vendor behind this EA. This company is quite popular in the Forex market for developing a variety of robots for traders. Some of their other products include BF Grid Master EA, Omega Trend EA, Gold Scalper Pro, and Smart Scalper Pro. The company has been around since 2009, and its team comprises active Forex traders, programmers, and investors with over 15 years trading experience.
How News Scope EA works
The EA has a variety of features:
Advanced News filter.
NFP and FOMC only.
Email and push notification system.
Friday exit system.
Works with ECN brokers.
Single or multiple-cascade orders modes.
High spread detection filter.
Money management.
Advanced time management system.
Detailed user guide.
Professional support.
Lifetime free updates.
Timeframe, currency pairs, deposit
The vendor recommends the following:
Use the EA to trade any of the following pairs; EURUSD, GBPUSD, AUDUSD, USDCAD, and USDJPY.
The timeframe is M1.
There's no information about the minimum deposit or leverage you should work with.
Trading approach
This robot is designed for traders who love trading during high impact news. As such, the EA mainly looks for short-term scalping opportunities when a major news event takes place and causes price spikes. We are also reminded that this strategy can be dangerous because major news events are characterized by high volatility moments that could cause execution delay, spread increase, and slippage.
Pricing and refund
News Scope EA Pro is priced at $97. It used to cost $147. This package comes with 1 real account, 3 demo accounts, 24/7 customer support, and a 60-day money-back guarantee. We have to admit that the pricing of this EA is low.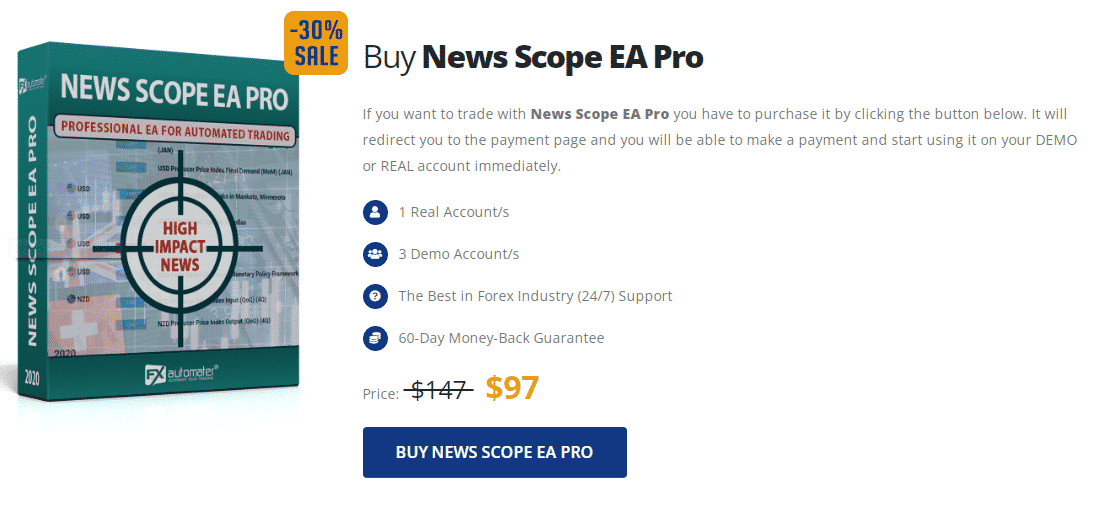 Trading results
The vendor has supplied several backest reports. We have picked one for the USDCAD currency pair.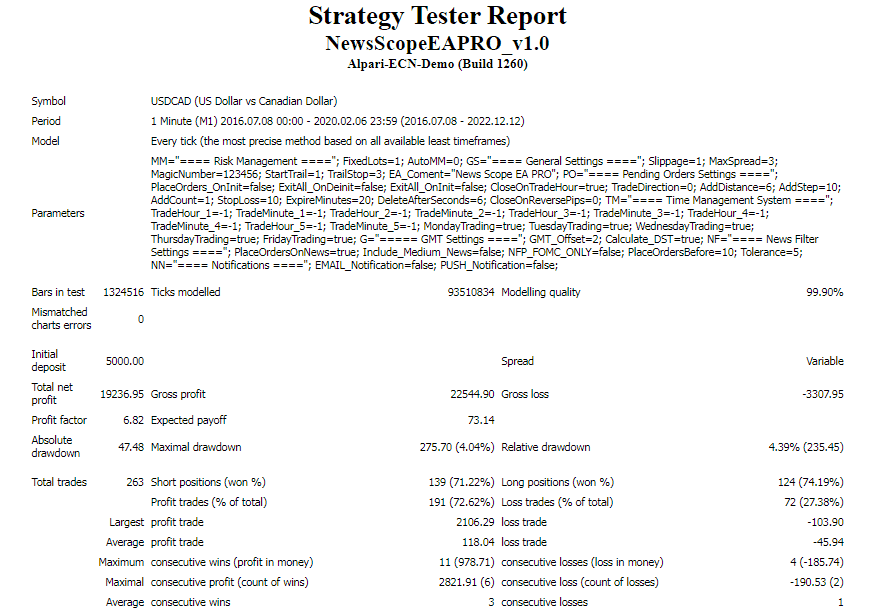 The system had been trading on the 1 minute timeframe from July 2016 to February 2020. With a $5,000 deposit, the robot placed 263 orders, winning 71.62% of them. As a consequence, the profit realized was $19,236.95. The success rates for short — 71.22% and long positions — 74.19% weren't great. However, the profit factor, which was 6.82, was quite impressive. The drawdown rate was 4.04%.
The trading results for this robot are available on Myfxbook.com. We noted that there was a significant difference between the EA's performance during the testing period and in the live market. To be specific, we learned that the return rate, the win-rates, and the profit factor in the real market were poorer compared to the outcomes achieved in the backtest report. The robot also generated a higher drawdown in the real world.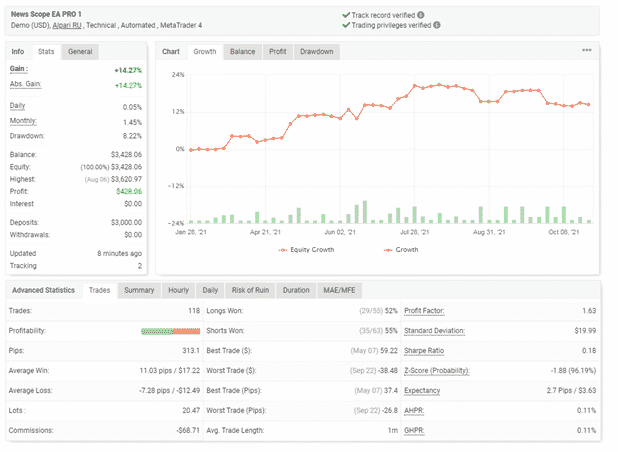 This is a demo USD account that is under the Alpari RU brokerage. It started operating on January 28, 2021, and up to now, it has recorded 118 trades. Unfortunately, these orders have brought in very small profits. The robot only manages to make 1.45% monthly, and the cumulative gain is 14.27%. So, we are talking about a profit of $428.06 within 9 months and a drawdown of 8.22%. The win rates are also very low. Only 52% of the long and 55% of the short positions have succeeded. The profit factor isn't promising — 1.63.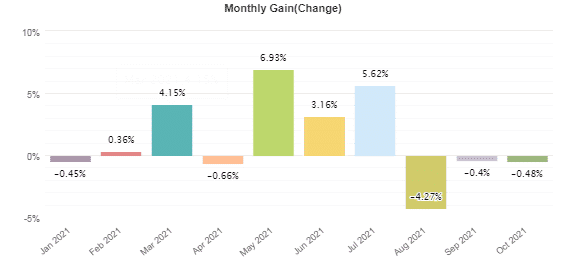 Small gains were produced throughout the year. Unfortunately, the robot has been making losses since August.
People say that News Scope EA Pro is…
Unknown. The EA's official website does not have any customer reviews. Testimonials are also missing on reputed verification sites like Trustpilot, Myfxbook.com, or FPA. This is an indication that the system may not be well-known by traders. 
Verdict
Pros
Inexpensive pricing
Backtest results and live trading data are available
Cons
Makes small profits
Unfavorable risk/reward ratio
No customer feedback
Poor win rates
News Scope EA Pro Conclusion
News Scope EA Pro cannot be trusted to trade lucratively. From our assessment, we have learned that the system's strategy doesn't bring in satisfactory profits. Therefore, it is incapable of growing your account significantly. We are also troubled by its poor risk/reward ratio (8:1) that can further drag any attempts to increase your capital. When the EA makes losses, it can take up to 8 months to recover.