FXOxygen is a Forex expert advisor that promises an average monthly profit of 20%. As per vendor claims, this is a highly profitable system that works 24 hours a day. The vendor offers a money-back guarantee for this system and shares the verified trading results. However, we don't have a proper explanation of the trading strategy. Furthermore, the live performance is below-par. As such, we don't think this is a robot you should be investing in.
Vendor transparency
The complete lack of vendor transparency for this robot is quite concerning. We don't know where the parent company is based or when it was founded. Since the vendor has not revealed the identities of the team members, we don't know what kind of trading experience they have. Also, they haven't shared the official contact details. The only way to contact the support team is through the contact form on the website.
How FXOxygen works
The vendor checked the automated strategy using backtesting data for the past 10 years. They claim that the robot showed decent results for all 10 years. The vendor first tested this EA using their own money before releasing it for the general public.
When you purchase this robot, you get a single license that is valid for a lifetime. You also get access to a user manual and 24/7 customer support. The vendor also provides users with lifetime updates.
This EA has two modes, namely reliable and highly profitable. The vendor has not explained what these modes are exactly. However, we can assume that for the reliable mode, the robot trades with conservative risk. For the highly profitable mode, the risk must be significantly higher.
Timeframe, currency pairs, deposit
FXOxygen only trades in EUR/USD and USD/JPY pairs. The vendor has not shared any information on the compatible timeframe, or the minimum deposit required to get started with this expert advisor. Also, we don't know if the robot uses leverage while trading. Without these key pieces of information, many traders might not feel confident about investing in this robot.
Trading approach
For every trader, it is important to know what trading approach the EA follows. Different traders have different trading styles and there is no one strategy that suits all. Unfortunately, the vendor has not provided any explanation for the trading strategy used by FXOxygen. Thus, it becomes more difficult to trust this system.
Pricing and refund
The current price of FXOxygen is $210. Although the vendor claims the original price is $295, we think this is just a way of pulling customers. In case you face any problems or the robot is not able to generate profits, you can get a money-back guarantee within 30 days of purchasing the robot.
Trading results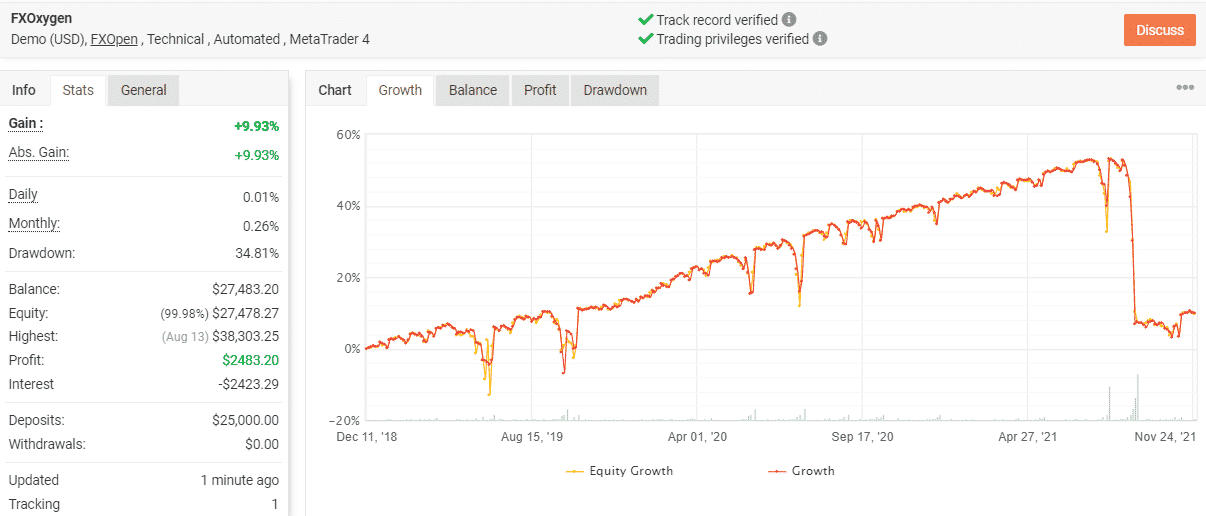 This trading account on Myfxbook was launched in December 2018. After completing 494 trades, it currently has a win rate of 49%. This is quite low compared to other trading systems on the market. The total profit generated through this system currently stands at $2483.20.
While the daily and monthly profits are 0.01% and 0.26% respectively, the drawdown is 34.81%. Such a high drawdown indicates a high risk of ruin. The account has a profit factor of 1.04.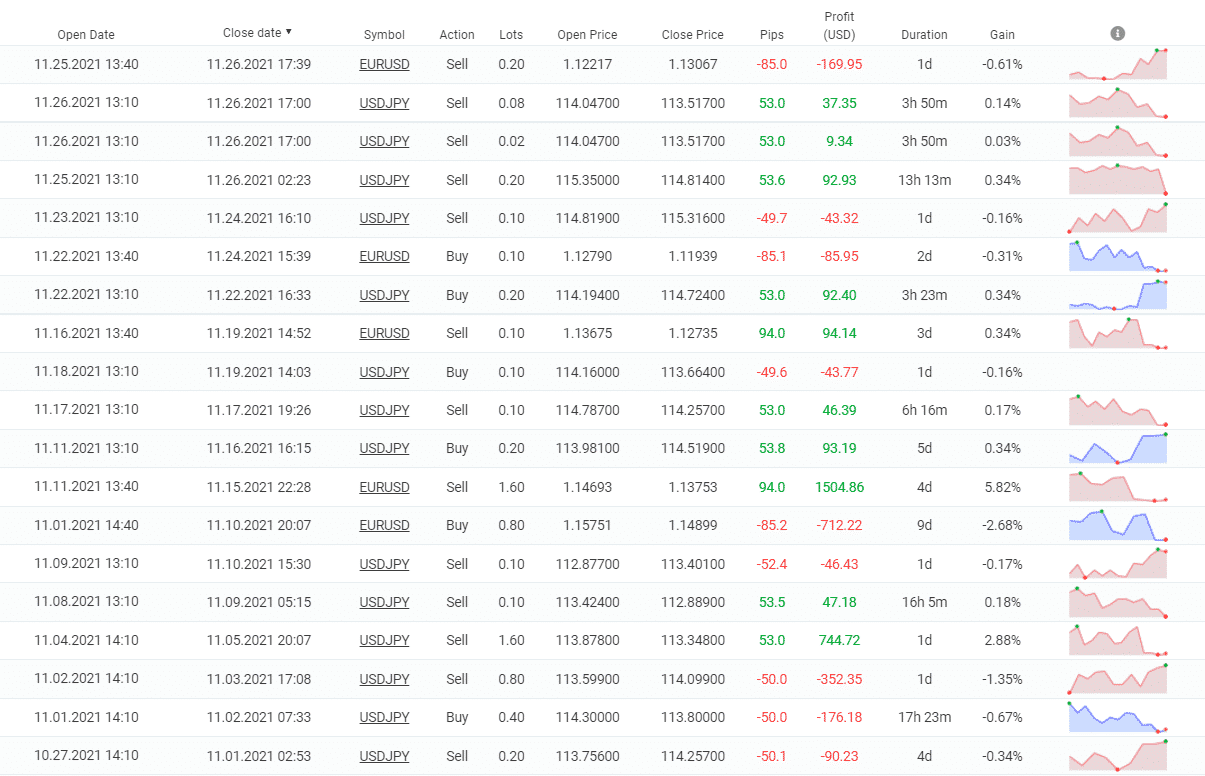 We can confirm that the system is high-risk by looking at the trading history. Here, we can notice several consecutive losses. Clearly, the robot loses more than it wins and therefore we don't think you should use it for live trading.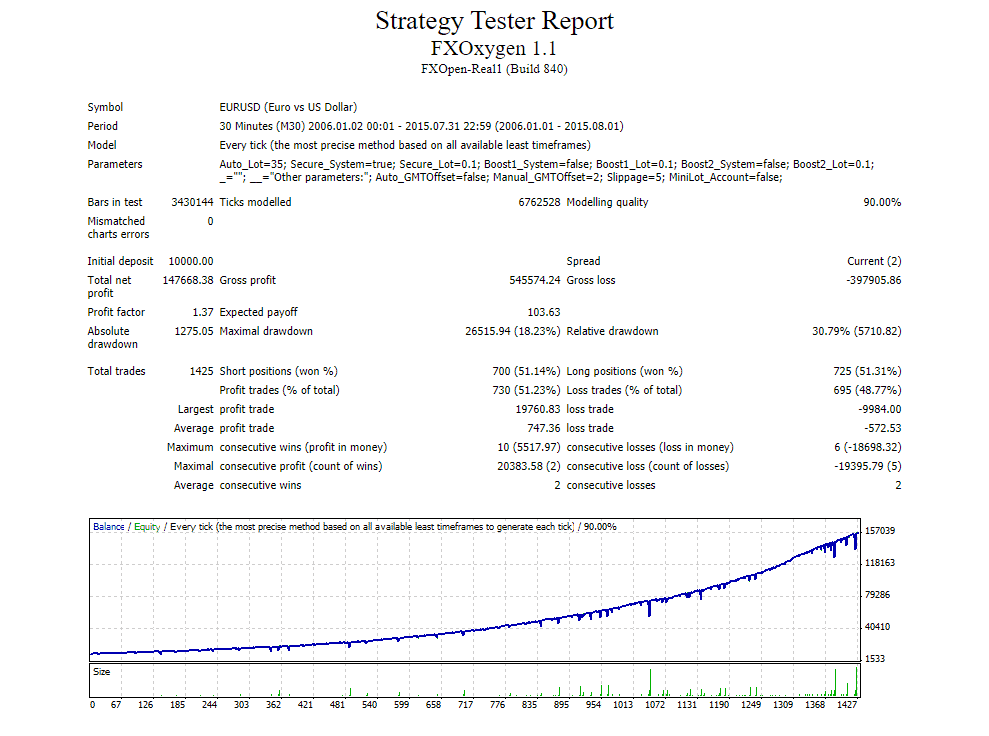 From 2006 to 2015, the robot placed 1425 trades for this backtest, winning 51.23% of them. The win rate, in spite of being higher than the live trading results, is still quite low. During the testing period, the EA had a high drawdown of 30.79%.
People say that FXOxygen is…
Doubtful. Right now, there are no reviews for this EA on third-party websites, which means it doesn't have a reputation. Due to the poor trading performance and the lack of strategy insight, most traders do not wish to spend money on this EA.
Verdict
| | |
| --- | --- |
| Pros | Cons |
| Verified trading results | Low win rate |
| Backtest report | High drawdown |
| | Lack of strategy insight |
FXOxygen Conclusion
FXOxygen is not an EA you should spend money on. Its live trading performance is extremely disappointing. Apart from exhibiting a high drawdown, it also has a low win rate. Trading with this system can lead to heavy losses.