There are claims that iProfit EA is the most reliable and profitable solution for professional traders and fund managers across the world. As per the vendor, this can be attributed to a 7-year live track, a 12-year backtest, and high gain potential, among other key features. However, we have learned that the system's past and present trading results aren't good. Therefore, you will be disappointed if you want to buy this product.
Vendor transparency
iProfit EA is the work of Phibase Technologies. This is a company claiming to have been researching machine learning for several years now. Even then, there's no information about the company, such as its trading history, founding year, location, physical address, reputation, etc.
How iProfit EA works
Some of the listed important features of the robot are presented below:
All trades are closed on Friday.
The system hides SL and TP levels.
It doesn't utilize grid, martingale, or hedging approaches.
The robot runs on the MT4 chart.
Trading entry/exit and money management are fully automated.
Timeframe, currency pairs, deposit
The EA can trade numerous currency pairs, including the EURUSD, EURJPY, XAUUSD, GBPUSD, and AUDUSD symbols. The timeframe used is H1. However, the devs don't divulge info on the minimum deposit required.
Trading approach
iProfit is described as an ultra-short term strategy, but the vendor denies it is a scalper. It is particularly designed to make small gains while keeping losses low.
The devs add that this approach is executed as a rapid learning neural network because it entails a dynamic adaptation to a majority of price movements that occur within the past 4-52 hours. The robot also uses prior data to make trading decisions. It should be noted that iProfit tries to trade the usual price movements seen within a H1 bar — the NN model only forecasts the upper and lower price for the subsequent H1 bar(s).
Pricing and refund
The vendor is offering two types of licenses for this product. We have an annual license that costs $470 and a lifetime one, which is $1099. Both packs include 2 accounts (Demo and real) and a 30-day refund policy.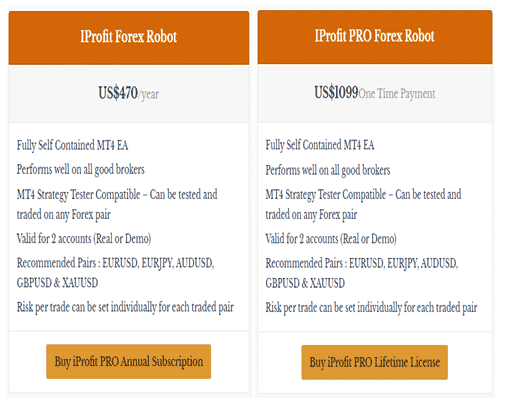 Trading results
The devs have provided the backtest results of this EA in the presentation. They say the robot has been tested expansively for 12 years utilizing high quality tick data with a spread of 1 pip and a commission of $0.7 per lot. All the tests were carried out on DukasCopy Tick Data at 99% modeling accuracy. Have a closer look below at the other metrics:

The system traded with a $10,000 deposit. By the end of the trading period, a small profit amount had been generated — $3306.18. A total of 1724 trades were implemented, and they had a low profitability rate of 56.09%. The win rates for short (55.25%) and long positions (56.94%) were poor as well. There was a maximal drawdown of 6.31%, which means that the strategy used for trading carried small risks. A profit factor of 1.16 was recorded.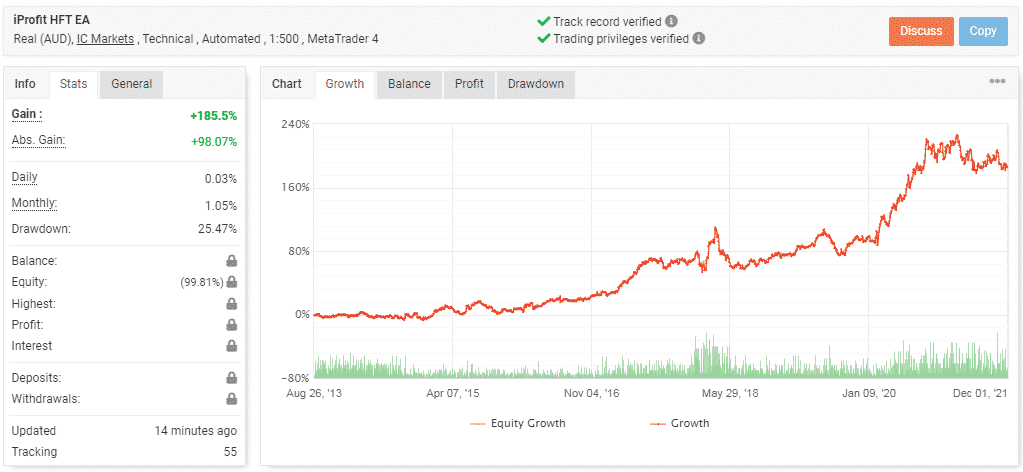 Just like the backtest report, this live trading data also depicts iProfit EA as a low income earner. We can see that it only makes 1.05% monthly. Since August 26, 2013, it has only managed to increase the account's value by 185.5%. The devs have hidden other important data. Clearly, they don't want us to know the magnitude of the EA's inefficiency. The drawdown is 25.47%, and compared to the monthly returns, it is apparent the losses surpass the wins made.

To date, there are 5431 trades with 113.34 lots. There's a profit factor of 1.11, which is a bit lower compared to the one indicated in the backtest statement. This tells us that the robot experiences challenges making substantial profits in the real market. We also see this through the low win rates reported for both long (56%) and short positions (59%).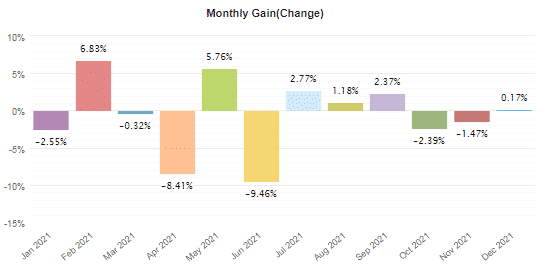 The robot hardly closes any month with gainful results. There were even instances where losses made were higher than the most profitable month. As you can see, April and June had losses amounting to -8.41% and -9.46%, respectively.

So far, Monday is the least active day.
People say that iProfit EA is…
Good. The testimonials are featured on the website, but we cannot trust them. It is possible the company manufactured the feedback to boost the reputation of its product. Unfortunately, there are no user testimonials on FPA or Trustpilot.
Verdict
Pros
Cons
Inadequate transparency from the vendor
Low ROI
Poor risk/reward ratio
Expensive pricing
iProfit EA Conclusion
You cannot trust this robot to trade efficiently. The trading strategy is not profitable enough. Even worse, the risks of trading are far much higher. This can further derail any efforts to grow your account.