HaasOnline is a highly configurable automated crypto trading system that utilizes multiple trading strategies. In this review, we are going to analyze the various aspects of this system. Before investing in a crypto platform, traders must assess its reliability. This is why this review will be usefuk for those who are looking for a trustworthy trading platform.
What is HaasOnline?
| | |
| --- | --- |
| Headquarters: | Rotterdam, Zuid-Holland, The Netherlands |
| Founded: | January 2014 |
| Supported Exchanges: | Binance, Binance Futures, Binance US, Bitfinex, BitMEX, Bitpanda Pro, Bitstamp, Bittrex, ByBit, Cex.io, Coinbase Pro, Deribit, FTX, Gemini, HitBTC, Huobi, Ionomy, Kraken, Kraken Futures, KuCoin, Okcoin, OKX, and Poloniex |
| Native Token: | N/A |
| Supported Fiat Currencies: | N/A |
| Trading Pairs: | N/A |
| Minimum Deposit: | N/A |
| Deposit Fees: | N/A |
| Withdrawal Fees: | N/A |
| Customer Support: | Online contact form |
Main features
This platform has a potent backtesting engine that lets you improve your automated systems using archival data and create the best parameter combinations for trading. By directly integrating with Discord and Telegram, you can stay abreast of your trading activity. You can follow live updates on profits, losses, and other metrics. For completing repetitive tasks, you can use leverage automation.
How does the bot trade?
HaasOnline has been created using HaasScript, which is an advanced scripting language. It has advanced functionalities and more than 600 commands. There are pre-built trading bots that novices can easily work with. The bots are loaded with historically-proven trading schemes that only require you to configure the settings to deploy on an exchange.
Trading approaches of HaasOnline
Some of the available strategies include scalping, accumulation, market maker, arbitrage, trend line, and flash crash. If you wish to create bots from scratch, you can use HaasScript for a greater degree of control. You can use the drag-and-drop visual designer to generate scripts or the text-based editor to carefully craft every line of the script.
Is HaasOnline profitable?
Unfortunately, there are no trading results provided that could help us to analyze the bot's efficacy and reliability.
How  to get started on HaasOnline?
Sign up and select a subscription plan
Download and install the Haas Trade Server
Cereate your first trade bot
Enter the bot details and the new bot will be created automatically
How beginner-friendly is HaasOnline? 
This platform is suitable for both beginner and advanced traders. The former group can use the readymade bots, while the latter can create their own strategies using the scripting language.
HaasOnline compatibility–exchanges and coins supported
The supported exchanges include Binance, Binance Futures, Binance US, Bitfinex, BitMEX, Bitpanda Pro, Bitstamp, Bittrex, ByBit, Cex.io, Coinbase Pro, Deribit, FTX, Gemini, HitBTC, Huobi, Ionomy, Kraken, Kraken Futures, KuCoin, Okcoin, OKX, and Poloniex.
Commissions, deposits & withdrawals
Unfortunately, there is no info about the deposit, withdrawal or commissions provided.
HaasOnline pricing details
There are three plans called Beginner, Simple, and Advanced, priced at 0.009 BTC, 0.016 BTC, and 0.026 BTC, respectively. With the expensive plans, you can get access to more exchanges, indicators, and insurances.
Security
Since the software runs a local server to broadcast a web interface and its own API, admission permissions are necessary. For additional security, you should enable 2-factor authentication.
Is HaasOnline regulated?
No. HaasOnline is not regulated.
HaasOnline company reputation
HaasOnline was launched in 2014, so it has been in the industry for quite some time. This platform is highly rated on third-party websites and boasts a vast community of users. Also, it has been featured in media outlets like Coindesk, Bitcoin Magazine, Forbes, Nasdaq, etc. Thus, it is evident that it has a decent reputation.
The headquarters of this company is located in Rotterdam, The Netherlands. Key members of the team include CEO Stephan de Haas, CTO Quintus de Haas, Chief Systems Operations Josh Becker, R&D chief Rustim Rhoda, CCO Raynaldo Rivera, and CMO Jeff Vernon.
Customer support 
There is an extensive documentation section that describes everything about the system. You can also raise a support ticket through the website in case you face any issues.
Public reviews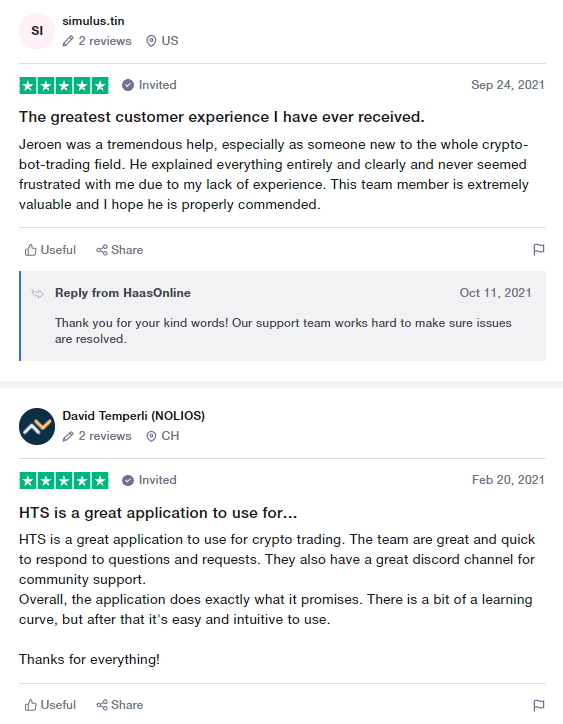 HaasOnline has a rating of 4 out of 5 on Trustpilot based on 11 reviews. Users have praised the efficiency of the support team and the performance of the software.
HaasOnline review: upsides and downsides
Upsides
Multiple advanced strategies
Minimum configuration needed
Simulated paper trading environment
Downsides
HaasOnline Crypto Bot Conclusion
This platform has a decent reputation and it is packed with advanced features. It offers multiple ways to create trading algorithms, and the interface is quite user-friendly. There are several advanced strategies to take advantage of, and the customer support team is quite efficient, according to the customer reviews. However, the pricing plans are quite expensive and the vendor does not offer free trials.