Happy Breakout is a system that belongs to the portfolio of the Happy Forex company. It's a pretty known company that has been designing robots for a significant period of time. We have decided to check the presentation and trading results to understand if the system fits our expectations.
Vendor transparency
Happy Forex is a well-known firm that produces trading solutions with different strategies behind them. So, they have extensive experience in trading and robot design.
How Happy Breakout works
It's the right time to talk about settings, features, and other important information about what we've got behind the system.
We have a robot that will help us with automatic orders execution.
The system focuses on spotting breakdowns cases to open orders.
It also checks support and resistance levels to understand where the breakout should occur.
The robot was tested on the 99.90% data received from a broker.
It focuses on covering all our orders with relevant SL levels.
There's a trailing stop feature.
It manages to detect 4 and 5 digit quotes from brokers.
We are not allowed to work with Grid, Hedge, Arbitrage, and Martingale strategies.
It's possible to start trading on the demo account before jumping on the market.
Another requirement is low commission and spreads.
We should work with it on Windows 7, 8, 10, Mac OS and Linux.
The robot can be used on the MT4 and MT5 platforms.
M30 and H1 are the suggested time frames.
The optimal spreads should be fewer than 10 pips.
We have to start trading with over $100 on the balance.
The package is featured by many demo accounts to customize the system well.
We can rely on free updates and upgrades.
The system will receive free updates and upgrades when needed.
It's possible to get money back within 30 days if we don't like this system..
Timeframe, currency pairs, deposit
We can work on the M30 and H1 time frames.
It executes orders on EURUSD and GBPUSD.
The system requires us to have $100 on the balance.
Trading approach
The break out strategy is the main one. It allows us to calculate support and resistance levels to understand when the market goes through them.
Pricing and refund
This offer has only one price. We have to pay €550 for an unlimited number of real and demo accounts of the system. It's delivered with free updates, upgrades, a 30-day refund policy, and welcome 24/7 support. We can get ten robots and an indicator as free extras.
Trading results
The presentation is featured by a EURUSD report on the M30 time frame that used data from 2012-2015 years. It had a modeling quality of 99.90% with 5 pips spreads. An initial deposit of $1000 turned into $553,362 of the total net profit. The profit factor was 3.20. The maximum drawdown was 14.49% ($58,618). It has executed 1028 deals with the win rate of 71.60% for short and 70.63% for long trading positions.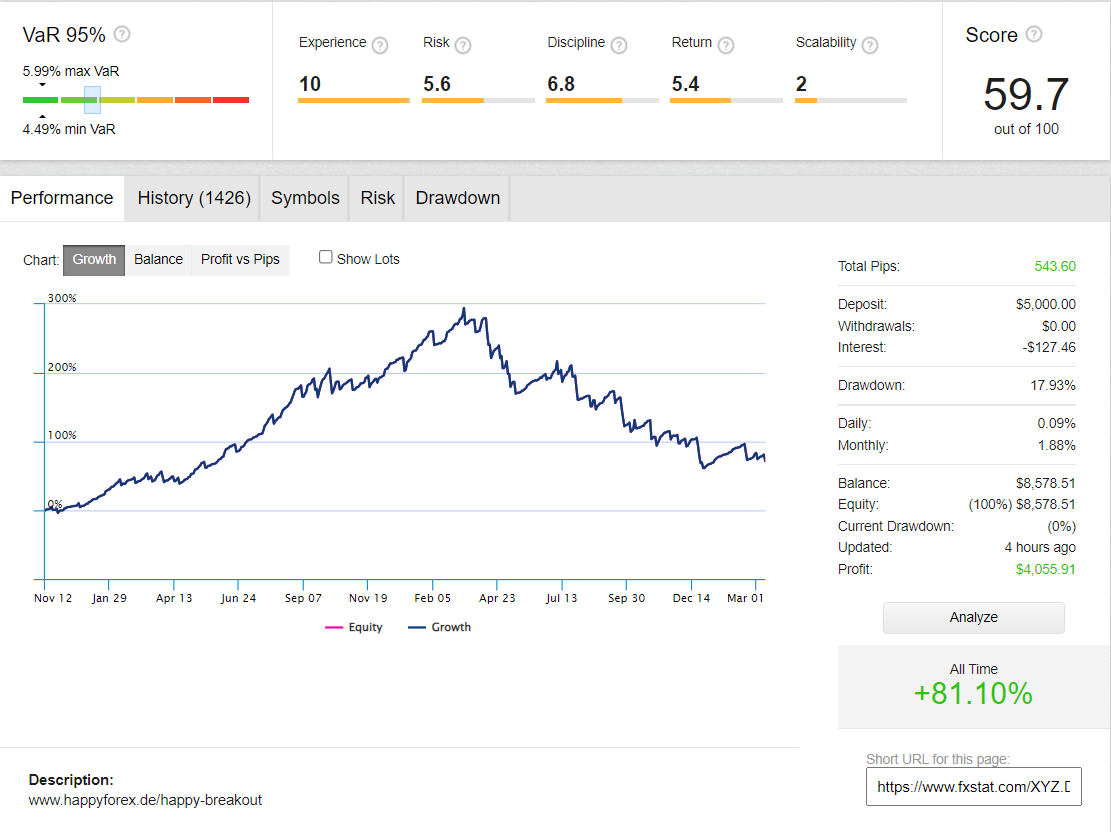 The presentation is featured by two accounts with almost similar charts of absolute growth. The system has obtained 543.60 pips and showed 81.10% of the absolute growth. An initial deposit has amounted to $5000. We have an absolute profit of $4.055.91. An average monthly gain is as low as 1.88%. The maximal drawdown is medium, 17.93%. The platform treats the system as an average one with 59.7 rate from 100.

The advisor has lost 14 months since the beginning.

The advisor has closed 1207 deals. The win rate is 80.03%. It's a good number for a paid advisor. The best trade is $647.82 when the worst trade is -$1,183.00. An average trade length is 0.38 hours. The profit factor is 1.08. It's a pretty low number for this robot. The recovery factor is 0.35 only.
The system prefers trading only GBPUSD and EURUSD cross pairs. GBPUSD has brought -$5987 of losses. The leverage was set at 1:200. It has been working since November 12, 2019 on the Turnkey Global broker.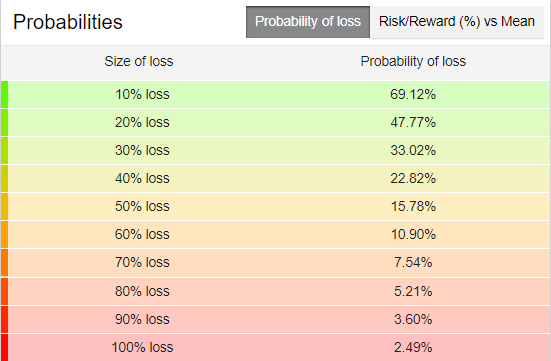 The advisor performs orders with significant risks to the account balance. There's a 69.12% chance of losing 10% of the balance.
People say that Happy Breakout is…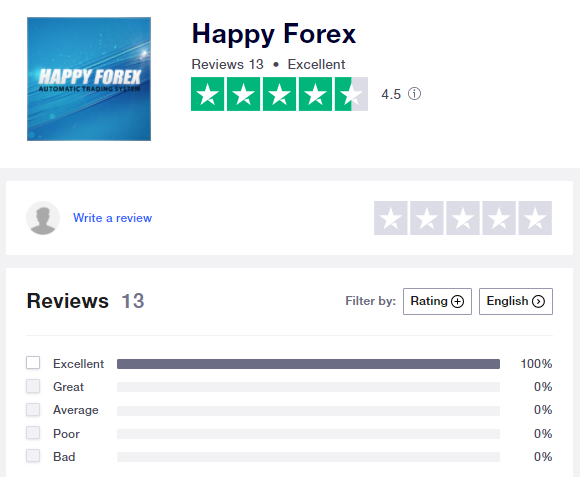 We have a page of Happy Forex published on Trustpilot. There are only 13 reviews published. The final rate is 4.5.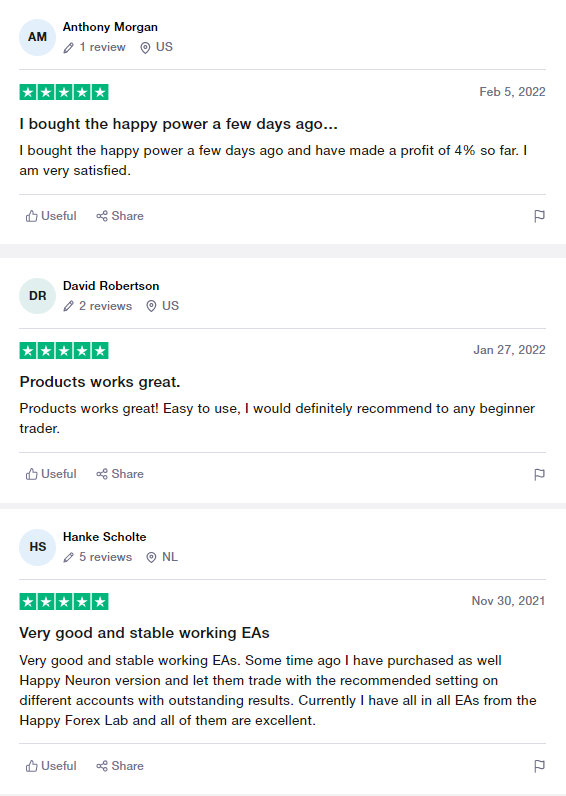 The clients inform us that the company and its solutions are profitable and good to be used.
Verdict
| | |
| --- | --- |
| Pros | Cons |
| A well-known company | No risk advice given |
| Backtest reports shared | |
| Trading results provided | |
| A refund policy available | |
| Positive feedback | |
Happy Breakout Conclusion
Happy Breakout is a trading solution that works on a real account with average results. The presentation provides us with information about how the system functions and what profitability we can rely on. We have a refund policy that would cover us if we don't like the system's performance. There are some positive testimonials from clients published on Trustpilot that share positive trading experience with us.