To avoid getting confused in dozens of accounts and be able to manage them quickly, you need to use Moneydance. This helpful app is considered one of the best for personal finance. It simplifies the whole process as much as possible and saves users precious time. If you want to learn more about this financial product, sit back and read our Moneydance review.
General information about Moneydance
Users often call Moneydance the most reliable and convenient application. The rights to it belong to The Infinite Kind. It is based in Edinburgh (Scotland, UK) and specializes in developing various software for all available platforms. The Infinite Kind team comprises programmers, designers, and representatives of other areas. They all have a sufficient level of professionalism, so they cope with their tasks with high quality and maintain the application's popularity for many years.
Moneydance is one of the most sought-after products. It is ideal for personal finance. In addition, the application can be used to manage accounts and investments, budget, view individual spending statistics, and much more. Such versatility allows Moneydance to be at the top of various ratings constantly. This application is suitable for users with different financial capabilities. It reliably protects your data and, unlike many similar products, does not sell statistics to analytical companies.
Moneydance is a relatively inexpensive app. Its cost is $49.99, after which you get a lifetime subscription and the absence of restrictions in settings, functions, and additional features. Most users like this price, as similar products from competitors, will often cost 2-3 times more.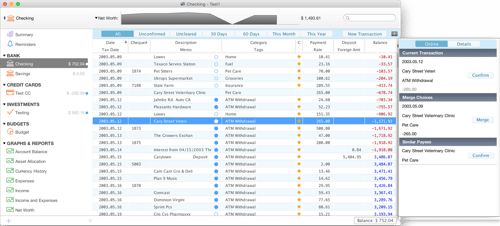 Important features
Reading various Moneydance reviews, you can guess that even a teenager can use the application. However, it is important not to relax, as one wrong action can create significant problems that will take a long time to resolve.
Step-by-step instruction:
First, find The Infinite Kind's website on the Internet.

In the top menu, select "Moneydance,» after which you are transferred to the application page.

Approximately in the same place, find the "Download" button. After clicking on it, choose the optimal version of the app and download it to your device.

Next, create an account, specifying the standard information (e-mail, name, password, etc.).

Go to your account, where you will be asked to pay a fee for using the product. Do it in one of the available ways.

In the next step, go to the settings menu and adapt the application to your needs.

Add all your bank accounts and existing assets.

Save your changes, and you can start working.
Moneydance is a relatively open and understandable application. Therefore, it has a minimum of features that distinguish this product from competitors.
Important features:
Security. Moneydance users never complain about security issues. This is because application developers use several data encryption methods. In addition, Moneydance does not have access to your banking passwords, so there is no way for anyone to break into your accounts through the application. Another component of security is multi-factor authentication.

Guarantees. Moneydance is a paid application, so you need to pay a considerable amount for its use. To dispel all user doubts about the honesty of the developers, such a practical option as a 90-day money-back guarantee was created. According to the company's terms, everyone can cancel the app during this period and get their money back. This should be done only as a last resort when the purchased product is inconvenient and ineffective. Refunds are made within a few days after submitting the relevant application.

Contacts. To get answers to any questions, you need to contact the representatives of the developer company. To do this, fill out the feedback form on the site and send a request. Before doing this, it is recommended to look at previously generated answers and articles that may contain the required information. All this is available on the site in the public domain.

Application version. Users can download and install five different versions of Moneydance. Three are designed for computers with other operating systems (Windows, macOS, Linux). If you are a lover of mobile gadgets, then two versions of the application are available (for Android and iOS). With any choice, you will receive the most similar products that will be convenient to use.

Useful information. The official web resource of the developer company has a section with articles on Moneydance. All texts relate to the installation and operation of the application. With their help, it will be possible to avoid various problems and increase the efficiency of the investment product. The texts are written in English, so users need to improve their knowledge or find a quality translator.

Reports. Moneydance can generate dozens of words related to various financial aspects. Such statements can be made in the form of charts or text messages. In all cases, they will be informative and helpful to users.
Advantages and disadvantages
You can talk about Moneydance for a very long time. However, if you only have a little free time but want to learn as much as possible, check out the lists of advantages/disadvantages. They will help you get a complete picture of the application and determine the need for its use.
Pros:
       

reliability of the developer

       

hundreds of thousands of users

       

versions for various devices

       

many use cases

       

small price

       

lifetime subscription

       

Ease of use

       

wide functionality

       

security of the storage of personal information

       

additional tools

       

good feedback
Minuses:
Managing your accounts is much more complex than managing someone else's. Representatives of The Infinite Kind know this, so they offer the Moneydance application to everyone. It is functional and easy to use. If you don't believe this, then see for yourself. After a couple of days, you will not want to return to other financial applications.