Panda Night is a Forex robot that is sold on the MQL5 website. It was launched on 22nd April 2021, so it is a relatively new entry into the Forex market. You can run this EA on both MT4 and MT5 trading platforms.
The EA can work with multiple symbols and is easy to set up. It is cheaper than most and is supported by a 7-year historical test. That being said, there is no verified trading account for this EA. The vendor is relatively unknown and they don't have a money-back policy in place. Also, we don't have reviews on third-party websites.
Vendor transparency 
The developer behind this system is Jiang Ming Wang, who is a resident of China. We have virtually no information on this person or the people they work with. They seem to be a newcomer to the website, as the profile has not been active for even a year. Apart from Panda Night, this seller has another EA known as Panda Gold Trend. There is no contact information available for this developer.
How Panda Night Works 
This EA does not consume too much resource and you can easily use it in combination with other expert advisors. Since it can trade in different pairs, the correlation is quite low between the symbols, and this means the system is able to reduce risk through diversification. You can easily run this robot with default parameters.
Timeframe, currency pairs, deposit 
You must attach the EA to an M5 chart for it to work properly. It works on pairs like EUR/USD, AUD/USD, AUD/NZD, EUR/CAD, AUD/CAD, NZD/USD, EUR/GBP, EUR/CHF, EUR/AUD, NZD/CAD, CHF/JPY, GBP/NZD, AUD/CHF, etc. Panda Night works best with a low-spread account. For this reason, the vendor recommends signing up with brokerages like TickMill, IC Market, or any other broker with low-spread accounts.
They also recommend signing up with a brokerage with GMT 3. You should not purchase this EA if you have an account with low spreads. It can run on an STP standard account, but there are fewer orders.
Trading approach 
This EA looks for signs of reversal when the market is not so strong and there is a low risk of high movements. The vendor has not clearly explained the trading strategy behind this EA. We don't know how it trades reversals in the Forex market or whether it uses any indicators for this purpose. As such, we cannot determine which trading styles this EA is suitable for.
Pricing and refund 
The current price of this expert advisor is $199. This makes it much cheaper compared to other automated trading systems on the market. If you wish to test the performance of the system using virtual money, you can download the free demo version of the system. Unfortunately, the vendor does not offer a money-back guarantee for this EA.
Trading results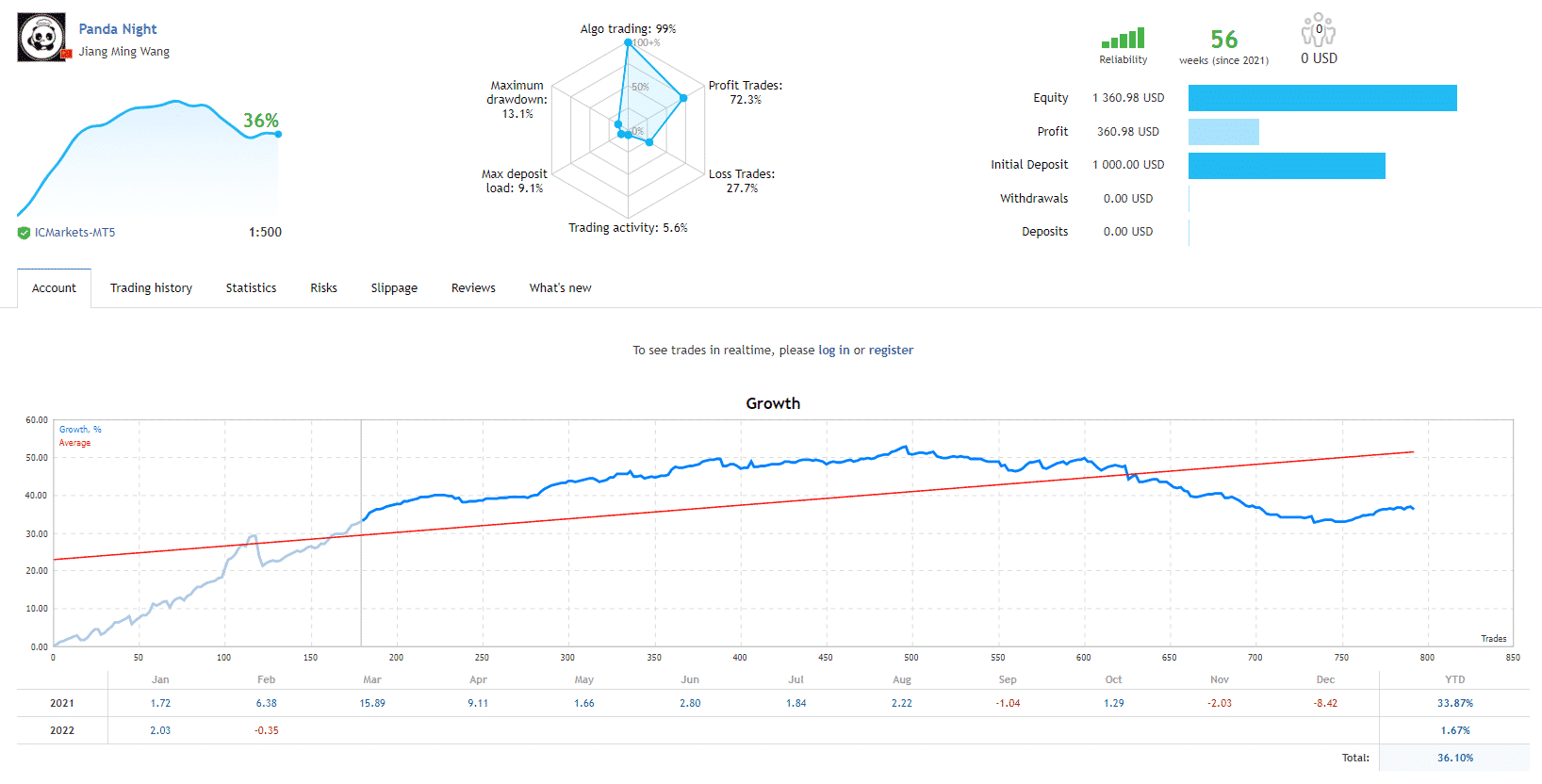 There are no verified trading accounts for this EA on websites like Myfxbook, FXBlue, and FXStat. This account was launched on 22nd April 2021. To date, the EA has conducted 792 trades through this account, winning 72.34% of them and generating a total profit of $360.98. The profit factor is quite decent at 1.37, while the growth percentage is 36.10%.
This account has a maximum drawdown of 13.1%, which is not beyond the acceptable level. There have been 42 maximum consecutive wins and 9 maximum consecutive losses. The average profit and loss are $2.31 and $4.40, respectively.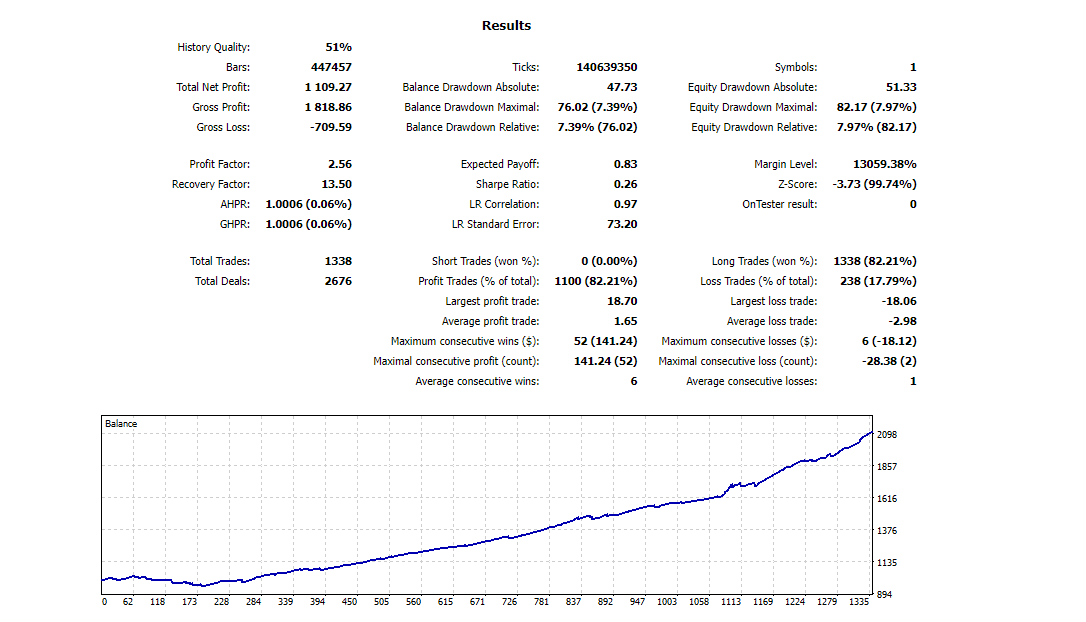 This backtest was conducted from 2015 to 2021 using an initial deposit of $1000. The robot conducted a total of 1338 trades on the M5 timeframe, winning 82.21% of them. As we can see, the win rate was much higher in comparison to the live statistics. The profit factor was also quite high at 2.56 while the relative equity drawdown was only 7.97%.
People say that Panda Night is…
Doubtful. There are no reviews for this EA on third-party websites.

Here, we have a handful of reviews on MQL5. However, we have no way of confirming their authenticity.
Verdict 
| | |
| --- | --- |
| Pros | Cons  |
| Cheap compared to others | No verified trading statistics |
| | No money-back guarantee |
| | Lack of vendor transparency |
Panda Night Conclusion
Panda Night is an EA that does not have verified trading accounts on third-party websites. The vendor does not have a refund policy in place, although the price is quite affordable. We don't know much about the vendor's background and there are no authentic customer reviews.