Price Action Forex is a firm that redesigned a presentation one again but still didn't add backtests or trading results. The main statement is "Redefine Stress Free Trading." We have seen this type of presentation and this logo before.
Vendor transparency
The developers don't provide us with their accounts on Facebook or MQL5. We have no trading results or at least backtest reports as well.
How Price Action Forex works
The presentation includes a little information about how the system functions. It's for sure not enough to form a diverse opinion about it.
The indicator makes a decision when the best time to place an order.
It uses Price Action to find trading opportunities.
The developers insisted that there are "over 701,463 traders trusting this strategy worldwide."
This sounds like a scam.
The signals are provided for Forex, Indices, Commodities, Stocks, and other trading instruments.
The trading experience of the developers is 13 years.
"We can enhance our trading knowledge with free trading analysis."
We are allowed to ask questions from the developers.
The devs mentioned an "entrance ticket."
They provide 24/7 support.
The accuracy rate is up to 90%.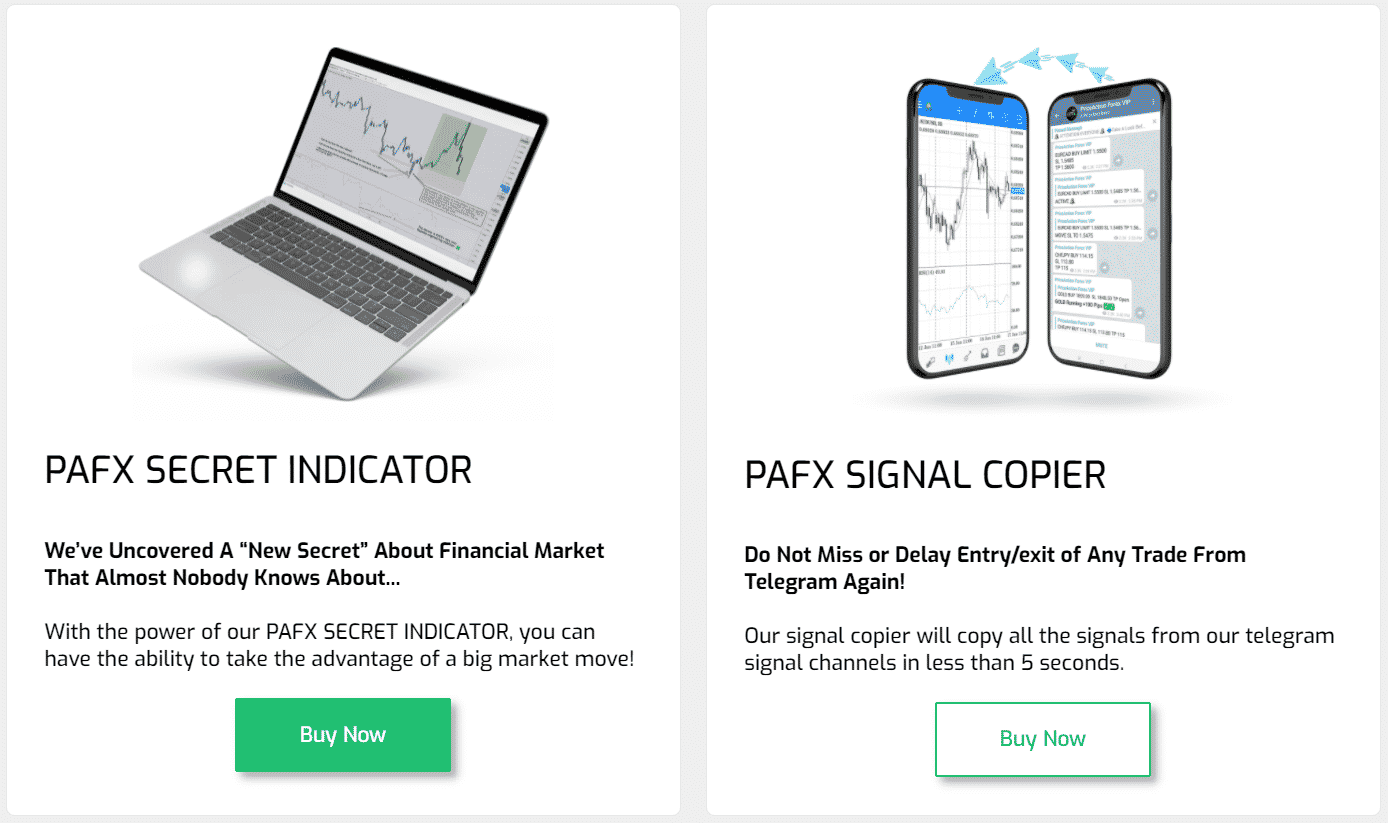 The presentation has many products on the board.

We have a secret indicator. They don't know any reason to call it a secret.
The system has its own strategy.
"The world's leading banks control over 79% of the Forex volumes. And this provides the power to control the prices in the short-run and long-run. Traders try to apply strategies to the market which is not controlled by them. This is the reason for such a high failure rate in this market."
The indicator places orders when the banks do.
"Banks frequently manipulate asset prices to hunt for retail traders' stop losses. How they do it is by raiding prices above or below supply demand zones, significant highs, and lows."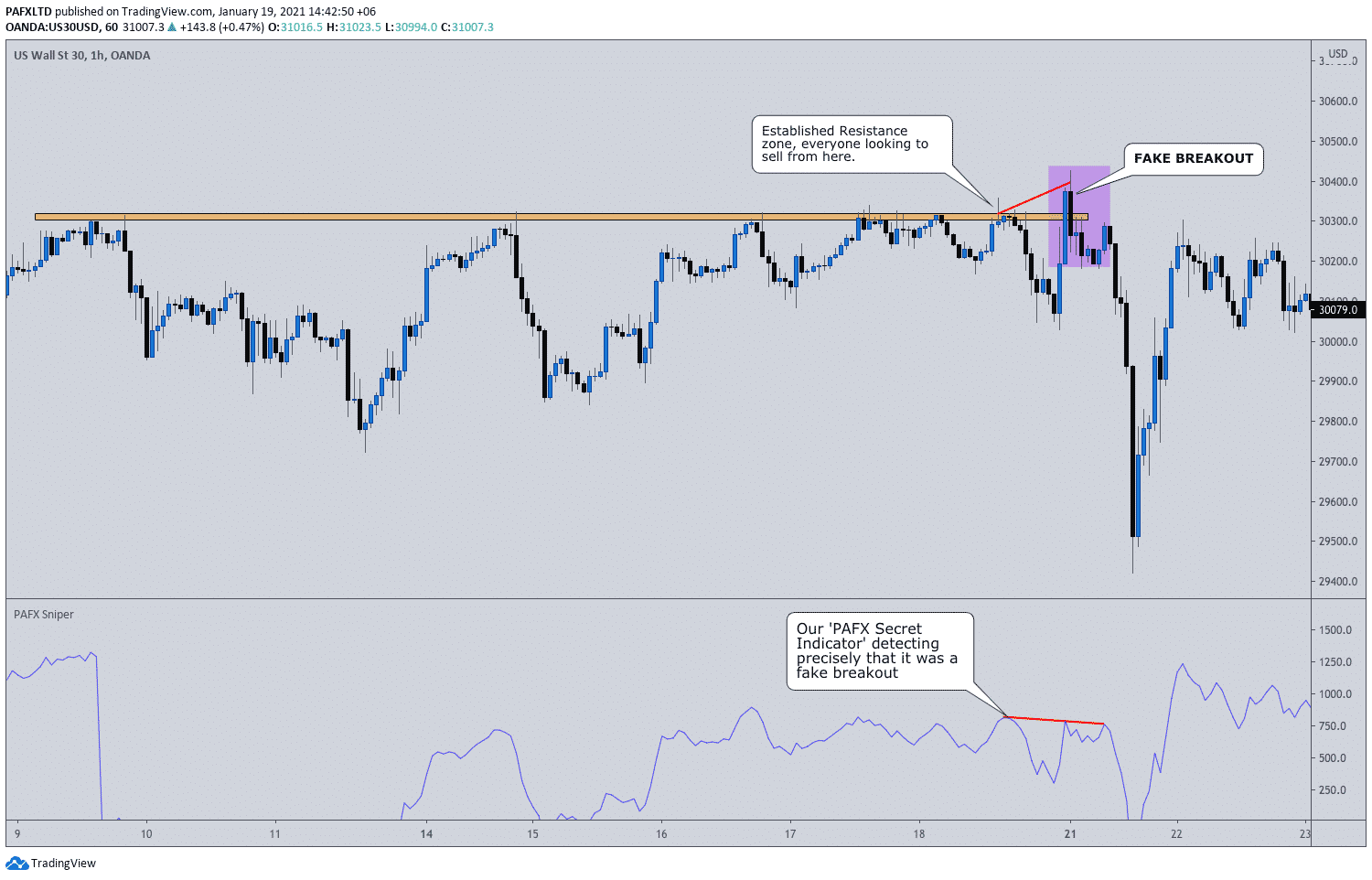 We have a screenshot with explanations why it's important for us to understand where the market goes.
The devs claim that "if we see, the price has broken a high, but the indicator has not, it simply means that the high is fake and we should look for selling opportunities. Vice versa, if the price has broken a low, but the indicator has not, it means that the low is fake and we should look for buying opportunities."
Timeframe, currency pairs, deposit
The indicator can be used with any cross pair.
Most likely, we can work with any time frame.
Trading approach
The robot uses a price action strategy to spot trading opportunities.
It informs us when we have to open a trade.
Pricing and refund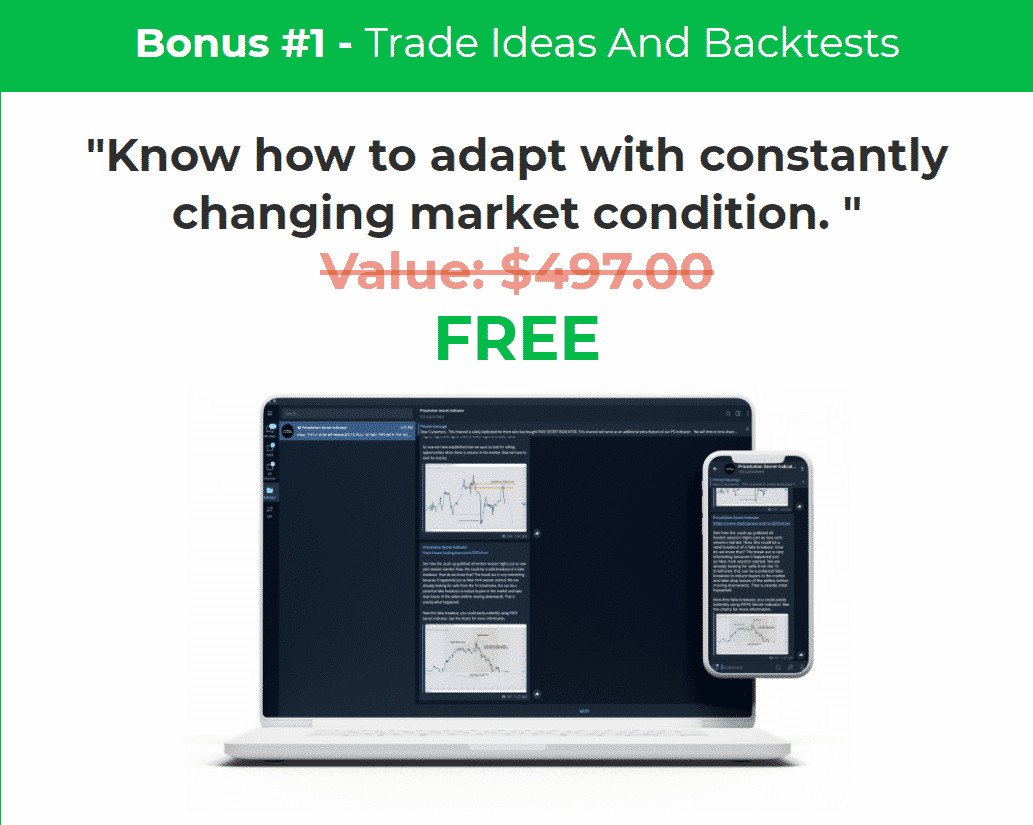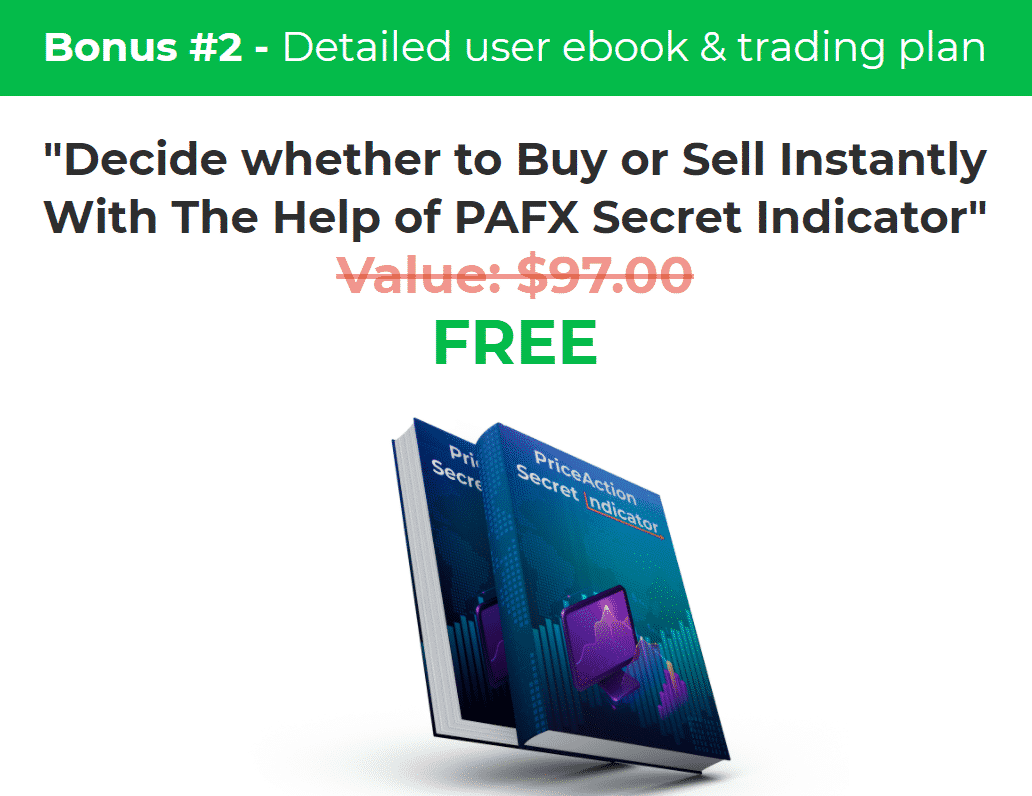 The indicator can be bought for $79. The previous price was $179. So, the discount is &100. The package includes a copy of an indicator, trading ideas, backtest, and an educational book. We have no refunds supporting this deal.
Trading results
The system is delivered without backtest reports. It moves risks from the developers to us. It can mean that the system was not well tested before turning into a product.
The same picture we have when we look for trading results. The developers decided not to provide us with verified Myfxbook or Fxblue trading results. It's important because we can check profitability, absolute and monthly gains, win rate, drawdowns, trade length, and much more.
People say that Price Action Forex is…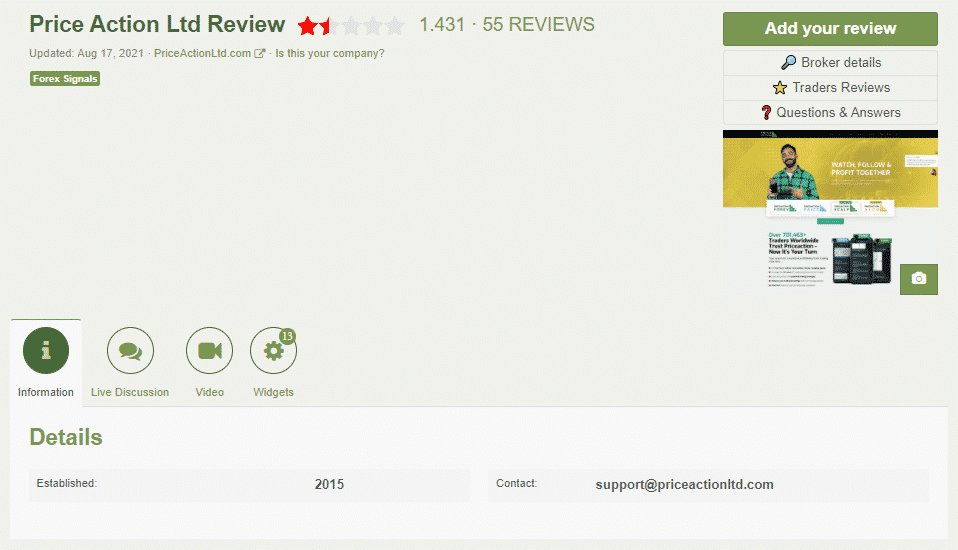 We managed to find a Price Action Ltd page on FPA. There are 55 reviews placed that form a disgusting rate of 1.4.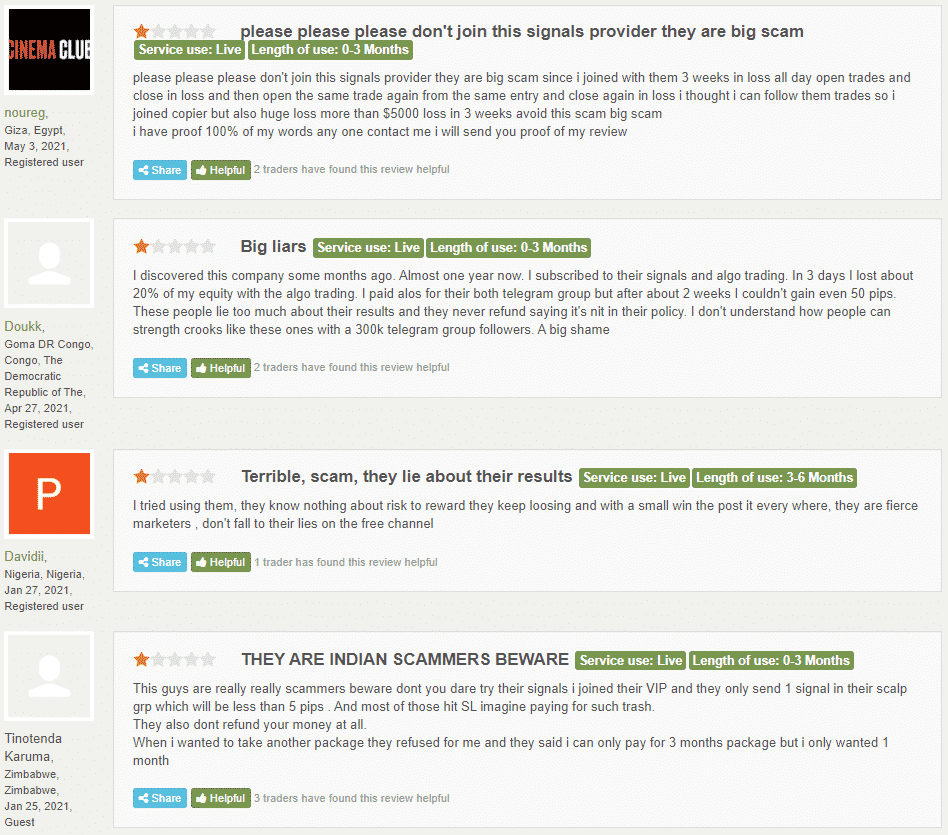 No one was happier with this service and its trading solutions. We are not surprised at all.
Verdict
| | |
| --- | --- |
| Pros | Cons |
| Many testimonials written | No risk or money management advice provided |
| | No backtest reports provided |
| | No trading results shown |
| | No refund policy provided |
| | Horrible trading results |
Price Action Forex Conclusion
Price Action Forex Ltd looks like a company that tries to trick us and sell something that doesn't work. There are 55 negative reviews published on Forex Peace Army. It's so many. So, we have to take them into account.