SIEA Zen robot is alleged to provide traders with the opportunity to trade with discipline, patience and a clear edge through its distinctive trading volume analysis. Furthermore, it will assist you to have a steady risk-reward ratio. Although we have confirmed these assertions to be true, we believe that you will not be impressed by its low profitability rate. So, you cannot trust the robot to trade successfully.
Vendor transparency
The seller of this product is a German called Daniel Stein. He is the founder of Stein Investments. From his profile, it is also clear that he has been in the market for 7+ years and developed 17 other products. However, nothing is known about the company's year of foundation, physical address, contact details, or reputation. The actual qualifications of Stein and his team of developers are not known either.

How SIEA Zen works
SIEA Zen has a variety of characteristics. They include:
An in-built news filter that ensures no new trading positions are opened around central bank news events.
Runs on the MT5 platform.
Applies swap management.
Manages risks by utilizing a single risk/drawdown limit for the whole trading system.
Uses money management.
Handles all trades on one chart.
Timeframe, currency pairs, deposit
SIEA Zen trades all the 28 trading pairs based on eight major currencies; EUR, GBP, USD, CAD, CHF, NZD, JPY, and AUD. The minimum amount recommended to start trading with the bot is €2500. Information on the timeframe and the leverage used is not disclosed.
Trading approach
The vendor says that the system uses a unique real trading volume analysis that ascertains market imbalances and their intensity to identify reverse entry opportunities. Notably, reversal trading may not be that profitable. Once the bot has spotted a reverse entry, the market price may already have changed drastically to a level that makes it a less lucrative prospect.
Pricing and refund
SIEA Zen's price is exaggerated. The license key costs a whopping $999. The renting options are not cheap either. To get the 3-months, 6-months, or 1-year offer, you will have to part with $199, $299, or $499 respectively. In the next section, you will realize that the system is not profitable and cannot give you value for money. Therefore, it is not worth this cost.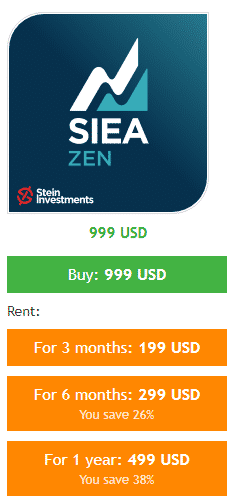 Trading results
The backtest report and live trading results for this EA are available. We have analyzed them below.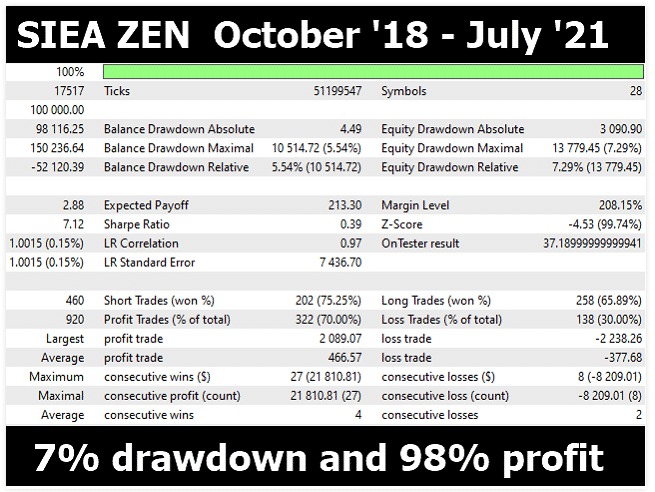 This is a report for a backtest that was conducted between October 2018 and July 2021. The account was deposited at $100,000, and after carrying out 460 trades, a profit of $98,116.25 was realized. Although the gains made are remarkable, the trading performance shows a totally different picture. The EA only succeeded in winning 75.25% of the short trades and 65.89% of the long ones. The maximum drawdown was 7.29%.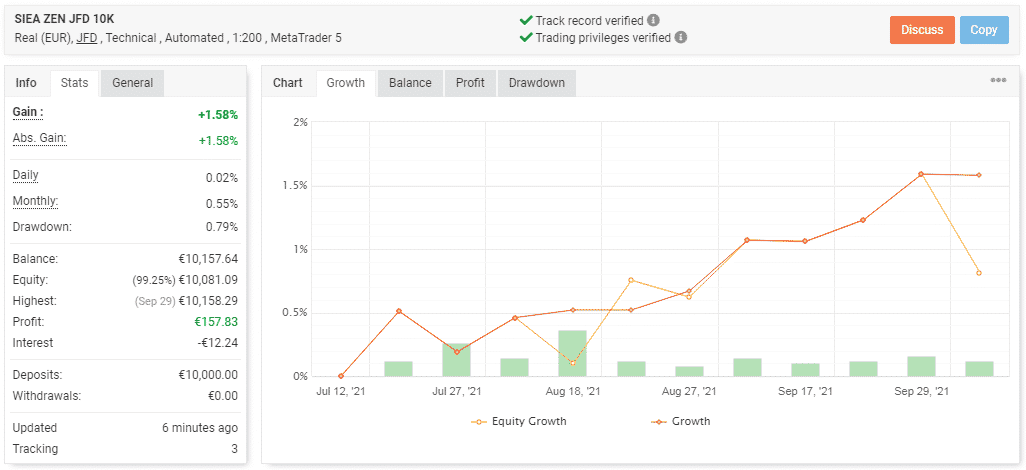 The low profitability of this account is conspicuous. When it was opened on July 12, 2021, a deposit of €10,000 was placed. Till now, only a profit of €157.83 has been earned. Its total gain is poor – 1.58%. The monthly profit (0.55%) is low and doesn't inspire any confidence in the EA's ability to benefit traders in this market. The drawdown is 0.79%.

The robot has a low trading frequency. In 3 months, it has only completed 13 trades. All the short trades were successful. Unfortunately, the same cannot be said about the long positions as they have performed very poorly —40%. The average win was 62.44 pips, and the average loss is -7.22 pips.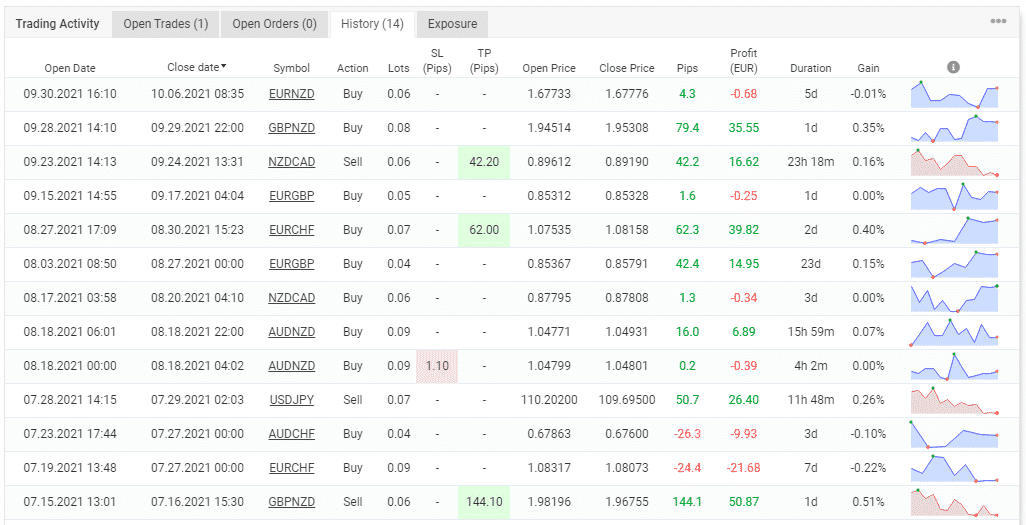 From this data, we can see that the system did not place orders daily. There was an instance where it even stayed for 23 days without initiating any trade. It is also notable that SL and TP were used, but not on all orders.

The robot is currently applying the USDJPY pair to trade, but so far, it has suffered losses.
People say that SIEA Zen is…
Good. They admit that the EA has been working well for them, and they are satisfied with the results so far. We don't know if the system has more clients and if all of them feel the same way. We need a larger sample of reviews to determine this.

Verdict
Pros
The live trading results are present
Supports numerous currency pairs
Cons
Insufficient customer feedback
The vendor's qualifications are not indicated
Low return rate
Extremely high price
SIEA Zen Conclusion
If you are interested in earning good profits, then SIEA Zen is a no-no. You will spend a lot of money acquiring it and then get almost nothing in return. The system will not make the most out of your investment as it will stay for days without placing any trades. As a result, you will lose out on many profit-making opportunities.