Signal Factory provides trading signals for the Forex market. The company usually obtains these signals from professional traders' accounts and delivers them directly to your trading platform. The service features the recommended currency pair for trading, buy/sell order, stop loss, take profit, and the price. Best performance is guaranteed since, according to the vendor, only signals from profitable accounts are provided.
Vendor transparency
We don't know who the vendor of this service is. The sales page does not include any info whatsoever about the company, year of foundation, location, trading experience, reputation, or contact details. Nevertheless , we have decided to conduct additional research on their Facebook page. In result, we have found a contact number: +44 20 8068 1786, which tells us that the company is located in Britain, London.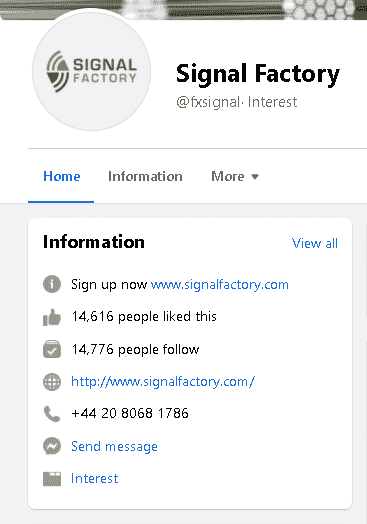 The company also has an active Telegram channel with 2901 subscribers and regular posts on financial topics published on it. It's a good sign to see that the group is not abandoned.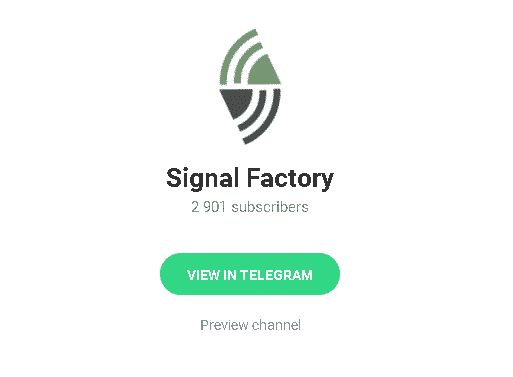 How Signal Factory works
The company says that the signals have the following characteristics:
They help you stay focused by guaranteeing better results.
You can use them on your current account. However, the way you utilize the signals depends on you.
They have no hidden costs.
There is no conflict of interest. So, the spreads in your account will not be interfered with.
Timeframe, currency pairs, deposit
The signals trade on multiple currency symbols: CADJPY, CADCHF, CHFJPY, AUDCAD, AUDUSD, EURAUD, EURCAD, AUDJPY, AUDCHF, EURCHF, EURGBP, EURJPY, EURNZD, EURUSD, GBPAUD, GBPCAD, GBPCHF, GBPJPY, GBPNZD, GBPUSD, NZDCAD, NZDCHF, NZDJPY, NZDUSD, USDCAD, USDCHF, and USDJPY. The dev states that "trade signals are delivered from the providers' accounts directly" to our trading platform, so we have nothing to worry about.
Trading approach
In selecting the signals to supply to their clients, the devs apply what they call risk aversion. This entails depressing martingale money management techniques and measuring the performance of live accounts of professionals who provide them with signals by nets pip change. The team notes that they do not consider the lot size of trades in the performance at all.
Pricing and refund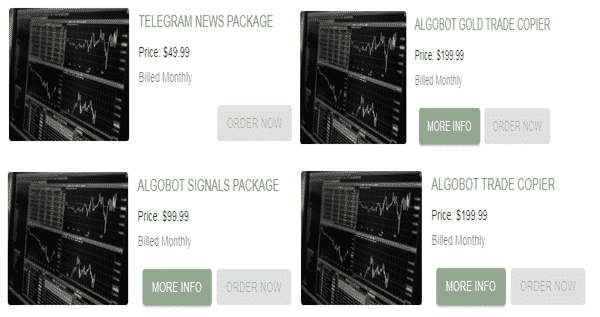 Anyone who desires to subscribe to this service has four options to choose from. We have the Algobot gold trade copier and Algobot trade copier that both cost $199.99. Then there's the Telegram news package that is $49.99, and the Algobot signals package, which asks for $99.99.
Trading results
Backtesting results are not presented. This test should never be underestimated. A backtest that is conducted properly will ascertain whether a trading idea has a persistent edge or not.

This account has experienced significant losses as a consequence of applying the signals to trade. As you can see, it had an initial deposit of $10000, which has been reduced to $8862.22 after losing -$1137.78. Currently, the available amount for trading is $7965.32.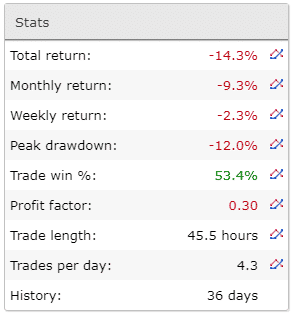 The account has been active for 36 days, and on average, a trade is held for 45.5 hours. The profit factor of 0.30 depicts the service as a loser. To date, the total return rate is -14.3%, while the monthly return is -9.3%. The peak drawdown is -12%.

Tuesday and Wednesday are among the most active days of the week. The account's trading activities decline sharply on Friday.

Most of the open trades were closed in losses.
People say that Signal Factory is…
There are a total of 3 customer reviews for Signal Factory on Forex Peace Army. One of the traders says that the service is good, while two traders say that it is unprofitable. It is impossible to analyze customer experience based on 3 reviews, with the last one written in early 2020.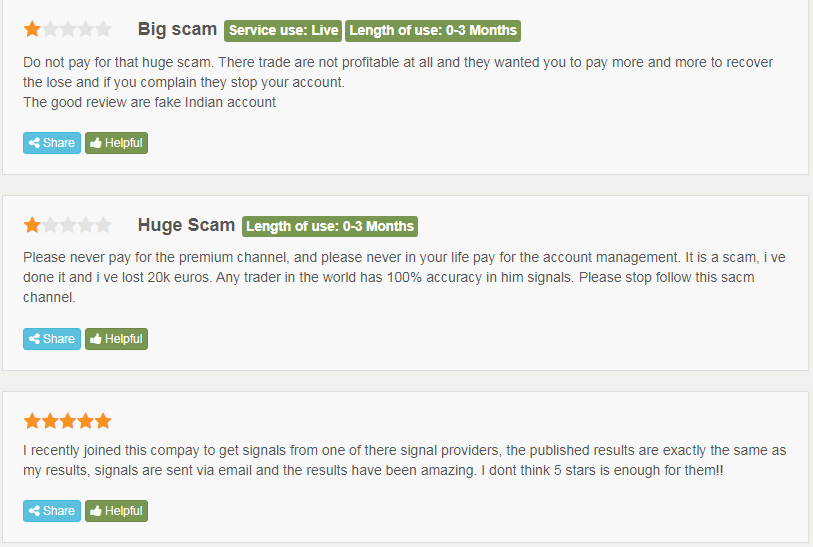 Verdict
| | |
| --- | --- |
| Pros | Cons |
| Live trading stats are available | Most of the recent orders were closed in loses |
| Supports numerous currency pairs | High losing streak |
Signal Factory Conclusion
From this analysis, it is apparent that Signal Factory has a number of upsides as well as downsides. Although the devs share live trading results for their services, they do not look optimistic now. Nevertheless, if you decide to use the signals, the main benefit is that you will trade them on many currency pairs.