Stenvall Mark III is a Forex expert advisor that was first launched in 2016. It is currently sold on the MQL5 website. It works on both MT4 and MT5 trading platforms.
This robot does not use any risky strategies and is supported by verified trading statistics. However, it is much more expensive compared to other EAs on the market. Also, it suffers from a lack of transparency.
Vendor transparency
Gennady Sergienko, the developer of this EA, is a resident of Russia. There is little or no information on this person and their trading background. Their MQL5 profile tells us that they have experience of more than five years. Here, they have shared a couple of email addresses where you can reach out to them with queries. Some of the other EAs developed by this person include North Star, Franc Pacific, Alexis Stenvall, and Ruxzo.
How Stenvall Mark III works
This EA performs algo trading 24 hours a day with complex wave analysis while holding the positions for long time periods. It uses a stop loss for each position and uses an average take profit size of 150 pips. The average deposit load is 5% and the vendor claims that you can win profits without increasing the lot size.
To use the robot, you need to download the proper set file for the desired risk level. There are four of them, namely fixed lot, low risk, mid risk, and high risk.
Timeframe, currency pairs, deposit
The vendor recommends making a minimum deposit of $50. This is an EA that only trades in the EUR/USD pair. For the live trading account, the robot uses 1:400 leverage.
Trading approach
Stenvall Mark III uses a combination of trend and counter trend strategies. The vendor claims this EA is suitable for long-term private investors and for creating a trust management account.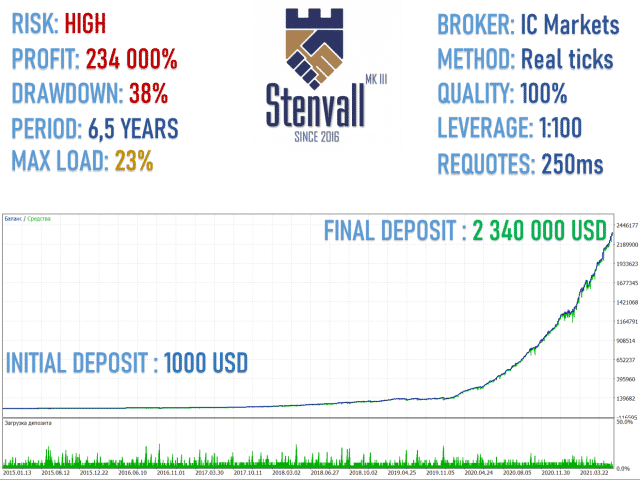 Here we have the results for a backtest conducted with high risk. The EA started with an initial deposit of $1000. It managed to convert it to $234,0000 during the six-year testing period. It conducted the backtest with 100 tick quality and 1:100 leverage. The max load was 23% while the drawdown was 38%. Compared to other systems, the drawdown is a bit high, but that is expected for a high-risk strategy. Some of the important parameters are missing in the backtesting results, which makes it difficult for us to compare them with the live statistics.
Pricing and refund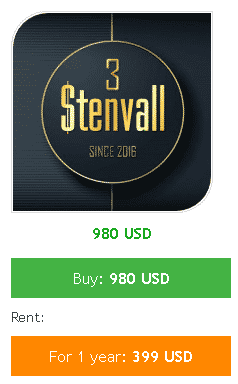 The current price of this EA is $980 and this is much higher than the market average. You can rent the EA for 1 year by paying $399. If you wish to test the performance using virtual money, there is a free demo version you can download. Unfortunately, the vendor does not offer a money-back guarantee.
Trading results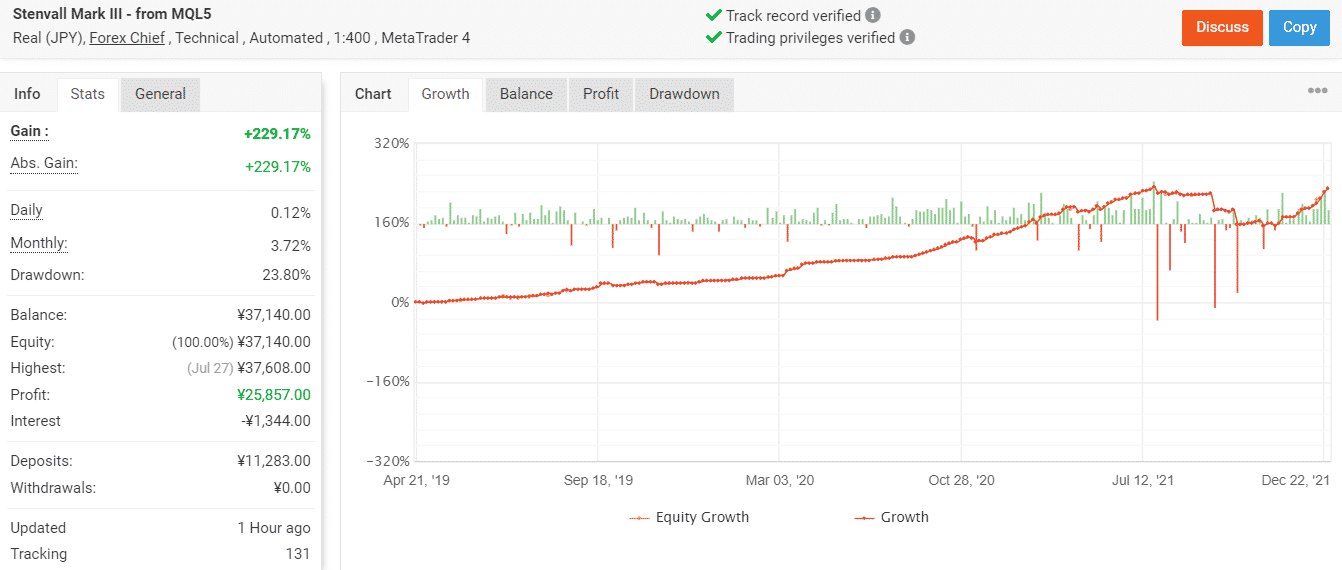 This trading account on Myfxbook was launched on April 21, 2019. After conducting 546 trades, its win rate currently stands at 65%. Currently, the account is at a total profit of ¥25,857.00. The daily and monthly gains are 0.12% and 3.72%, respectively. Here, the drawdown is comparatively low at 23.80%, while the profit factor is a decent 1.75.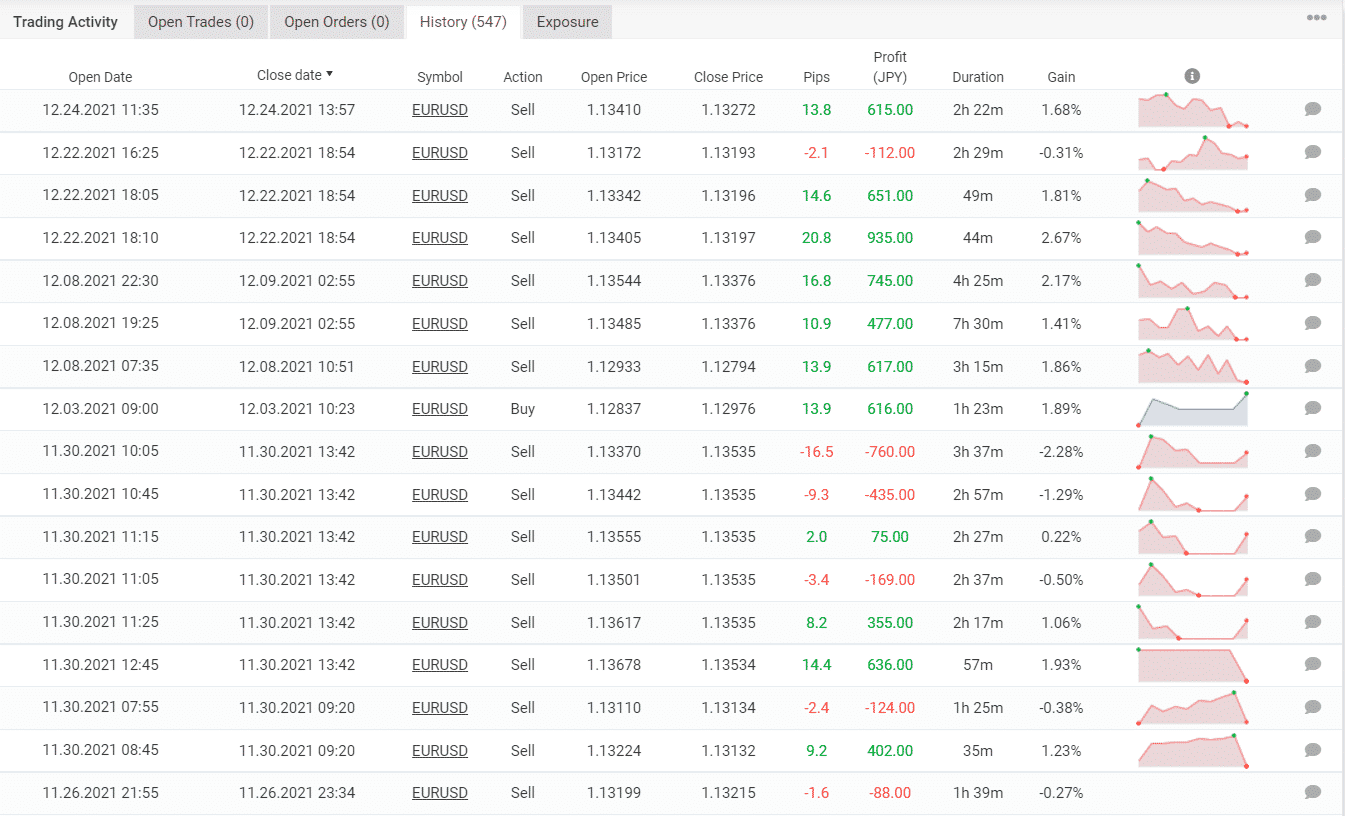 As you can see, the EA holds its trades for at least 35 minutes, and sometimes for several hours. The owner of the account has chosen not to reveal the lot size, and this makes it difficult to analyze the trading style of the EA. Also, we can see that the robot is prone to suffering consecutive losses. The average win and loss for this account are 6.41 pips/¥169.14 and -6.18 pips/-¥180.83, respectively.
People say that Stenvall Mark III is…
Doubtful. There are no user reviews for this robot on trusted third-party websites. However, on MQL5, several users have written negative reviews on it. They have claimed that the EA loses more than it wins and that the developer cannot be contacted.

Verdict
| | |
| --- | --- |
| Pros | Cons |
| Verified trading results | Expensive compared to others |
| | No money-back guarantee |
| | Lack of vendor transparency |
Stenvall Mark III Conclusion
Stenvall Mark III is an EA that carries a hefty price tag. On top of that, the vendor does not offer you the protection of a refund policy. There are several user reviews on the MQL5 website that tell us about the bad experiences of customers with this EA. Last but not the least, it is sold by a vendor with no reputation.