Zen Scalper EA promises to give you better trading results than other trading systems with no manual effort. It also promises to trade with low risks while keeping targets high so that it will keep running in the long term. Should you trust these claims? You will find the answer in this Zen Scalper EA review.
Vendor transparency
The vendor of this robot is mysterious. There's no information on the sales page that points us to the company or professionals behind the system. So, we don't know their identity, qualifications, trading experience, location, contact details, and reputation in this market.
How Zen Scalper EA works
The robot has several features:
The system offers 24/7 live chat and email support.
It is quick and easy to install.
The robot has extreme execution speed.
No external files are required
It can trade on both the MT4 and MT5 accounts.
Lot management is applied.
It trades on single accounts but can work on multiple accounts if you subscribe to many packages.
The recommended broker is FBS.
Timeframe, currency pairs, deposit
Zen Scalper EA is said to perform best on the M15 timeframe because it is a major scalping EA. It trades on the GBPUSD currency pair, but the vendor doesn't mention the amount of deposit you need to have to activate it.
Trading approach
As the name insinuates, Zen applies the scalping strategy. This entails opening and closing a trade within short time periods. The main aim is to make profits in as little as seconds or minutes, obtaining a few pips at a time.
Pricing and refund
Zen Scalper EA has 3 main pricing options; a monthly license goes for $59, while a lifetime one is $249. The referral license is free but requires you to have a minimum balance of $3000 to use it. A 15-day money-back guarantee is available, but it is only applicable to the monthly license.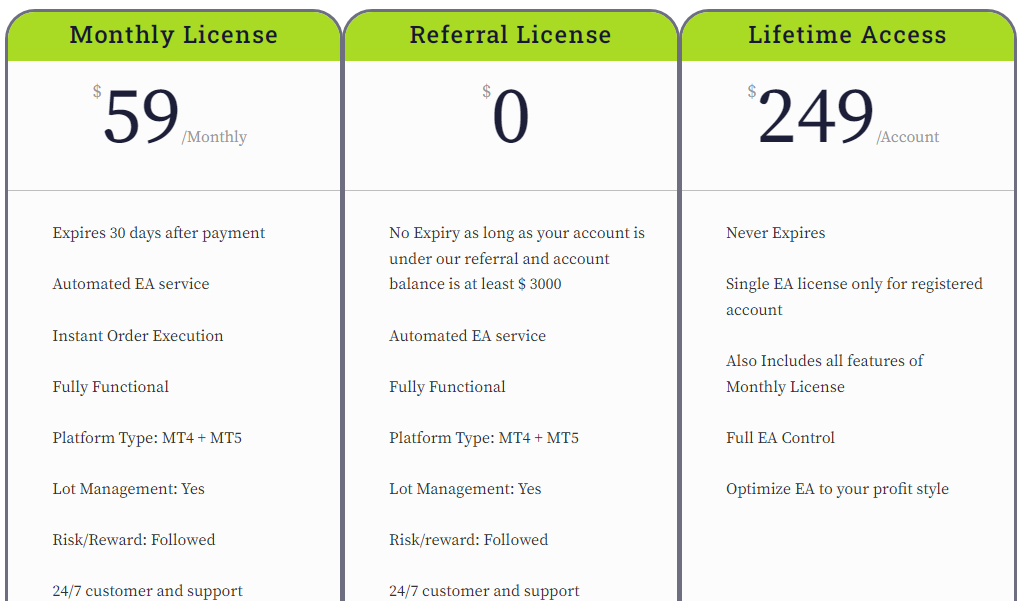 Trading results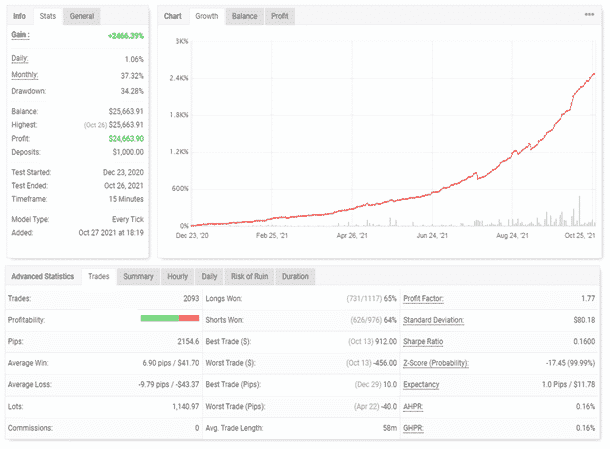 This backtest was conducted between December 2020 and October 2021, and for this period, the EA grew the account by 2466.39%. This is after it utilized a deposit of $1000 to make a profit of $24663.90 from 2093 trades. A drawdown of 34.28% proved that the system traded with high risks.
The average loss (-9.79 pips), which was higher than the average win (6.90 pips), means that the robot made more losses compared to wins. No wonder it generated poor win rates for long (65%) and short (64%) positions. The profit factor of 1.77 further illustrates the system's low profitability rate. The average trade length was 58 minutes.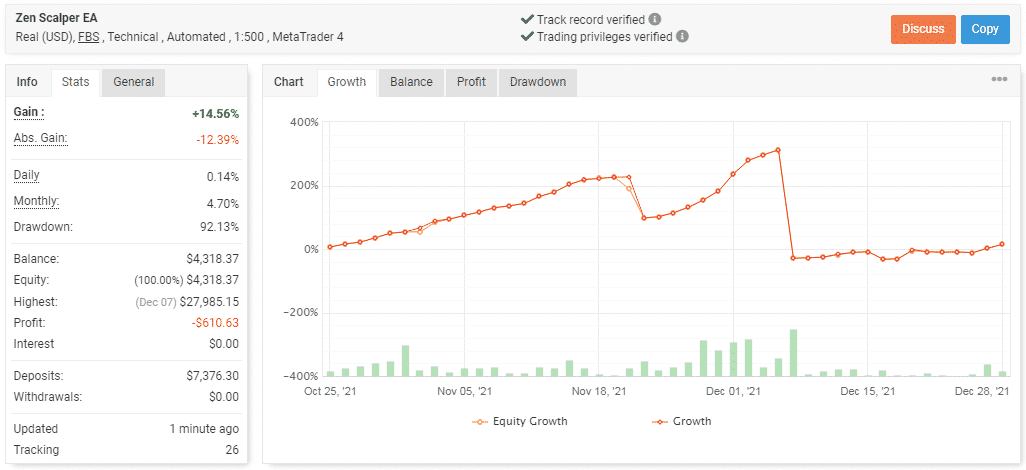 This account is very young. It was deployed in October 2021 and deposited at $7376.30. On average, it makes 4.70% profits monthly. But from the looks of it, the performance of the robot has not been good recently. As you can see, it has accumulated a loss of -$610.63 to date. With a huge drawdown of 92.13%, there is no hope for this account. It will crash soon.

The EA has completed 664 trades with 619.80 lots. The win rates for long (61%) and short positions (75%) are average, and a profit factor of 0.99 depicts Zen as a loser robot. The average win is 10.25 pips, while the average loss is -14.97 pips. The best trade has brought a profit of $511.20. Unfortunately, the worst trade led to a big loss — -$1274.13.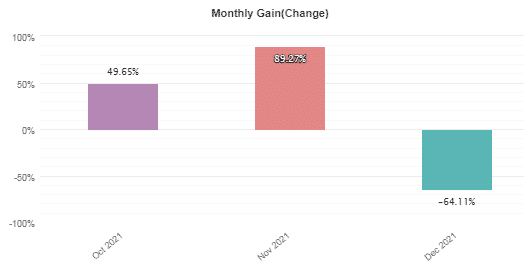 The EA made substantial profits in October and November, but it incurred a huge loss of -64.11% in December, eroding some of the gains made.
Elements of the grid and martingale approaches are evident. The account has suffered a series of losses as a result.
People say that Zen Scalper EA is…
Average. There are only two customer reviews for this system on FPA. One of the clients has given the service a 1 star. He admits that it blew up his account, though he commends the vendor for providing excellent support. Another trader is happy that the robot has earned him more than 100% profits.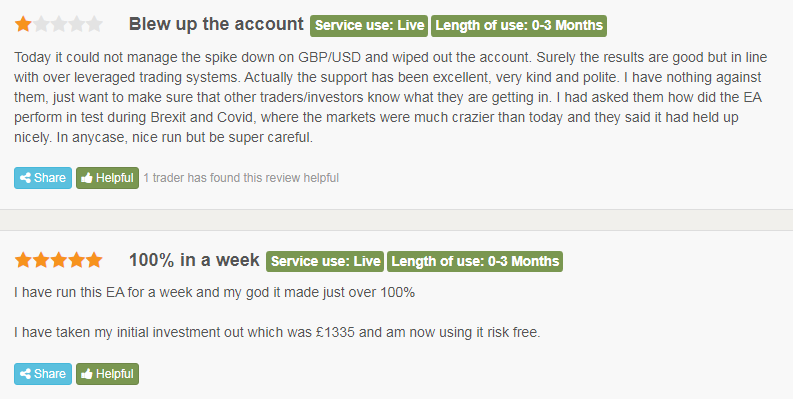 Verdict
| | |
| --- | --- |
| Pros | Cons |
| Backtest results are available | Grid and martingale strategies on the board |
| Live trading stats are present | High drawdown |
| | The vendor is unknown |
| | Short refund policy period |
Zen Scalper EA Conclusion
We laud the vendor for being transparent and showing the robot's past and current performance. From the results, it is clear that the EA uses risky approaches that are about to blow up a 2-month old trading account. There's a trader who even confirms that the system can lead to a margin call.