Trade Ideas is a cutting-edge software designed for stock traders. It incorporates artificial intelligence (AI) to scan the markets for potential trades, allowing traders to make informed decisions swiftly. The platform is equipped with an array of features, from charting tools to real-time data feeds, which prove instrumental for both novice and experienced traders. This review aims to delve into the nuances of Trade Ideas, providing a comprehensive overview of its capabilities, strengths, and areas for improvement.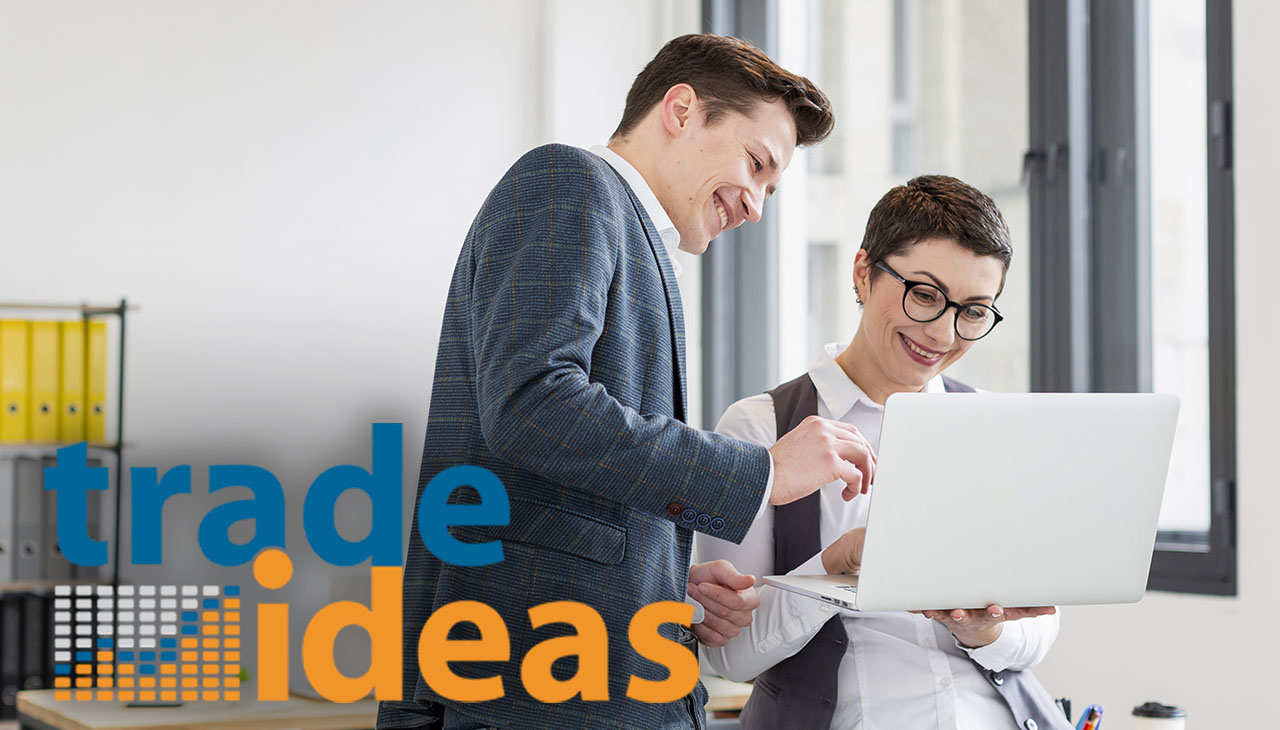 Features
Trade Ideas offers a range of features and tools designed to assist traders in generating trading ideas and making informed decisions. Here are some notable features:
Stock Scanning: Trade Ideas provides advanced stock scanning capabilities, allowing users to filter and search for stocks based on specific criteria such as price, volume, technical indicators, and fundamental data.

Real-Time Data: The platform offers real-time market data, enabling traders to stay updated on the latest price movements, news, and events that may impact their trading strategies.

Artificial Intelligence (AI) Technology: Trade Ideas utilizes AI-driven algorithms to analyze massive amounts of data and identify potential trade opportunities. The AI-powered platform can generate real-time trade alerts, suggesting stocks to buy or sell based on customized parameters and user preferences.

Backtesting and Simulated Trading: Users can backtest trading strategies using historical data to assess their performance. Additionally, Trade Ideas offers simulated trading, allowing traders to practice and refine their strategies without risking real money.

Watch Lists and Alerts: Traders can create personalized watch lists to monitor specific stocks or sectors of interest. Trade Ideas also provides customizable alerts and notifications to keep users informed of significant events or changes in the market.

Education and Community: Trade Ideas offers educational resources, including webinars and tutorials, to help traders enhance their knowledge and trading skills. The platform also fosters a community where users can share ideas, and strategies, and collaborate with fellow traders.

Broker Integration: Trade Ideas seamlessly integrates with various popular brokerage platforms, enabling users to execute trades directly from the Trade Ideas platform.
It's important to note that feature availability may vary depending on the subscription plan chosen. It is recommended to check Trade Ideas' official website or contact their customer support for the most up-to-date information on features and tools.
User Experience
The user experience on Trade Ideas is generally favorable due to its intuitive design and user-friendly interface. The platform is structured in a way that makes it easy for users to navigate and utilize all its features effectively, contributing to a seamless trading experience. Charts are clear and easy to read, with customization options to suit individual preferences. Alerts and notifications are timely and relevant, making it easy for traders to act on potential trade opportunities. The platform's speed and responsiveness are also commendable, with real-time data feeds and AI updates functioning smoothly without noticeable lag. While the vast array of tools and data might seem overwhelming to beginners initially, Trade Ideas' well-structured educational resources can greatly assist in understanding and capitalizing on the platform's capabilities. Overall, the user experience is a testament to Trade Ideas' commitment to providing a top-notch trading platform.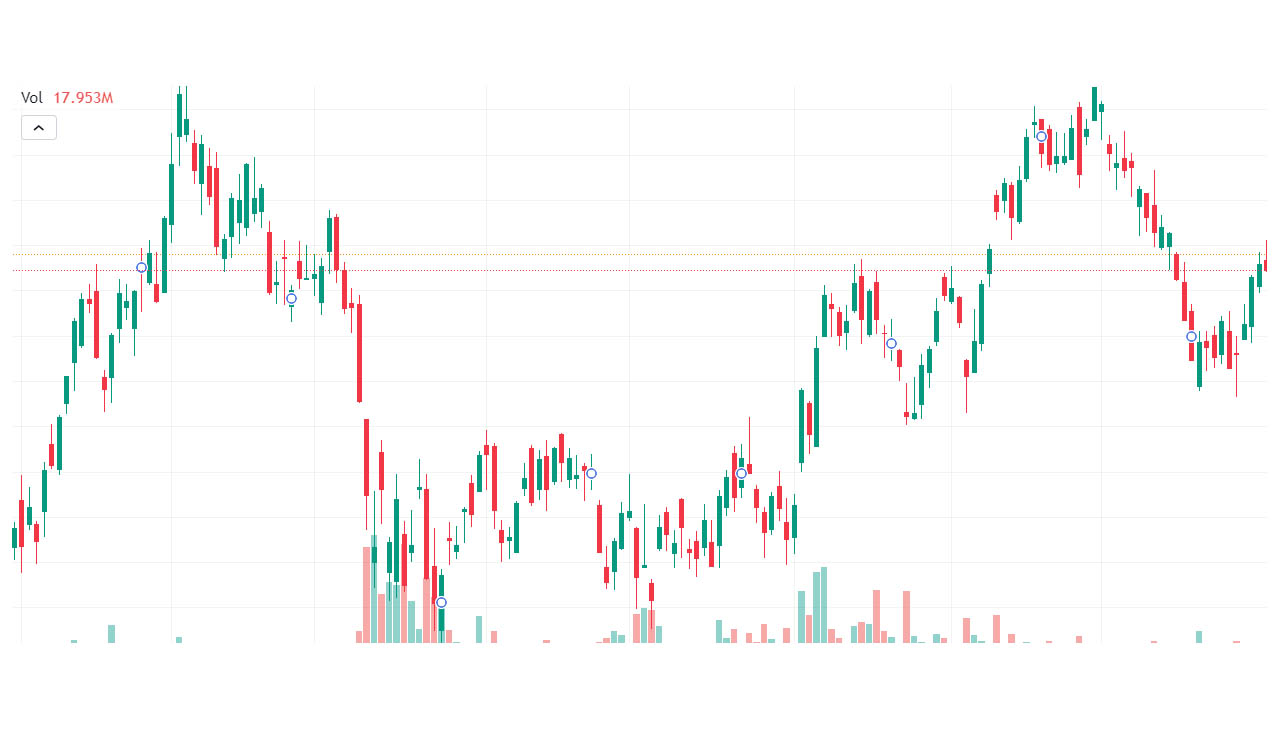 Performance and Accuracy
Trade Ideas' performance and accuracy are among its strongest points. The software's AI technology excels at scanning and analyzing massive amounts of market data in real-time, returning accurate scans and trade signals that are highly regarded in the trading community. The AI-powered algorithms have proven themselves capable of identifying lucrative trading opportunities with impressive accuracy. The backtesting feature also performs robustly, providing traders with insightful analysis on the potential success of various trading strategies. Moreover, the real-time data feeds are consistently accurate, with negligible discrepancies or errors. It's also worth noting that the platform's performance remains stable and reliable even during periods of high market volatility. Hence, from a performance and accuracy standpoint, Trade Ideas continues to uphold its reputation as a reliable tool for traders.
Pricing and Value
Trade Ideas offers two subscription plans: the Standard Plan and the Premium Plan. The Standard Plan, priced at $118 per month or $1068 annually, provides access to a range of features including real-time data, charting tools, and stock scanning capabilities. For traders seeking advanced functionalities such as AI-driven trade ideas, backtesting capabilities, and the functionality to carry out simulated trading, the Premium Plan is more suitable. This plan is priced at $228 per month or $2268 annually. While the pricing may seem steep compared to other trading platforms, the value provided by Trade Ideas is considerable. The platform's advanced features, combined with its high performance and accuracy, make it a worthwhile investment for serious traders. Potential users are also offered a 14-day trial to test out the platform's features before committing to a subscription plan, which further testifies to the value proposition of Trade Ideas. Overall, while the pricing is on the higher end, the value derived from the platform's robust features and reliable performance justifies the cost.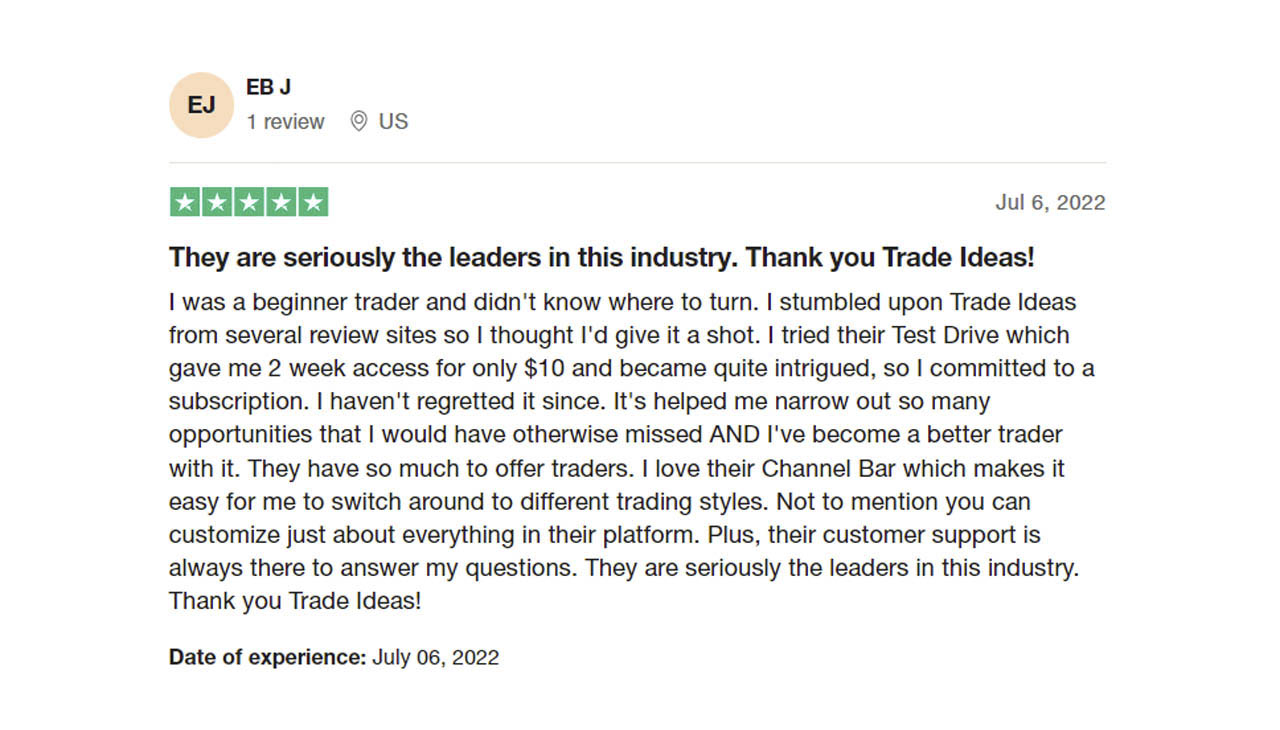 Customer Support
Trade Ideas is known for its excellent customer support. The team is responsive and knowledgeable, ready to assist users with any queries or technical issues they may encounter. Support can be reached through multiple channels including email, phone, and live chat, ensuring quick and convenient communication. Additionally, the Trade Ideas website features a comprehensive FAQ section that addresses common questions and a Knowledge Base that provides in-depth information about the platform and its features. Users have noted that the support staff is not only proficient in resolving issues but also patient in explaining solutions, enhancing the overall customer experience. In summary, Trade Ideas' commitment to quality customer support is apparent in its prompt, helpful, and professional service.
Advantages
A comprehensive suite of features

Intuitive design and user-friendly interface

Impressive performance and accuracy

AI technology is capable of identifying lucrative trading opportunities with impressive accuracy

The backtesting feature performs robustly

Excellent customer support team
Disadvantages
Price on the higher end

Could be overwhelming for beginners initially
Summary
Trade Ideas is a powerful trading platform that caters to both beginner and experienced traders. The software's versatile suite of features, along with its impressive performance and accuracy, make it an attractive choice for any trader looking for comprehensive analysis and real-time market insights. Furthermore, the user experience is generally positive due to the intuitive design and user-friendly interface. While pricing may be on the higher end, the value proposition is considerable. On top of that, Trade Ideas also boasts an exemplary customer service team to assist users with any queries or technical issues they may face. Ultimately, this trading platform is highly recommended for anyone looking to maximize their profits from the markets.