Zero to Hero FX Signals is a signals provider service with a decade of experience promising a monthly target of 300 pips. According to the developer, this system can completely transform the way you conduct Forex trades. The membership plans are quite affordable and the provider has been recommended by several users on the web. However, there is not much information available on the parent company.
Vendor transparency 
The head trader behind this signals provider goes by the name of Bert. We don't have any background information on this person or the other analysts they work with. On the official website, they have claimed to possess a decade of experience in trading Forex. This person trades their own fund using the signals generated. They have shared an official email address where you can get in touch with them, in case you face any issues.
How Zero to Hero FX Signals works 
This service generates 4-10 trades on a daily basis, aiming to extract the maximum possible profit from the Forex market. Each day, the analysts working for the company analyze the fundamental and technical factors affecting the prices of currency pairs. Using this data, they identify the most lucrative trades. Every time the analysts take a trade using their own funds, the user receives a notification. The signals contain all the relevant details like take profit, stop loss, and entry price. You get the signals via SMS, email, or the Telegram app.
Timeframe, currency pairs, deposit 
This signals provider sends you trading signals for pairs like USD/JPY, USD/CHF, USD/CAD, EUR/USD, EUR/JPY, and AUD/USD. Since this is not an expert advisor, it has no minimum deposit requirement. You can choose the leverage and the timeframe as per your trading style.
Trading approach 
Zero to Hero FX Signals follows a trend matching strategy that has shown steady results for a testing period that lasted four years. This is a strategy where the analysts enter a trade in the predetermined direction of the trend.
Pricing and refund 
There are four membership plans for this signals provider. For the Basic 1-month plan, you need to pay $95 per month. The 3-month plan costs $195, while the 6-month and 12-month plans are priced at $295 and $395, respectively. Compared to market average, the plans are quite affordable.
Trading results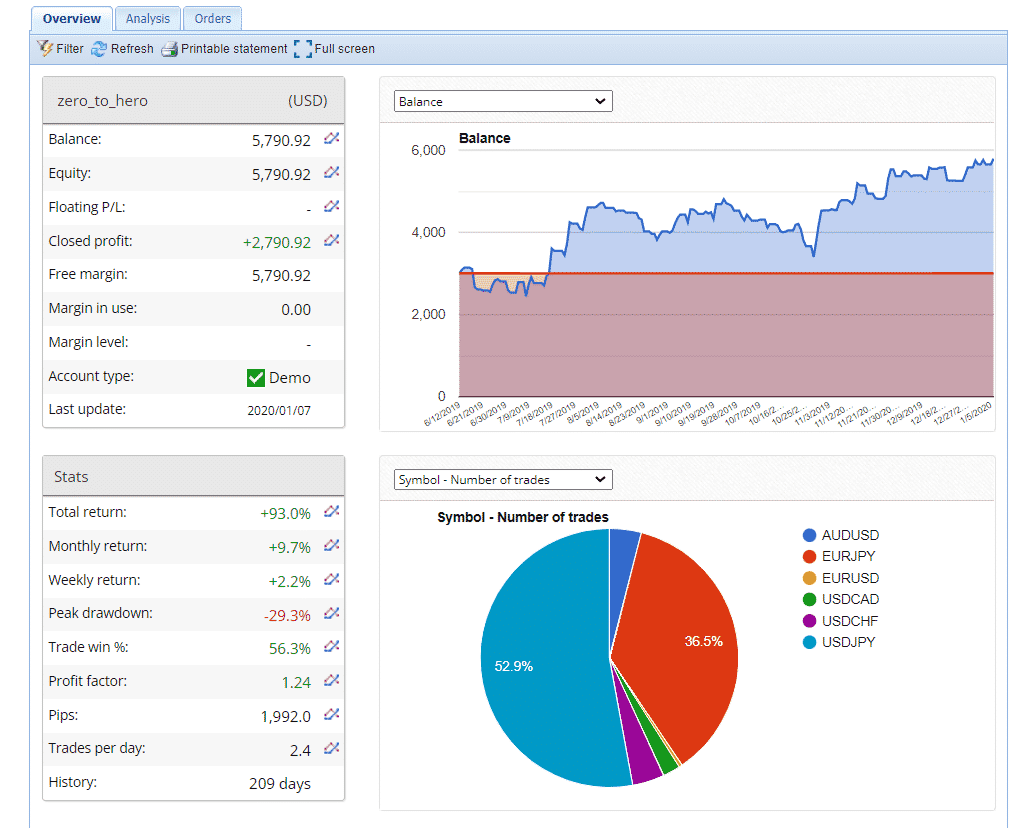 Here we have a verified demo trading account on FXBlue having a trading history of 209 days. The system traded 501 trades through this account, out of which 282 have ended in profit. This means the account had a healthy win rate of 56.3%. As a result, it has managed to generate a sizable profit of $2790.92. The profit factor for this account was quite satisfactory at 1.24.
On average, the account conducted 2.4 trades per day. The daily, weekly, and monthly returns were 0.44%, 2.23%, and 9.71%, respectively. We can see that the risk of ruin was quite low at 1.9%, and this tells us that the system does not trade with a high level of risk. The average holding time for each trade was 26.9 hours.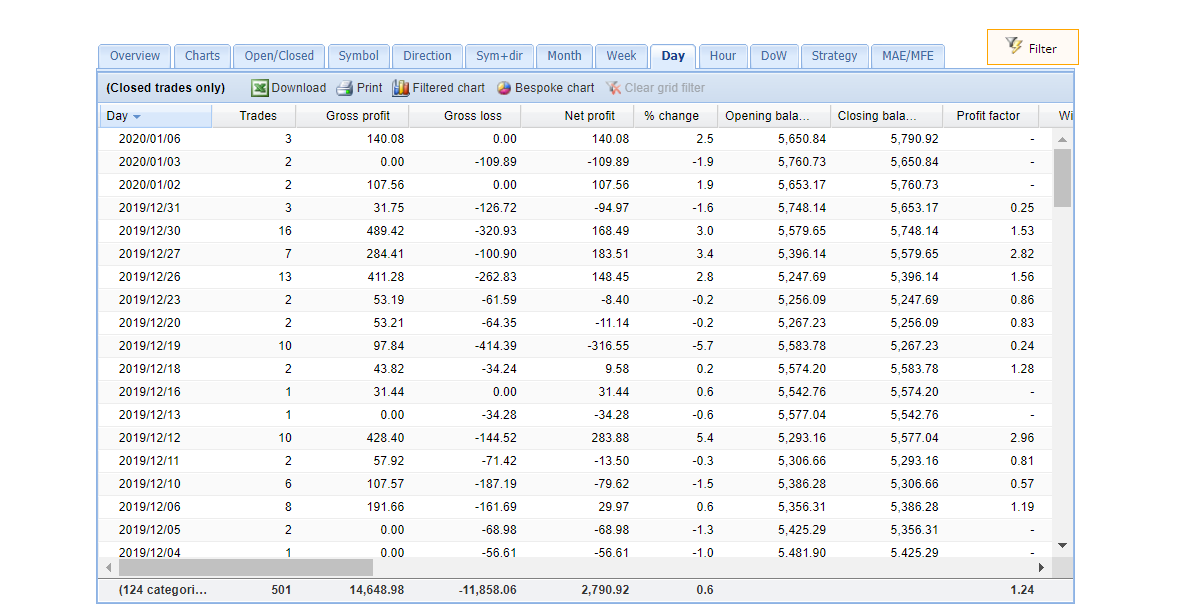 Here we have the trading history of this account. We can see that the system did not trade every day, which means it only took the trades that are likely to end up in profit. As you can see, it was capable of generating large profits on a single day. The average profit and loss for this account were 51.95 and -54.15, respectively.
People say that Zero to Hero FX Signals is…
Good. While conducting our research, we came across several user reviews on Trustpilot where the customers have praised the friendly and helpful service. They have stated that the signals are delivered swiftly and with pinpoint accuracy. It has a rating of 4.3 out of 5 on Trustpilot.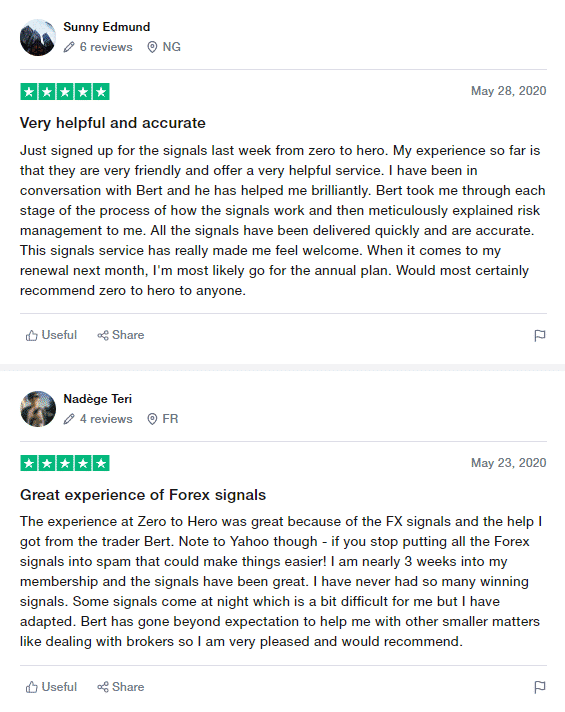 Verdict 
| | |
| --- | --- |
| Pros | Cons |
| Verified trading statistics | Lack of vendor transparency |
| Positive user reviews | |
| Affordable subscription plans | |
Zero to Hero FX Signals Conclusion
Zero to Hero FX Signals is a service that is backed by verified statistics. It has a record of generating steady profits in the live market and several customers have expressed their satisfaction with this provider. While there is very little data on the vendor, the pricing plans are quite affordable.